Whether your clients are sweating out the hot months or savoring the climate of a more temperate region than that of ARCHITECT's home in Washington, D.C., summer is a time for shedding layers. That applies to products, too. These furnishings convey visual lightness and minimize the use of materials to bring a breath of fresh air to outdoor spaces.
Eames Wire Chair, Vitra
Charles and Ray Eames' iconic 1951 design has a new life outdoors, thanks to the addition of powdercoated finishes in black, gray, and cream by Swiss furniture maker Vitra. Made of bent and welded steel wire, the Wire Chair's seat and back are supported by a four-legged base with cross struts. An indoor version of the piece includes a chrome-plated finish and leather and hopsack upholstery.
Ipnos, Flos
Milan-based lighting studio Rossi Bianchi pared down the conventional form of a lantern to a simple, slender metal frame. For use indoors and outdoors, Ipnos is shaped by extruded and anodized aluminum profiles. Dimmable LEDs integrated in the 15W fixture's upper edge provide 2700K light with a color rendering index of 85. An optional transparent, methacrylate top can turn the 2-lb. luminaire into a table. Black, bronze, and natural finishes are offered.
Kettal Mesh, Patricia Urquiola for Kettal
Designer Patricia Urquiola taps the light-filtering qualities of an open architectural façade for her collection of aluminum mesh furniture for Kettal. Used on two tables and a sofa, the mesh provides visual simplicity and structural support. Offered in an array of colors.
Social Circle, Sticks + Stones
This elegant indoor–outdoor fire pit from Squamish, British Columbia–based Sticks + Stones Furniture features smooth concrete forms with western red cedar slabs to demarcate seating. Built to accommodate six people comfortably, the units' concentric geometries tie the installation together.
Flux, Link Outdoor
The gap between contemporary and traditional design styles can be tricky to bridge, particularly for an outdoor space whose aesthetic depends on an application's context. Link Outdoor's latest collection of outdoor chairs and tables aims to find that balance by fabricating modern designs with classical undertones out of contemporary materials—that is, powdercoated aluminum with teak and glass finishes. The 18-piece Flux collection will launch at the end of the year.
Cordula, MissoniHome
Multicolored polyester cords are hand-woven onto stainless-steel frames to create the latest collection of semicircular (shown) and trapezoidal armchairs, lounges, and occasional tables from the Italian design label's homewares division. The plaited chevrons of the supportive cords add detail.
All in Check, Robert Allen Contract
As part of the One Ten West textile collection created in collaboration with hospitality designer Kirk Nix of Los Angeles–based KNA Design, this checkerboard upholstery makes a bold statement with a classic design. Woven from Sunbrella's acrylic and polyester threads, the material is designed to resist color fading from sunlight. All in Check is Greenguard certified for children and schools. It comes in obsidian, azzura, crimson, papaya, and passion colorways.
Garden, Crossville
Porcelain tile takes on the look of natural stone in Crossville's Garden series, which features the company's Hydrotect UV light–activated, nontoxic titanium-dioxide coating to help resist dirt and bacteria and reduce airborne toxins. The three colorways emulate the look of materials such as volcanic stone and cobbled limestone. Intended for exterior walls and floors, as well as for interior transition areas such as entryways.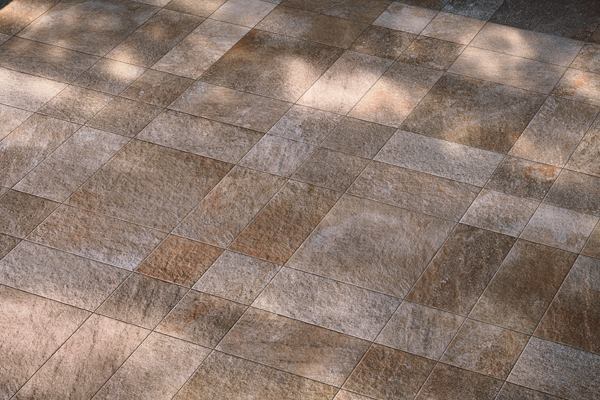 This article has been updated from its original publication to reflect the version that ran in the August issue of ARCHITECT.