Walls and ceilings often serve doubly as aesthetic and structural elements, requiring a balance of looks and rigidity. From adding a striking visual to taking on structural loads, these products give the standby building elements an update, inside and out.
Aperiodix, OSO Industries
Each of the three triangular tile shapes that comprise the aptly-named Aperiodix series offers an undulating surface that matches up with that of any of the other tiles, including itself. The cast-concrete system is offered in charcoal (shown), gray, leather, and sand colors and is etched with a series of 1/8"-wide superficial grooves that emulate grout. For use in indoor and outdoor applications.
UNA-CLAD Delta Perforated Panels, Firestone Building Products
Firestone is expanding its Delta Series of high-performance cladding with the addition of seven perforation types for each of its 11 concealed-fastener profiles. The perforated panels are offered in 20-gauge steel and 0.040" aluminum. For interior and exterior use.

'
High Profile Series Ceiling System, HOK and Hunter Douglas
In collaboration with Hunter Douglas, HOK senior architectural designer Chris Anderson crafted a baffled ceiling system to enclose the HVAC and MEP needs of high-performance buildings. The High Profile Series Ceiling System offers extruded aluminum profiles in custom shapes and materials. Each baffle measures 1.5" wide and 6.35" tall and can span lengths of up to 20'. The system can be used with chilled beams. For use in applications including transportation, technology, and retail. The system was a Gold Award Winner in the 2013 International Design Awards for Product Design.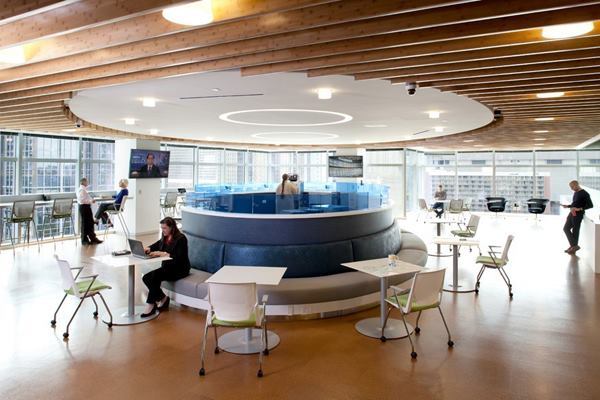 Enzo, DIRTT Environmental Solutions
Chicago-based DIRTT Environmental Solutions introduced its Enzo connectors as an aesthetic alternative for designers specifying the company's panelized components for prefabricated interiors. The system offers a slim reveal that can serve as an anchor for items such as cabinetry and artwork. For use in commercial and residential applications.
Environmental Structural Panels, Noble Environmental Technologies
The Ecor Environmental Structural Panels from Noble Environmental Technologies are made from 100% post-consumer-recycled and bio-based cellulose fibers that are mixed with water, heated, and compressed into rigid, structural forms. The lightweight panels are configured for uses such as joists and walls and are formaldehyde free. The product was a finalist in the 2013 Cradle-to-Cradle product innovation challenge.
Golden Relief, Flavor Paper
By New York–based designer David Nosanchuk for Flavor Paper, Golden Relief gets its kaleidoscopic effect from the repetition of a single detail from a late 19th century–sculpture of a woman. First introduced in 2013, the series was recently added to the Cooper-Hewitt, National Design Museum's permanent collection.
Series 3200 No Return, Firestone Building Products
Fabricated with an extruded perimeter frame attachment and side clip, Firestone's Series 3200 No Return panels feature an aluminum plate spline that offers a defined edge rather than requiring a caulk joint. Offered in widths of up to 58", the panels come in 0.125" and 0.19" thicknesses. Available with the company's Kylar 500 and Hylar 5000 high-performance fluorocarbon resinous coatings, as well as with anodized finish options.