Each year since 1954, the
Red Dot Product Design Awards
have named the most innovative objects and systems worldwide in categories ranging from lighting to watches and to household appliances. This year's competition received 4,928 entries across 31 categories and representing 56 countries. Below, we recap the products selected as winners in the category of Urban Design and Public Spaces. The category was judged by Joachim H. Faust, managing partner of
HPP Architects
in Düsseldorf, Germany; Simon Ong, group managing director and co-founder of
Kingsmen Creatives
in Singapore; and Lam Leslie Lu, principal of the
Hong Kong Design Institute
.
Sirius, Seilspielgeräte
This playground structure rethinks the jungle gym by connecting its structural members with taut, 18mm-diameter coated ropes to support climbing. A membrane at the top of the dome functions as a destination and lookout point. Hollow ball knots protect the joints.
This bare-bones outdoor bench is designed for highly trafficked public spaces. A 12cm-wide cast concrete frame is offered in light and dark gray colors and bookends a wooden seat and backrest made from FSC-certified hardwood.
This temporary trash container from DS Smith Packaging in Denmark unfolds into a pyramid shape when deployed. Its disposable construction comprises a single piece of recycled corrugated cardboard with a water-resistant liner. The bin isn't emptied after use but instead compressed and disposed of with its contents.
This half-height barrier updates typical security gates with a streamlined form factor to improve the flow of foot traffic while guiding visitors to the proper destination via integrated wayfinding technology and a display panel.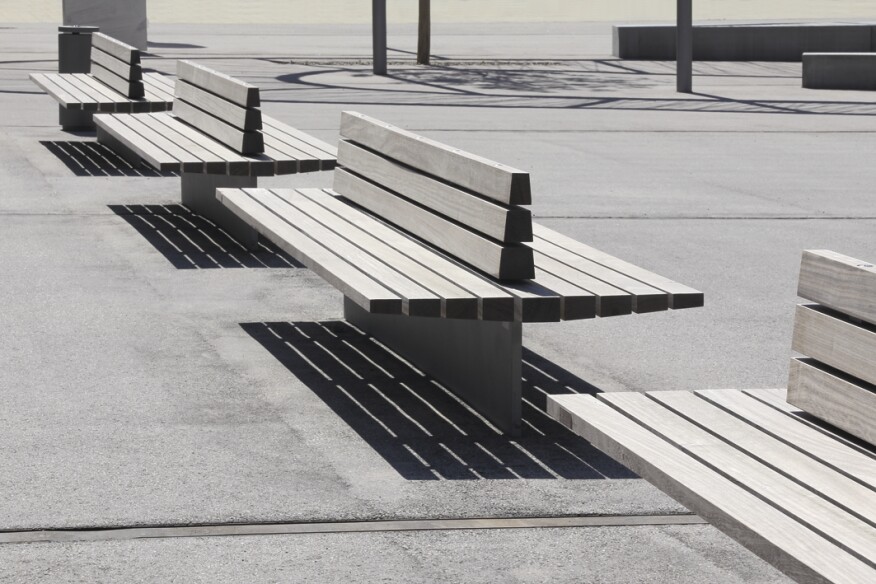 This modular outdoor bench system can be specified with a central backrest or as a stool bench without a backrest and is composed of FSC-certified hardwood with a hot-dip galvanized and powdercoated steel frame.
ACO Drainlock Intercept Grating, Aco
The German drainage products company adds this anti-slip, stainless steel grating manufactured without welding to its ACO Multiline drainage system. U-shaped bar profiles and 8mm-wide slots make for an un-intrusive inclusion in outdoor plazas and more.
Schüco Parametric System, Schüco
This skin system allows for the design of customizable, three-dimensional façades that optimize natural light, views, transparency, and solar heat gain.
This flat-glass skylight system features a V-shaped housing that offers expanded views to the outside. Electronic shading integrated in the heat-insulating glass can be activated from a wall switch, while the opening can be raised and lowered for ventilation via remote control, smartphone, or tablet.
Designed for corporate and university campuses, this modular outdoor seating system features a slender, welded steel frame with slat seats and tops made of untreated FSC-certified hardwood. The modules measure 200cm wide with seat heights of 48cm and include tables and benches with and without backs.
An area umbrella, Parasol is constructed to prevent condensation and rainwater from rolling off its surface while shading patios, docks, and other outdoor gathering spaces, Designed for rapid assembly, it can integrate lighting and audio in its frame and can be installed solo or in groups to form a large canopy.
For use on uneven or hilly terrain at a 10- to 25- degree gradient atop a range of mediums including grass, stone, sand, and snow, Gigseat is made from recyclable thermoplastic.
These sleek double-slit drainage grates are designed for use with drainage channels in courtyards, terraces, and balconies.