For more than a decade, the urban island city-state of Singapore has been a hotbed of green design in the tropics. A walk through its newly developed downtown evidences the trend: Greenery spills from vertical gardens integrated into the walls of contemporary mixed-use high rises, while rows of older, passively cooled housing complexes counter the region's seeming dependence on mechanical air-conditioning. This green-mindedness with a nod to the complexities of building in the tropics is expanding beyond the 277-square-mile city-state to neighboring Malaysia, nearby Indonesia, and even China, in part through Singapore's Green Mark building certification program, which launched in 2005. Tailored to projects in the tropics and sub-tropics, the government-led standard is vying with the U.S. Green Building Council's LEED certification program to manage the region's rapid urbanization with sustainability criteria for new construction and renovations that include strategic site orientation, more efficient HVAC systems, and the use of natural light.
Now, Singapore's Building and Construction Authority (BCA), the government agency that oversees the building standard, is opening its research and development to a global audience through a partnership with the Lawrence Berkeley National Laboratory. "If we want to take green building for the tropics to the next level, we've got to look for innovative solutions," says BCA CEO John Keung. "We believe that the low-hanging fruits are all [applied] … We need research and development, we need demonstration projects, we need to look for façade designs, new solutions, new building materials, and we need … facilities to help our industry achieve this objective."
One such facility is the BCA SkyLab, a 132-square-meter (1,421-square-feet) test lab modeled after the existing Facility for Low Energy Experiments in Buildings (FLEXLab) at the Lawrence Berkeley National Laboratory (LBNL) in Berkeley, Calif. Expected to open in the first half of 2016, the 4.5 million Singapore dollar ($3.17 million) sister facility will be used to track product- and systems-performance in tropical climate zones and allow researchers across the Pacific to compare notes.
The facility's test bed, which sits on a 16-meter-diameter (52.5-foot-diameter) platform that can rotate 360 degrees, is currently being installed on the roof of the BCA Academy, in Singapore, which the agency uses for professional and executive training in the building trades. The L-shaped academy structure combines a six- and a 10-story tower; the lab will be located on the roof of the six-story arm and be accompanied by a viewing room made of cross-laminated timber. The rotating base allows for testing at different orientations, eliminating the need for multiple facilities or facings, as is the case with a static test structure. Inside, two identical compartments measuring 40 meters square (430.5 feet square) simulate an office environment for testing and benchmarking plug-and-play applications, including façades, cooling, lighting, and smart controls.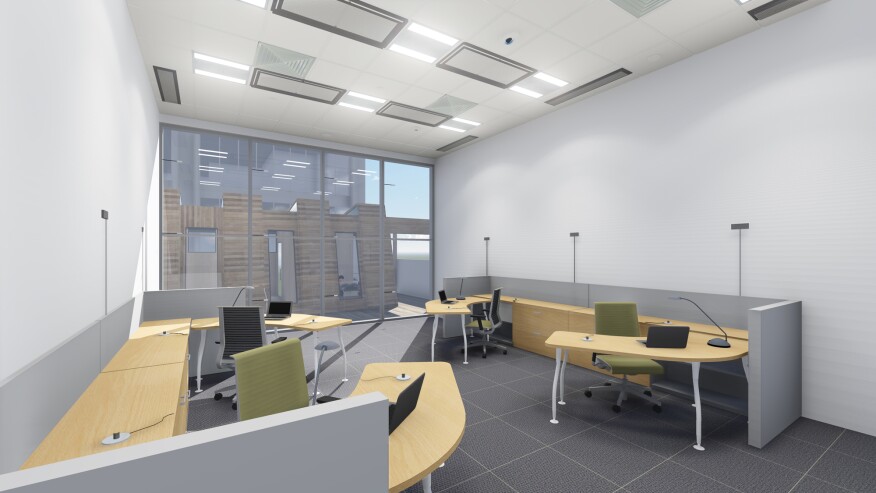 "LBNL and FLEXLab can represent and test under the climate zones for all the continental U.S. but we are latitude-constrained: We can't move north or south," says Cindy Regnier, FLEXLab executive manager who is working with the BCA team on the SkyLab. "The rotating test bed is unique in that we can simulate a little bit of that but not to the same degree. We can't change the outdoor environment. So what we have here is a great partnership between studies that are related to the U.S. climates and then the hot, tropical, humid climate at a different latitude, which is much more challenging."
While FLEXLab's research caters primarily to driving codes, standards, and general building practices in the U.S., the SkyLab's focus will be to examine issues closer to home in Southeast Asia and China where rapid population growth, particularly in cities, is contributing to explosive urban development. Africa and Asia are urbanizing at the highest rates worldwide, according to a 2014 report on global urbanization trends from the United Nations Department of Economic and Social Affairs, with 56 percent and 64 percent of their populations, respectively, projected to live in urban areas by 2050 compared to 40 percent and 48 percent today. Those metros include Delhi; Manila, in the Philippines; Jakarta, in Indonesia; and Kuala Lumpur, in Malaysia, which all grew at an average annual rate of between 1 percent and 3 percent from 2010 to 2015, and have seen surges in construction activity as a result.
The BCA is working with the United National Environment Programme's Nationally Appropriate Mitigation Actions (NAMA) program for the building sector in Asia to help communicate findings from its Green Mark studies—and possibly SkyLab, down the line—with public and private agencies in Indonesia, the Philippines, Thailand, and Vietnam, which are among the current and potential markets for Singapore's Green Mark certification. The NAMA agreements will include national plans for reducing greenhouse gas emissions.
LBNL, too, hopes to gain from access to data from the tropics. "This is unique for FLEXLab," Regnier says. "It's definitely the first of its kind relationship with buildings technologies test facilities at LBNL."

This post has been updated from its original publication.