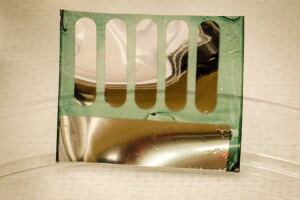 Scientists have long attempted to emulate the photosynthesis that occurs in plants using nonplant materials such as silicone, gallium, or telluride. Recently, a team of researchers at Georgia Tech developed solar cells using plant-based substances.
Led by engineering professor Bernard Kippelen, who directs the Center for Organic Photonics and Electronics (COPE) at Georgia Tech, the scientists created photovoltaic cells using cellulose nanocrystal (CNC) substrates derived from trees. Because of their organic composition, the cells can be easily recycled in water at the end of their useful life. They are also transparent, allowing optimal light transmission. Moreover, the cells boast a high efficiency of 2.7 percent—which is surprisingly high for a renewable substance.
"The development and performance of organic substrates in solar technology continues to improve, providing engineers with a good indication of future applications," Kippelen said. "But organic solar cells must be recyclable. Otherwise we are simply solving one problem, less dependence on fossil fuels, while creating another, a technology that produces energy from renewable sources but is not disposable at the end of its lifecycle."
Next, Kippelen and company will work to improve the cells' conversion rate to 10 percent, thus competing more closely with glass substrate-based solar technology. They will also coat the cells with a nontoxic coating for protection from the elements.
Blaine Brownell, AIA, is a regularly featured columnist whose stories appear on this website each week. His views and conclusions are not necessarily those of ARCHITECT magazine nor of the American Institute of Architects.