Scientists have recently discovered another compelling use for graphene in the form of an ultra-strong coating. Researchers at the University of Manchester, in the United Kingdom, determined that surfaces painted with graphene oxide, which is formed when oxygen atoms are deposited on a single-atom-thick carbon sheet, demonstrate excellent chemical resistance and impermeability. Notably, the paint can be used to protect a variety of materials.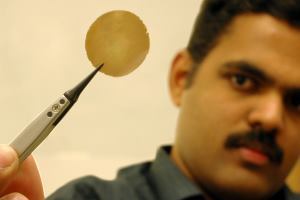 "Graphene paint has a good chance to become a truly revolutionary product for industries that deal with any kind of protection either from air, weather elements, or corrosive chemicals," said Rahul Nair, a research fellow at Manchester who is co-leading the project and is a co-author of a related paper published in Nature Communications in September, in a press release. "Those include, for example, medical, electronics and nuclear industry or even shipbuilding, to name but the few."
Nair was joined as project head by Manchester research professor Andre Geim, a co-recipient with Konstantin Novoselov of the 2010 Nobel Prize in Physics for the construction of graphene—the thinnest and strongest known material, as well as one of the most conductive and light-transmitting substances.
To demonstrate the effectiveness of the new surface treatment, the researchers coated glass and metal plates with graphene-oxide paint and applied highly corrosive acids. The paint is optically transparent, which means it can be used to protect light-transmitting materials as well as materials that designers want to express in their natural, untreated state, such as rust-prone metals.
"Graphene paint can be applied to practically any material, independently of whether it's plastic, metal, or even sand," said Yang Su, first author of the Nature Communications paper, in the press release. "For example, plastic films coated with graphene could be of interest for medical packaging to improve shelf life because they are less permeable to air and water vapour [sic] than conventional coatings."
The building construction industry is another likely candidate for the coating—once the technology is developed at a commercial scale. Graphene oxide paint would provide much-needed durability and corrosion resistance for structures in coastal regions, for example, or in heavily polluted or hazardous areas, thus augmenting the material resilience. This super coating would likely outperform any corrosion resistant paint currently used—even in such buildings.
Blaine Brownell, AIA, is a regularly featured columnist whose stories appear on this website each week. His views and conclusions are not necessarily those of ARCHITECT magazine nor of the American Institute of Architects.