One of the early signs that additive manufacturing had made it in architecture was the shift from its use by designers solely as a tool for prototyping to one that could be used to fabricate finished objects. Although slower than many mass-production processes, the increased design control and scalable customization afforded by the new technology through processes such as 3D printing has propelled its rapid growth within many industries. Thanks to new-found capabilities particularly relevant to architecture, additive manufacturing is taking another step forward: printing buildings in situ.
This capacity is possible primarily because of advances in concrete fabrication technologies. Chinese construction company WinSun, for example, made headlines last spring when it constructed 10 single-room houses from 3D-printed modules in less than 24 hours in Shanghai. Although these were built from components that had been fabricated offsite, the company says it now plans to produce entire structures—including bridges and tall office buildings—onsite.

WinSun's material feedstock is a combination of cement, steel, glass fiber, and recycled construction debris. The use of waste materials is a clever strategy to diminish the carbon footprint of concrete, and the printing process ensures that construction workers are less likely to come into contact with potentially hazardous ingredients. Nevertheless, the reliance on energy-intensive cement and waste materials from other sites raises questions about further environmental improvements. In particular, the onsite printing of buildings from onsite materials—substances requiring minimal processing and no transportation—represents a desirable goal.
Printing aside, in situ construction using immediate materials is nothing new. Making a building from earth harvested at its site is one of the oldest forms of construction, and it remains a common practice today. Ronald Rael, AIA, of the Oakland, Calif.– based studio Emerging Objects, writes in his book Earth Architecture (Princeton Architectural Press, 2009) that between one-third and one-half of the global population currently lives in earthen buildings. The clear ecological and economic benefits of this construction method have inspired the recent development of novel strategies that combine onsite earthen construction with additive manufacturing techniques. Two of these approaches, developed by the Italian firm WASP and United Earth Builders in California, merit further attention.

Founded in 2012 in Massa Lombarda, Italy, WASP (World's Advanced Saving Project) manufactures professional-grade 3D printers that can use wood, metal, and ceramic. The company has invested revenues from the sales of this equipment into a socio-environmental project that it calls "zero-mile" homes. The philanthropic endeavor aims to construct shelters with renewable energy and onsite materials using the company's portable printers. In October 2014, WASP demonstrated this approach at Maker Faire Rome, printing a model of a conical shelter, scaled down to fit in hand, made from mud.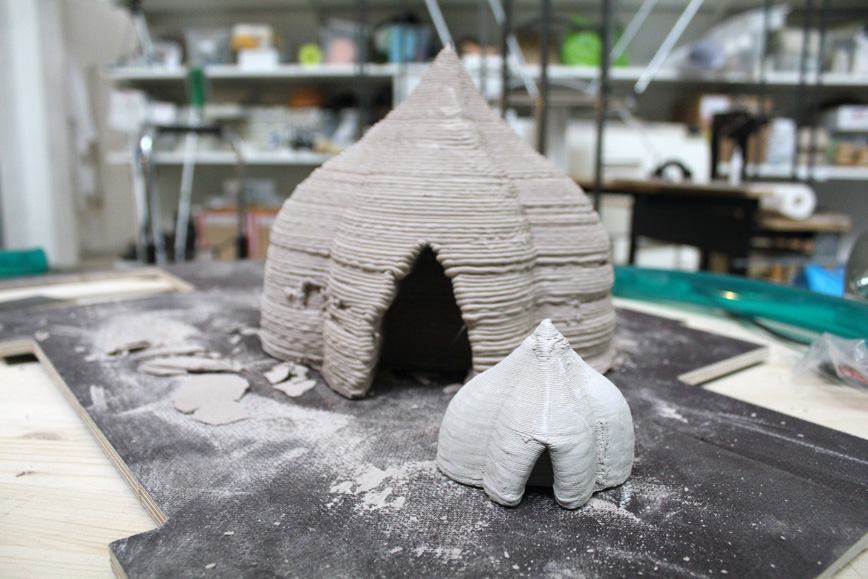 WASP's basic process involves a kinematics printer that controls a material-extruding nozzle. This technology can use a variety of materials, including aluminosilicate clays. WASP can also employ natural fibers such as hemp and kenaf to make a reinforcing scaffold within each output to improve the resulting structures' longevity, a method borrowed from traditional hand-built earthen construction. WASP's current earth-printer (shown in the top image and in the video below) measures 13.1 feet tall, with a print area of about 9.8 feet in perimeter and 6.6 feet in height. To build in larger dimensions, however, the company will need to expand the size capabilities of its technology.
"We're building a 12-meter-tall (39.4 feet) printer which has a print area with 6 meters (19.7 feet) of perimeter and [is] 6 meters high," WASP's founder, Massimo Moretti, said in an email. He estimates that this printer would take between two weeks and a month to construct a building of similar dimensions onsite.

Meanwhile, design–build enterprise United Earth Builders (UEB), in Joshua Tree, Calif., specializes in earthbag construction, a cost-effective building method that employs layered earth-filled plastic bags. With a process traditionally used for temporary flood control or military encampments, UEB currently focuses on small-scale, single-story residential buildings.
Recently, the company began using the Earth Home Builder (EHB) from Cambridge, Minn.–based Progressive Innovations, a modified Bobcat loader that accelerates the construction process by funneling earth into the bags as they are layered in place. Although it is low-tech compared to other additive manufacturing technologies, the clever method bears an obvious resemblance to nozzle-based material extrusion.

The EHB can print, so to speak, using many different fill materials, such as gravel of up to 1 inch in diameter, but the ideal feedstock is soil with 20-percent to 30-percent clay content and up to ¾ inch–diameter gravel. Soils low in clay or high in loam and silt content require modification with added road base or Portland cement, respectively, and compression and degradation testing completed by an authorized facility. The earthen materials are funneled into long, tube-woven polypropylene rolls. UEB uses bags that are at least 16 inches wide, and 4 inches to 7 inches in height when filled. A 7-foot-tall wall built with 24-inch-wide bags, for example, would require 13 layers. "Of the two structures we have built in 2014, we used 500 linear yards of bag to build a 400-square-foot home, and 1,000 linear yards for a 1,225-square-foot home," UEB founding partner James Golub said in an email. "We are averaging about 1.3 linear yards per square foot."

Like the WASP method, the EHB is limited in terms of its build size. Golub and his colleagues can construct walls up to 7 feet tall, a dimension governed by the height of the skid-steer loader and its printing armature. However, UEB plans to extend this capacity to 20 feet using a telescopic handler. The two techniques—WASP's extrusions and UEB's earthbags—are also limited in terms of meeting true zero-mile aspirations as both require the transport of offsite materials, such as reinforcing fiber for WASP's projects or plastic bags for use with the EHB—not to mention the possible addition of cement. Nevertheless, these supplementary materials occupy a small percentage of the total built volume, particularly when compared to traditional construction methods.
Since earth building is already so common, one wonders how these techniques compare to traditional earthen construction. The obvious advantage is the reduction of manual labor. "The hand-built home cannot even come close to the production capabilities of the EHB," Golub says. "For example, a production crew of 12 laying a 24-inch bag could produce 200 feet per day while the EHB can lay 400 feet in an hour with a crew of six."

And although the WASP method has yet to produce a full-sized house, it would likely also save on labor and time. Aesthetically, WASP construction delivers a rough yet visually satisfying horizontal grain, which is a familiar result of 3D printing. The EHB requires finishing materials like stucco, and although many surfacing options exist, most earthbag structures exhibit an unruly appearance reminiscent of 1970s-era, counter-culture building experiments. Economics is also a factor to consider: the EHB method is about half the cost of manual earthbag construction—$110 per square foot for EHB compared to $225 per square foot for manual, Golub says—but the added material and fuel-related expenses could be prohibitively expensive for some populations.
Despite their drawbacks, both methods show compelling potential when it comes to resource-sensitive building. With sufficient advances in capability, such approaches could help to overcome some of the construction limitations that have restricted the application of earth architecture in industrialized countries, including labor cost and quality control. As Rael puts it in Earth Architecture: "Earth is one of the few materials on the planet that has not been subjected to large-scale industrialization … yet the advancements of the industrial revolution have brought about technologies that, when appropriately coupled with earth techniques, can result in ingenious hybrid forms of construction." In this case, when combined with the post-industrial, mass-customization possibilities unleashed by the digifab revolution, building with materials sourced on-site could become an even more sophisticated enterprise.
Blaine Brownell, AIA, is a regularly featured columnist whose stories appear on this website each month. His views and conclusions are not necessarily those of ARCHITECT magazine nor of the American Institute of Architects.