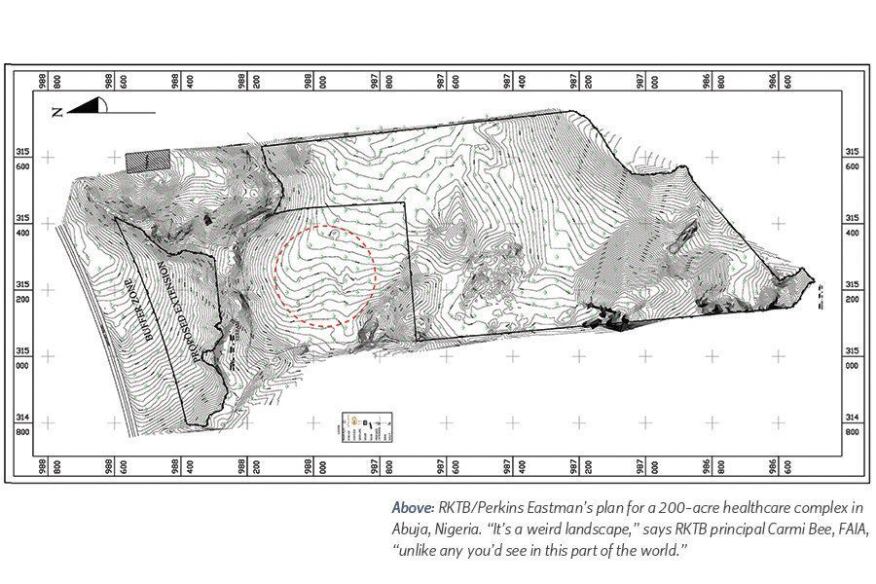 Michael Graves, FAIA, has a distinct interest in upgrading the spaces, equipment, and patient experience in the average healthcare project. "I was paralyzed 10 years ago, and as I went from hospital to hospital—eight of them, actually, and four rehab centers—I realized that it wasn't exactly Third World but it wasn't much better," he told the audience at the ribbon-cutting earlier this year for his firm's Shore Orthopaedic Group building, in Somers Point, N.J. Graves is well-regarded as an advocate for smart healthcare spaces and more ergonomic and intuitive products, having been named by Healthcare Design magazine as one of the field's most influential figures in 2010. The following year, he was featured as a TEDMED speaker and, in 2013, President Barack Obama appointed Graves to the U.S. Access Board.
But what about the Third World that Graves mentioned? Patient services, consistent healthcare, and reliably sterile environments are greater struggles in Central and South America, India, and many African nations than they are in the United States. Good design (along with proper practices) could solve a lot of those issues.
Design's solution is often tempered by macroeconomic challenges that have to do with fundamental shortages. If you have a lot of ailing people, you need to have a lot of doctors—one doctor for every 1,000 people, at a minimum, according to the World Health Organization. In the United States, the ratio is 1:330. In Third World countries, on the other hand, it can be closer to 1:4,000.
"As the saying goes, a healthy nation is a wealthy nation," says Dr. Ifeanyi Obiakor, a Nigerian national, U.S.-trained obstetrician and gynecologist. The naked ratios are clearly against poorer nations, Obiakor points out, but there is also severe brain drain. Although Nigeria's economy is Africa's largest, about 40 percent of Nigerian physicians practice outside of the country—and many of the best are among the 30,000 (including Obiakor) who live in the U.S.
It's not only a matter of treatment, but also a matter of creating a human and technological infrastructure in which that treatment can occur: doctors, incentivized to practice in their home countries, with access to the tools they need to do their jobs. To that end, Obiakor sees anchor hospitals as nodal keys to improving public health in Nigeria's capital, Abuja. In 2005, Obiakor partnered with the Federal Government of Nigeria and enlisted Rothzeid Kaiserman Thomson & Bee (RKTB) and Perkins Eastman to design the American Hospital, a series of treatment centers that establish a healthcare system.
In 2013, RKTB/Perkins Eastman completed the first component of the plan, a satellite clinic in downtown Abuja dedicated to reducing infant and maternal mortality. The second phase will be a larger American Specialist Hospital for Women and Children, to be installed in an existing building in Abuja, in late 2015.
The plan's third phase, the American Hospital, itself, will come last: a 70-bed, 205,200-square-foot hospital designed by RKTB/Perkins Eastman near Abuja's airport. Expected to be completed in 2017, it will provide fee-for-service specialist care and will concentrate on the four deadliest, non-communicable diseases: diabetes, hypertension, cardiovascular and cerebrovascular conditions, and cancer.
The design follows a radial-symmetrical plan centered around the southwest side of a working reservoir, with clinical and support spaces on the central arc and patient rooms on spoke-shaped wings radiating to the rear. The 200-acre site, donated by the government, is "a weird landscape, to say the least, with a geological formation which is unlike any you'd see in this part of the world," says RKTB principal Carmi Bee, FAIA, who cites Alvar Aalto's Paimio Sanatorium in Finland as an inspiration for the kind of healing environment he's aiming to create.
Ultimately, the hospital campus will include treatment facilities, classroom space for the American-Nigerian University of Medical and Environmental Sciences and Research, and a residential area for doctors and family members visiting long-term patients. But the Field of Dreams adage—"If you build it, they will come"—is a little more complicated in Nigeria. First, it costs money to build a healthcare system, let alone a hospital; and Abuja's poorest and ailing citizens certainly won't come if they can't afford the services.
"The hook, if you will, to capturing a wealthier population as the target demographic for the hospital is to say, 'Look, our medical staff is American- or British-trained,' " says Joseph Shein, AIA, a healthcare design specialist and principal at Perkins Eastman who believes the first step is to lure back Nigerian doctors trained abroad. Then lure the nation's wealthiest patients—who commonly fly to Europe or the Middle East to treat everything from the a cold to cancer.
Reversing the flow of medical tourism should put the hospital in a strong position for the project's final phase: a dedicated medical university that Obiakor predicts will turn out 1,000 doctors and 24,000 allied health personnel each year. But the RKTB/Perkins Eastman team has a few challenges to address first. Abuja's energy grid is unreliable, for one, but Bee's team is working to find ways for the hospital to generate up to 70 percent of its own power through waste-heat recapture. Photovoltaic arrays will also capture something that seems to be abundant in Nigeria—sunlight.
Another challenge is political instability. "There've been three changes of administration since we started," says Peter Bafitis, AIA, another RKTB principal, "and it's a whole new ballgame [each time] when new people are in town." Still, Bafitis notes, the hospital project has a great deal of momentum behind it, from the likes of General Electric as well as French and Dutch financiers—although nobody is wagering heavily on precise timetables.
It seems fair to wonder—as the U.S. medical system is itself undergoing self-appraisal and restructuring—whether the American healthcare model is the optimal choice for Nigeria (rather than, say, Britain's, with its universal coverage and deeper cultural ties to the country). Obiakor observes a distinction between healthcare financing and healthcare itself in American access and cost barriers, in spite of advanced American medical technologies.
However, healthcare's physical footprint is just as important as its operational details. When an architect in the U.S. like Michael Graves treats efficiency and sustainability as equal partners, a new future for regional or local clinic-based healthcare starts to emerge. Shore Ortho, a small rehabilitation clinic located along a strip-mall-and-chain-motel arterial road, may seem like an unlikely client for Graves's firm, Michael Graves & Associates (MGA), or its sister company, Michael Graves Design Group (MGDG). Somers Point is, after all, where the 1980s shore band B-movie Eddie and the Cruisers was shot. (Eddie: "We ain't great. We're just some guys from Jersey.") You get the idea.
But because an increasing number of Americans receive treatment from small local specialty clinics like Shore Ortho, the design of the patient's experience is central to the success of a medical business.
"Our goal was to enhance the orthopedic patient experience and include as many evidence-based design elements as possible. You may ask how much evidence-based design can be utilized in a 10,000-square-foot building outpatient facility," says MGA project architect James Wisniewski, AIA, who notes that Shore Ortho is certainly not the first healthcare project to implement evidence-based design. "MGA approaches every project both aesthetically and empathetically—how the space impacts the individual is just as important as how it looks. During programming, we considered the unique populations that would be using the building and how they would move within the building. All design decisions were made through that lens."
MGA managing principal Karen Nichols, FAIA, says that the MGA team began with what she calls a "patients first" approach. Before floor plans, fenestration, or furniture, says Nichols, "We considered solutions to relevant issues faced by patients and their caregivers. We took our cues from research for a transport chair we designed, where the relevant problems were infection control, tripping and falling hazards, the difficult process of getting in and out of a wheelchair, and back strain for clinicians—whose rate of strain-related injuries is double that of construction workers."
"These were critical design drivers for the design of an outpatient rehabilitation project where most patients would be in wheelchairs," adds Wisniewski.
To minimize fomites (objects that harbor and transmit germs), surfaces throughout Shore Ortho are mostly hard and easily cleaned: vinyl flooring, white Corian, and, where it's used in high-traffic areas, making sure that any carpeting is composed of antimicrobial material and segmented into removable tiles.
MGA and MGDG redesigned chairs and over-bed tables for Stryker Medical to ease patient movements. They also replaced so-called "groping and hoping" position controls on chairs with specially designed arms, and tables with handles and levers positioned in more-intuitive places. "Michael has tremendous firsthand insight and tried out all of the features as they were being developed," says Nichols. "He was like our guinea pig."
Since studies correlate healing with daylight and natural views, the Shore Ortho building was designed to maximize the amount of light reaching the interior spaces with low transparent internal partitions, a pergola allowing outdoor physical therapy when seasonable, and rear contemplative gardens for both patients and staff. Corridors throughout the complex are at least 5 feet wide, easing movement for the wheelchair-bound. Radial floor plans are organized in what Wisniewski calls "service pods" to help doctors and nurses move quickly from hubs to individual patient areas.
Workspace dimensions allow staff to converse outside patients' earshot, combining compliance to Health Insurance Portability and Accountability Act (HIPAA) privacy regulations with a regard for the disturbing effects of overheard information. Administrative areas are clustered at the rear to easily accommodate expansion and growth. When Shore Ortho one day decides to add a wing, demolition of those spaces can proceed inexpensively without disrupting clinical activities. As environmental performance becomes more important in the energy-hungry healthcare sector, notes Wisniewski, and passive-sustainability strategies here achieve LEED-equivalent results without the formal LEED accreditation process and cost.
The short take on Shore Ortho is that it's a handsome and highly functional building. But MGA faced tight budget requirements and these sorts of regional and local healthcare projects represent the backbone of delivering convenient, comprehensive care to people where they live—two facts that, in-and-of-themselves, make Shore Ortho a candidate to replicate in other communities.