Though green walls sound nice in theory, they can be a mess in practice. The mounting armatures often are complicated and costly to build; vertical irrigation easily becomes uncalibrated; and plants receiving uneven water levels or sun exposure quickly die out.
For the Nanobiome Building Skin, a green wall for a Manhattan townhouse, local firm Michael K Chen Architecture (MKCA) tackled these issues by using data and modeling to specify everything from the plant species and their arrangement to the manufacture of their containers. The result is a green wall perfectly tuned to its surroundings and ecosystem.
MKCA began by mapping the project site's environmental conditions to identify not just which plants to select but also which biome the green wall would be mimicking. Working alongside designers from Brooklyn, N.Y.–based Local Office Landscape Architecture and conservation biologists at the State University of New York College of Environmental Science and Forestry, in Syracuse, MKCA pinpointed the site's natural analog to the limestone cliffs of the Hudson Valley.

In Grasshopper, MKCA modeled the apartment's wall with a grid based on its varied exposure to sunlight and shade. It then used a genetic algorithm to optimize the location of each species of fern, wildflower, and moss, and how their fitness would range over the course of the year under different conditions.
The grid also influenced the shape and structure of the custom terra-cotta tiles and 10 different types of container modules in the façade. Ranging from flat panels to shallow planters, and from deep planters to wedges, the terra-cotta forms respond directly to the environmental conditions and needs of each plant in each location and, in some areas, even create shade to help the plants below thrive.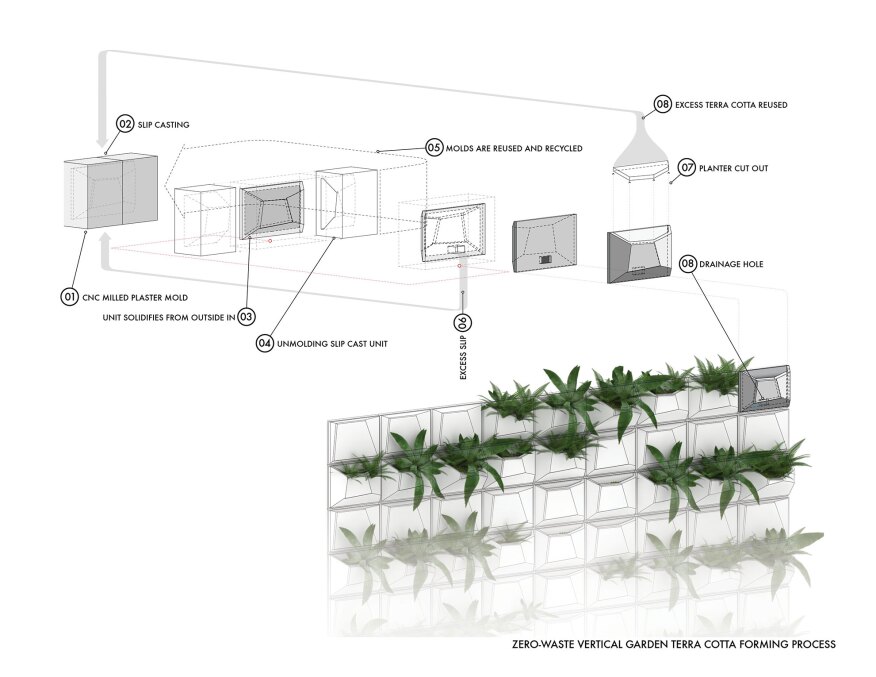 Completed this June, the wall is also an exercise in conservation. It hosts three variations of an endangered fern species, which botanists will be periodically checking to gauge which may be a good candidate for broader propagation and perhaps even commercialization. "We're trying to find ways for the act of conservation to become more integral to the aesthetics of the building and the façade," says MKCA principal Michael Chen, AIA.
The jury praised the Nanobiome Building Skin for combining computational design with the comparably low-tech process of terra-cotta manufacturing, and for its potential contribution to urban ecology. "I love the idea of the façade creating a microclimate in a city," says juror Elizabeth Whittaker, AIA.
See all the 2016 R+D Award winners here.
---

Design Firm: Michael K Chen Architecture (MKCA), New York · Michael Chen, Justin Snider, Alan Tansey, Natasha Harper, Elena Hasbun, Braden Caldwell, Julian Anderson (project team)
Drawings: MKCA
Landscape Architect: Local Office Landscape Architecture · Walter Meyer, Jennifer Bolstad, AIA, Jenny Hindelang
Conservation Consultant: State University of New York College of Environmental Science and Forestry, Department of Environmental and Forest Biology · Danilo Fernando (associate professor and graduate program director)
Façade and Structural Engineer: Buro Happold
General Contractor: IA Construction Management
Manufacturer: Boston Valley Terra Cotta
Photography: MKCA