On Thursday, Jan. 7, Cuomo released a $1 billion plan to expand the Jacob K. Javits Center, located in Manhattan's West Side, on 11th Avenue between West 34th and West 40th street, by 1.2 million square feet. With construction expected to start in late 2016, the space will be increased by 50 percent, totaling a colossal 3.3-million-square-foot structure. Cuomo says that this development will attract more events to the six-block facility and stimulate the regional economy. Funding will be provided by "existing resources," and backed by the Javits Center.

This announcement follows Cuomo's release from earlier this week regarding the Penn Station expansion and contiguous construction to the soon-to-be renovated James A. Farley Post Office.
New areas created by the expansion include a 60,000-square-foot ballroom, with an additional 500,000 square feet of continuous space on the same level, resulting in a fivefold increase for meeting and ballroom space. It will also feature the largest ballroom in the Northeast, according to the Governor's office.
Originally designed by James Ingo Freed of Pei Cobb Freed & Partners in 1986, the structure has seen several structural iterations and add-ons, including a 2014 renovation with a $463 million price tag, The New York Times reports. As a result, the Manhattan site gained a new façade and flooring; mechanical, technology and sustainability systems; and a 6.75-acre green roof—the second largest in the country, according to the announcement. As it stands now, the center has a LEED Silver certification.
Sustainable energy is also a focus in this project, which the state hopes will acquire a LEED Platinum certification. A 34,000-square-foot solar energy array will be installed on the roof, set to be the largest of its kind on a public building in New York. Expanding on its green space, the building will incorporate a 22,000-square-foot green roof terrace capable of holding up to 2,500 guests, providing views to the Hudson River.
A four-level, 480,000-square-foot truck garage capable of housing hundreds of tractor-trailers at one time will be built to alleviate potential traffic and ensure pedestrian safety. This garage will take the place of what is currently Javits North, a temporary structure on 40th Street.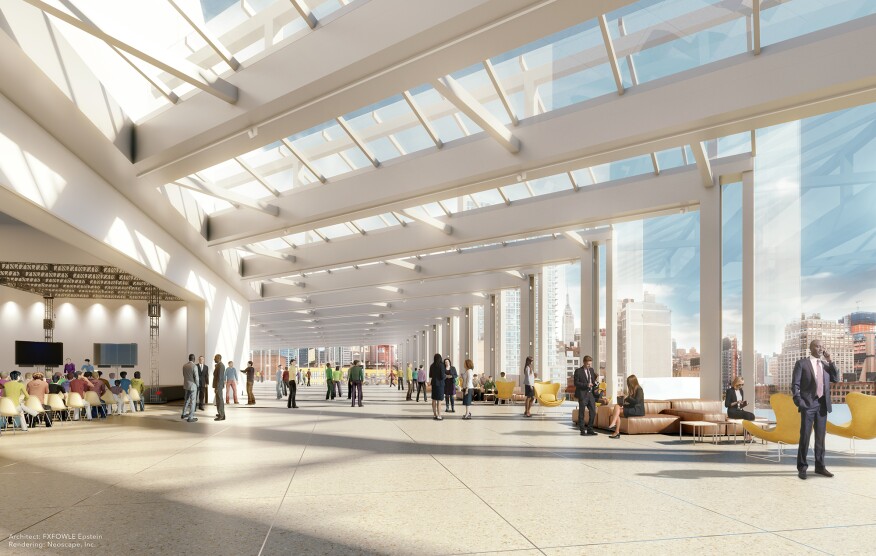 Although the New York convention center is not the biggest (Chicago's McCormick Place holds that title), it is the busiest. According to the state's proposal site, Javits hosted 177 events and more than 2 million visitors in 2014. This created 175,000 jobs and generated $1.8 billion in local business by those staying in the area, which reportedly garnered an estimated 478,000 hotel stays. According to Cuomo's office's site, developing the site will create 4,000 full-time jobs, 2,000 part-time jobs, and 3,100 construction jobs.
"The Javits Center was constructed to create economic opportunity, and by reinvesting in this iconic facility, we are ensuring those opportunities continue for years to come," Howard Zemsky, president, CEO and commissioner of Empire State Development, said in a statement published by Cuomo's office. "Through this expansion project, we will significantly increase the efficiency of operations at Javits and attract more events and support the local tourism, hotel, and restaurant industries."