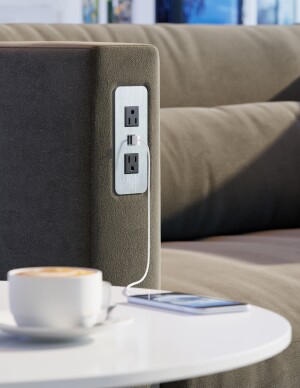 Elements of office design are now taking shape in hospitality design to cater to business travelers who stay connected outside of the office and, as a result, hospitality design is also finding its way back into office design—as well as in the design of lounges, cafés, and common areas. It's come full circle. The design community is ripe with new ideas with each sector borrowing from other market segments and breathing new life into their own respective focus. Longtime office furniture outfitter Doug Mockett & Co. has a solution for this new design landscape that could help tie both industries together.
Millennials enjoy the openness of public hospitality amenities that include basic power access so they can carve out a private workspace in their wide-open surroundings. Having accessible power grommets installed in your furniture can turn any one-dimensional dining table or lounge seat into a dynamic work station. This is especially helpful in venues where patrons will be staying for extended periods and that customer retention can lead to additional business as they stick around. For example, Mockett has an extensive collection of power grommets with USB charging that pop up, flip up, and mount to the edge of a desk or under the desk, or are recessed into the furniture.
Purse hooks for underdesk storage also create a comfortable space for patrons to dine and relax with their handbag or other personal belongings stowed out of harm's way. For restrooms and dining areas like breakfast bars and takeout restaurants with self-service stations, trash management grommet liners can be used to line trash drops and protect the furniture from messy spills. Commercial-grade (and marine-grade) stainless steel is easy to remove and clean. Closed-bottom grommets are great for condiment storage and for holding straws and utensils too.
Retrofitting furniture with new hardware is an easy way to turn existing fixtures into transitional design components that offer a new level of comfort and functionality. With hospitality's focus on comfort merging with the office focus on connectivity, we are experiencing a long-overdue union of thoughtful design in every environment.
For more information on architectural hardware, visit www.mockett.com.