Despite the COVID-19 pandemic discouraging many from traveling for precautionary reasons, Tamale, Ghana–born and –based artist Ibrahim Mahama was able to complete his first outdoor installation in the United States by working remotely. As part of the multivenue project In-Between the World and Dreams, Mahama led the blanketing of the exterior of the University of Michigan Museum of Art in Ann Arbor, Mich., in 4,452 square feet of jute panels crafted by members of his local community. Mahama, the university's remote artist-in-residence, instructed staff from the U-M Institute for the Humanities to stitch together the hundreds of jute sacks over phone calls and Zoom meetings. Completed earlier this month, the result is a textured, building-scale quilt that evokes "themes of commodity, migration, globalization, and economic exchange," according to a U-M press release.
In nonpandemic circumstances, Mahama would typically complete his installations in person alongside the surrounding community. For this piece, the U-M team, led by Amanda Krugliak, curator and director of the U-M Institute for the Humanities Gallery, used materials that Mahama shipped to Ann Arbor from previous installations in Los Angeles, New York, and Venice, Italy. "When plans shifted in March, we did not know if he'd be able to be here, so this entire project has involved a great deal of trust from the artist, and we're grateful that he's worked with all of us to make this happen," Krugliak said in the same release. "It is really significant that we are doing this in this moment when everything seems impossible—and when we're going through a series of crises."
Guided by Mahama, the U-M staff carefully stitched the expansive blanket of jute panels that, once draped over the museum, contrast "with the monumentality of the institutional buildings and spaces they cover, becoming remnants and traces that reference the hands of laborers, the imprints of colonialism and the interference of Britain and the U.S. in Ghanaian history," the press release states.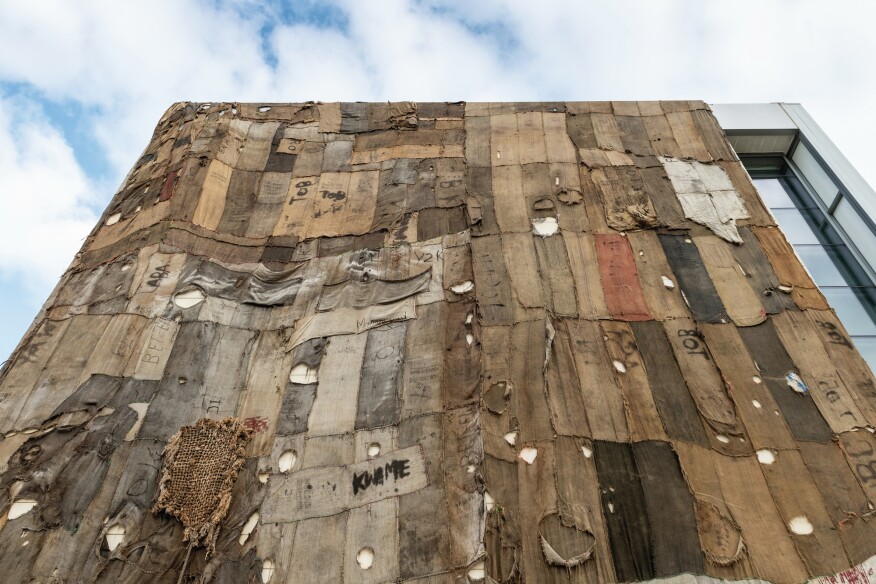 Other components of In-Between the World and Dreams are exhibited inside the U-M Institute of Humanities (currently viewable from the sidewalk gallery window), and an exhibition at the Charles H. Wright Museum of African American History, in Detroit. On Oct. 23, Mahama, Krugliak, UMMA assistant curator for global contemporary art Ozi Uduma, and Wright Museum president and CEO Neil Alan Barclay will participate in a virtual discussion as part of U-M's Penny Stamps Speaker Series.
The In-Between the World and Dreams pieces at the University of Michigan, including the large-scale jute covering. are on view until Oct. 23. Ibrahim Mahama's exhibition at the Charles H. Wright Museum of African American History in Detroit is on view from Oct. 12 to Dec. 5.