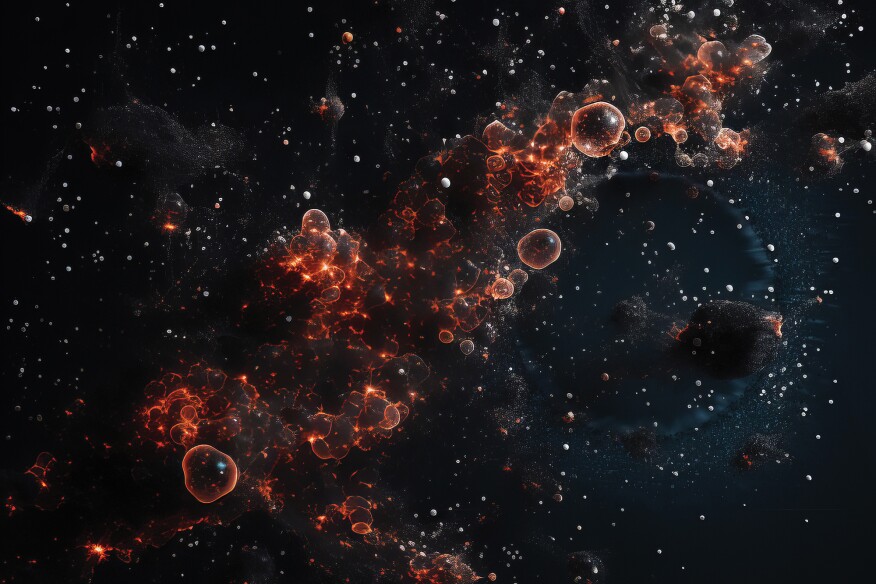 Dark Matter U, a democratic collective responsible for the design, content, and coediting of this month's issue of ARCHITECT, was formed in 2020 alongside protests for the reinvigorated Black Lives Matter movement and the global COVID-19 pandemic. DMU is a Black-, Indigenous-, and people of color-led network representing a design justice movement within academia and built environment practitioners who converged to address longstanding, structural racism present in the design fields and education. Our collective seeks:
NEW FORMS OF KNOWLEDGE AND KNOWLEDGE PRODUCTION through radical anti-racist forms of communal knowledge and spatial practice that are grounded in lived experience. We challenge hegemonic pedagogies, canons, and epistemologies drawn from paradigms of white domination while elevating ancestral and local knowledge.
NEW FORMS OF INSTITUTIONS AND POWER within a rhizomatic, counter-hierarchical network that facilitates equitable resource distribution. We extract from those who have extracted to collate resources and lift up marginalized voices.
NEW FORMS OF COLLECTIVITY AND PRACTICE that democratize models of practice, education, and labor at all phases of production. We operate with deep consideration of ethics and a duty of care, moving from hard to soft power.
NEW FORMS OF COMMUNITY AND CULTURE that expand the circle of those contributing to anti-racist design pedagogy and practice. We actively build power and share knowledge to build capacity and resilience in communities beyond the preconceived boundaries of our fields.
NEW FORMS OF DESIGN that open the possibilities and methodologies for designing the built environment. We aim to co-create new formal and spatial imaginaries that serve broader, often overlooked, constituencies and consider multiple subjectivities.
Leveraging existing inter-institutional connections and forming new ones, DMU saw in the confluence of the remote work and educational environments of COVID, and amid the resurgence of Black Lives Matter, an opportunity to mount a radical, trans-disciplinary, trans-institutional, and anti-racist critique that could operate both "one foot in and one foot outside" of existing institutions while centering equity, justice, and care in its work.
Since its inception, DMU has grown into a platform for 187+ people reflecting and reaching a wide range of communities, practices, experiences, and ways of engaging and shaping architecture, design, and the built environment. This issue of ARCHITECT shares its voices, knowledge, work, and ideas.
On Feb. 26, 2020, the Harvard Gazette published a wide-reaching acknowledgment of one of Harvard University's most prominent erasures: "In a small glass case beneath the grand dome of the Harry Elkins Widener Memorial Library a collection of ephemera honors Philadelphia-born architect Julian Abele and the major role he played in crafting the signature structure on the Harvard campus, a contribution that until recently had largely gone unacknowledged."
It is now widely recognized that Abele, while chief architect of Widener Memorial Library at Harvard University and numerous campus buildings at Duke University, was never formally acknowledged by Harvard and never even allowed to visit his works at Duke because of the color of his skin. Three months after the Gazette article was published, the world witnessed the murder of George Floyd, triggering a global reckoning with anti-Black violence and erasure. Whether large or small, innumerable erasures are either experienced or perpetrated by all of us in our daily lives. And while less finite than the erasure of life, the smaller acts have a collective impact on who is seen, whose ideas are heard, and who
is valued.
In June 2020, the erasures of two Black designers by ARCHITECT—first in 2018 and then again in 2020—were brought to bear. As an act of reconciliation and repair, an invitation to guest edit an issue of the magazine was extended to Justin Garrett Moore and Stephen Francis Gray. Justin and Stephen further extended ARCHITECT's invitation to a much broader collective—an exercise in democratizing the power and platform that editors and curators often hold. Furthermore, rather than focusing on the circumstances of erasure, Justin and Stephen instead sought generative dialogue. This issue of architect is a manifestation of inclusivity, collaboration, and heterogeneity—an ideology which, by virtue of generations of erasure, has become emblematic of BIPOC culture and identity. The works presented in this issue are examples of what collective framing, curation, authorship, and editing can look like.
BIPOC creators embody a generative, joyful, and creative ethos that is rooted in both the collective struggle and the rich tapestry of cultures we descend from and represent. Joy riffs on grief. Collectivity riffs on segregation. Abundance riffs on scarcity. BIPOC expressions of joy, collectivity, and abundance are embedded in our designs, speculative and built works, as well as in the practice through which we lend these works their form.
Rather than putting out a conventional call for papers, we put out a call for participation. Typically a call for papers leads to a highly selective process based on obscure criteria of merit or excellence, but we sought inclusion over competition and asked ourselves if we could find creative ways to represent everyone's voice—to resist erasure. This meant creating a table of contents that intentionally balanced levels of education and engagement, matching authors together for collaboration on pieces that explored similar themes, and reaching out to DMU network members who did not have the capacity to engage to ensure their work was also represented.
As a collective operating within and critiquing inequitable publication practices, we wanted to find ways to subvert the contested norms of the editorial process. What if we treated peer review more like peer mentorship? In our version of peer review, we adopted DMU's Office Hours, a program for holding internal open-ended conversations, to facilitate a series of discussions between peers and authors about each piece. Rather than a double-blind review that focuses on critique and leads to acceptance or rejection, we workshopped all texts through a fully transparent and relational process. We also credited the reviewers, as this kind of labor is often obscured and uncompensated in academic publishing. As a means of blurring hierarchies of power, we alphabetized the names of authors and reviewers in order to emphasize the horizontal nature of the work that we do. The result was that emerging and experienced scholars alike played multiple roles at different times, radically co-creating and exchanging knowledge throughout the entire writing and editing process.
The content in this issue includes co-authored and collectively authored pieces. This spectrum of reformed to radicalized modes of writing were facilitated through workshops and an asynchronous weaving of voices into cohesive form. The results are pieces that span from subversive acts of communing to full-blown polyphony. While co-authorship is not a new idea, our deeply collaborative approach valorizes and celebrates the reality that design is always with communities, nature, other designers, and those that came before us. Nothing comes from a single person's genius, nor should it be credited as such. The works you'll encounter include:
Featured articles: These co-authored features, submitted through open call and selected through our peer review process, cover a range of timely topics, work, and practices from our national and international network.
Featured projects: DMU's network is made up of members who represent some of the most exciting, accomplished, and forward-thinking design practices today. While this entire issue contains work, practices and individuals that are pushing the built environment fields, we wanted to highlight some of the realized projects in our network to underscore that design justice and design excellence are not mutually exclusive pursuits.
Poly piece: The "Poly Particles" floating throughout the issue are excerpts from the polyphony of DMU's collective voice, drawn from a playfully structured set of conversations that took place during group meetings in Washington, D.C., and virtually in May 2023. Transcripts of conversations were analyzed, deconstructed, and re-stitched together with the goal of reconstructing the powerful feeling of being immersed in a polyphony of joy, collectivity, and abundance.
Next Progressives: In line with the collective ethos of uplifting emerging voices, the organizing team sought to highlight the threads among students who have taken DMU-aligned courses and embodied the futures that the field requires.
Reflections: Race, a concept invented to distinguish and exploit, and in many ways to erase, was necessarily agnostic to other identities across class and profession. We hope you'll hear the joy, abundance, and collectivity come through the voices speaking to you in this issue of ARCHITECT. More so, we hope that some of what you hear is familiar … and that you hear parts of your own voice in the words and images presented. If you do, we're excited to be in community with you! And if you don't yet, we hope you'll embrace the abundance and joy that BIPOC designers share—may this be an exciting beginning for you!
This article first appeared in the October 2023 issue of ARCHITECT, which was guest edited and designed by Dark Matter U.