For five years my colleagues and I have tried to build on Frank Lloyd Wright's legacy at the School of Architecture at Taliesin, developing an architecture education geared towards finding ways to make the designed environment more sustainable, open, and beautiful. That experiment is coming to a close: As of July 31, the Frank Lloyd Wright Foundation will no longer allow the school to use either of the two campuses Wright left to the institution for that express purpose, nor will it be able to use any name that refers to either Wright or Taliesin. The school will go into exile, with a new name yet to be determined, while the foundation develops whatever educational programming it deems as "organic."
That in turn means that the six shelters students constructed over the past year as their thesis projects, in the Sonoran desert around Taliesin West, will be the last such examples of a tradition that dates back to 1937, when students first pitched tents on the site. The current group of six designs shows how each student has interpreted Wright's legacy in a radically different manner, while emphasizing the importance, if not the mandate, to think of architecture as the reuse and reimagination of what we already have.
A few weeks ago, I wrote about Dylan Pero's weaving together of plant material, rope, and concrete into one of the most exuberant jams I have seen in a long time. Now the other shelters are all finished. Of those, Cynthia Godinez's is the simplest. Working with a local brick manufacturer, she tried to imbue her design with the qualities of "wabi sabi"—studied and evocative craft that embraces and evokes transience and imperfection. She did so by playing the repetitive nature of the basic building blocks off against the mark of her hand, fitting the pieces as she learned how to lay the bricks. A few windows, positioned to catch the light and views and framed in steel, break up the repetitive nature of the construction order. Godinez hopes to be able to add glass with tints she has selected to bring out the colors in the surrounding desert before she leaves the campus.
Almost as simple, but spatially more ambitious, is Michael Simmons's contribution to an ongoing effort to rebuild a structure that acts as the student lounge. Jose Amayo, who graduated last year, found the site largely in ruins and, working with other students, poured a new slab and erected a metal framework over a part of the structure housing the outdoor gym that the students know as "Tally Beach." Simmons, in turn, erected a line of angled metal beams over the lounge's main area, filling in the space between these structural elements with fabric frames that students will be able to slide in and out of place depending on the position of the sun. Simmons, who has a background in construction and construction administration, brought a trained eye for detail and composition to the task, playing off the existing walls with a counterpoint of intersecting lines and planes. The luminous result is not an individual shelter but will provide a place for social gatherings if the school is one day allowed to return to its rightful home.
Lorraine Etchell, in contrast, engaged in an act of excavation that spiraled into a composition of planes connecting an underground place of shelter with a perch in which to work and observe the surroundings. She also reused a recent student work: a shelter designed by Pablo Moncayo as a cave that signaled itself to the outside with a concrete block wall that doubled as an overgrown planter. Etchell cleaned up the structure, pouring concrete to make it more inhabitable. She slotted a series of plywood planes into the underground space, then rotated them out, intersecting and cutting them to allow for passage up until they emerge above the ground to create a study space, complete with a desk and a viewing window. The composition shows her ability to catch and extend space with an orthogonal geometry carried out in plywood.
Clara de los Rios's design is more complex in both materials and form. She also used an existing site, selectively removing elements from a shelter created about a dozen years ago. Teaching herself welding skills as she went along, de los Rios replaced the pieces she discarded or reused with steel plates and beams. These frame a room that acts as a reading or viewing porch. From there, you proceed into the space through an S-shaped passageway that mimics the twists and turns Wright used to accentuate the movement between different rooms. Here you end up in a small slot from which a ladder leads up to a sleeping loft. De los Rios covered many of the planes with an iridescent film, creating a kaleidoscope of colors that change continually as you move through the small building that appears much larger than it is. Though a bit crude in its construction, the shelter creates the sense that the space around you on your way up to the loft bed is dissolving into a dream state.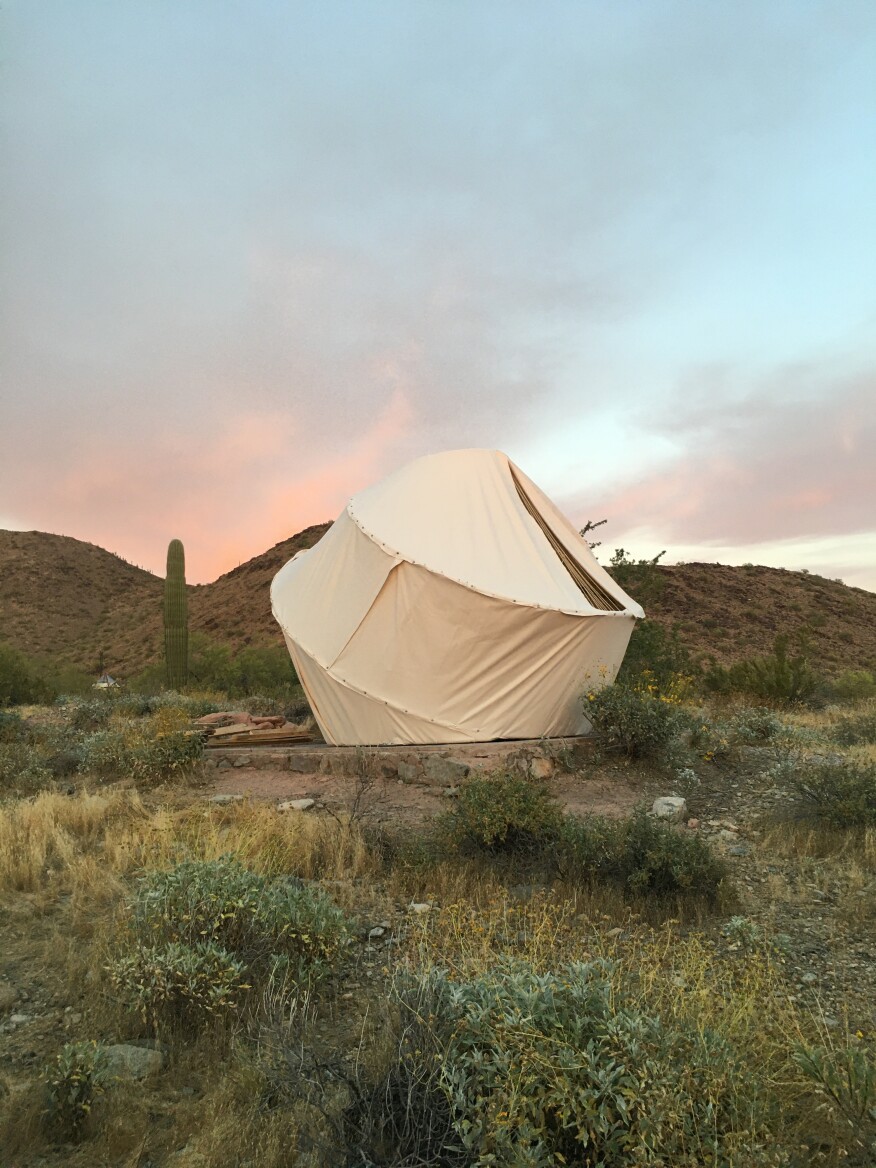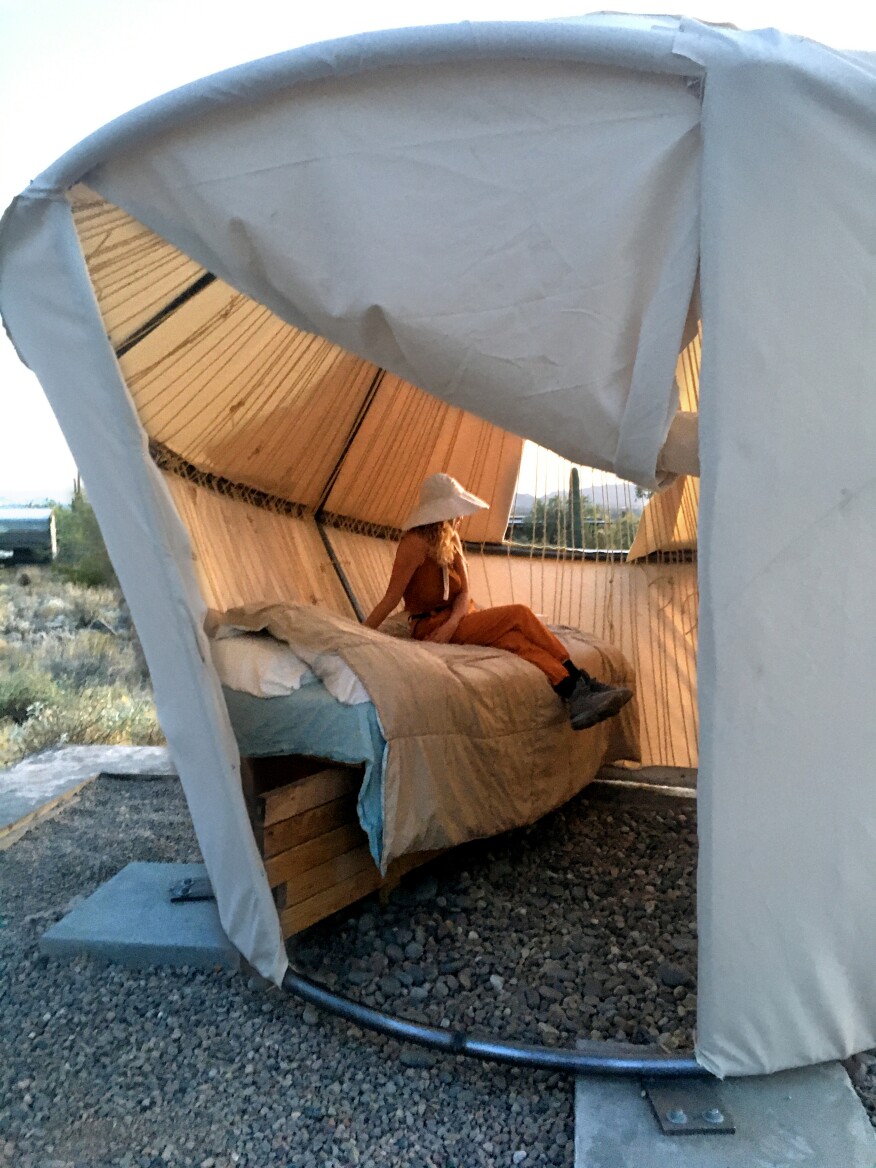 Finally, Anh Luc designed the most radical shelter of the group. She started with a site that had only a concrete pad and a few remnants of walls remaining. After reinforcing the slab, she erected a set of steel hoops (also teaching herself to weld along the way), the largest of which is roughly at waist height. Luc connected the circles with ropes and then covered the resulting skeleton with canvas. Approaching the shelter, you see a form that recalls tents or tepees, but in a geometry remixed so that the object appears to be floating. On entering the space, you find yourself in cocoon in which the light and shadow of both inside and outside play on the rope and canvas. The highest steel circle frames a tilted view of the sky, giving Luc a chance to observe the passing of the sun, moon, and stars.
Each of these shelters in its own way reuses not just existing sites but also available materials and even forms at Taliesin West, and develops from there to an exploration of space, structure, and form that represents the individual fascinations of each student. Having learned not only how to design and build, but also how to make themselves at home here in the desert, these graduates are now ready to be architects.
Aaron Betsky is a regularly featured columnist whose views and conclusions are not necessarily those of ARCHITECT magazine nor of the American Institute of Architects.