Architecture is a not a profession for the weak-hearted, but a recent report sheds some new light on the different obstacles female and male designers face in their careers. AIA San Francisco's Equity by Design (EQxD) committee, formerly known as The Missing 32% Project, has released a full report of its findings from its 2014 Equity in Architecture Survey following its Equity by Design Hackathon workshop at the annual AIA Convention last week in Atlanta. EQxD had released preliminary results from the 90-question survey at its symposium in San Francisco last fall.
The 53-page Equity by Design: Knowledge, Discussion, Action! report, published by AIA San Francisco, begins by reviewing the gender makeup in architecture schools and the profession historically. Women make up 42 percent of graduates from programs accredited by the National Architecture Accrediting Board, but only 28 percent of architectural staff in AIA member–owned firms, 26 percent of licensed architects (who are not principals or partners), and 17 percent of principals and partners.
The low percentage of women in senior roles is attributable in part to "architecture's history as a male-dominated field," the report notes. In 1969, the ratio of male to female graduates was 20 to 1. Between 2000 and 2011, the number of women in AIA grew from 9 percent to 17 percent. However, "women's gains in educational attainment continue to outpace gains in professional advancement and recognition," the report states.
The report moves onto the survey's findings, which were analyzed by researchers at Mills College, in Oakland, Calif. Conducted in February and March 2014, the online survey had 2,289 participants—66 percent women and 34 percent men—with a background in architecture. Slightly more than half of the respondents were licensed, and the average age of respondents was 40. Among those who provided salary information, the average salary was $79,000, with the bottom 10 percent earning about $40,000, and the top 10 percent earning about $140,000.
Pinch Points
Job satisfaction among female and male respondents was low overall at 28 percent and 41 percent, respectively. As ARCHITECT previously reported, one takeaway from the survey was the identification of five pinch points in the career path for women. The first occurs upon hiring. Women respondents, regardless of their years of experience, made less than men—$6,000 less for those entering the field, and $15,000 less—the largest discrepancy—for practitioners with 10 to 25 years of experience.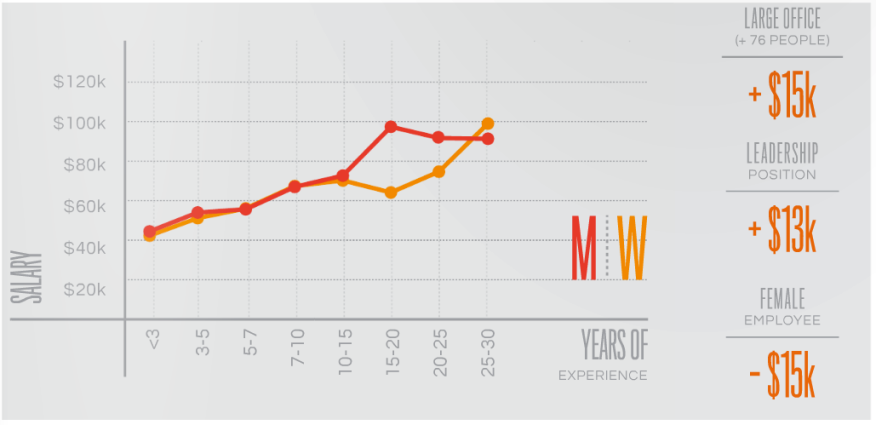 The second pinch point was a period that the researchers termed "paying your dues," which any designer resigned to addressing red lines can explain. The survey asked respondents how much their daily work aligns with their long-term goals. Just 45 percent of male and 40 percent of female respondents with less than three years of experience believed their day-to-day work was relevant to their objectives. This dissonance may manifest in architecture attrition: More than half of the respondents who had left architectural practice did so within five years of entering the profession, citing reasons of low pay, long work hours, perceived lack of opportunity, and perceived lack of role models.
But for designers who hang in there, the numbers eventually change. The majority of male respondents with 15 or more years of experience found their day-to-day work relevant. However, it isn't until women respondents spent 35 years in the profession that a majority finds their daily duties worthwhile.
The third pinch point was licensure. The survey found that male respondents were slightly more likely than female respondents to achieve licensure within the first 16 years in practice, after which the relationship flipped. These findings suggest that a woman is more likely to leave architecture if she hasn't achieved licensure by then—and subsequently less likely to advance in the profession.
Work–life flexibility was the next career pinch point. Though both male and female "working caregivers" are affected, the report states, their experience was quite disparate. Respondents who are mothers were seven times more likely than fathers to report working a reduced schedule to accommodate caregiving. Though respondents who are fathers made more money than respondents who are mothers regardless of their care-giving situation—e.g., they have outside help in childrearing—the largest wage gaps between genders occurred for respondents with school-aged or adult children. This suggests that "the economic impacts of care giving persist in women's careers long after their children no longer need full time care," the report states.
The final pinch point is the glass ceiling. The researchers found that male and female respondents had an equally low probability of making firm principal or partner in the first 12 years of their career, but from that point forward, men increasingly had a higher probability of being named a principal or partner.
Growth and Development
The researchers also examined how male and female respondents viewed their advancement in the profession, with the acknowledgement that as new, more gender-balanced, generations of architects enter practice, the proportion of women holding senior leadership positions may also change. Regardless of years of experience, male respondents were more likely than female respondents to envision themselves as a firm principal or as starting their own firm.
When it comes to salary, women in architecture earn less than men across all experience levels, with the average gap being $21,000. Office size, title, and licensure factor into that discrepancy. But, some good news for women: Female respondents (34 percent) were slightly more likely than male respondents (29 percent) to report having negotiated their salary. Overall, negotiation among architectural hires is fairly uncommon, but successful negotiators of either gender made more money on average.

Meaning and Influence
The third portion of the survey examined career success and satisfaction. Namely, the researchers wanted to understand the motivation behind respondents who left an architecture firm or left the profession entirely. Women were more likely than men to cite a desire for increased work–life flexibility while men were more likely to cite increased design autonomy. Respondents who left architecture typically went on to pursue careers in education, construction, and real estate.
This section also examined the percentage of respondents who had taken a leave of absence of work, and how respondents perceive how a sabbatical affects one's career. The researchers found that respondents who have never taken leave perceive taking time off would have a more negative impact on their career than what respondents who have taken leave report.
Taking Action
As suggested by the report title, the EQxD committee has begun to act upon the survey's findings and the interest it has sparked on the topics of women in architecture and sustaining the profession. The group has embarked on a series of educational and outreach efforts, such as EQxD "U", which offers workshops on the survey topics. EQxD also implemented the Inspire% section on its website, which features people who have successfully navigated the architectural profession.
On a national scale, EQxD founding chair Rosa Sheng, AIA, architect attorney Julia Donoho, AIA, and Francis Pitts, AIA, co-authored the "Equity in Architecture Resolution 15-1," which was put before the 2015 AIA Convention delegates for voting—and passed with 4,117 delegate votes. Co-sponsored by AIA San Francisco and AIA California Council, the resolution calls for architects to help "realize the goal of equitable practice to retain talent, advance the architecture profession, and communicate the value of design to society."
Celebrating Equity in Architecture Resolution 15-1 : PASS! #ilookup #ijumpup pic.twitter.com/FHJVI5VOwu

— EquitybyDesign (@Miss32percent) May 16, 2015
View the full report by EQxD here.