Modular architecture is having a resurgence. Although some architects have long espoused the benefits of building in a factory instead of on-site—less waste, no weather delays, more consistency—this delivery method has remained an outlier in terms of construction techniques. But change is coming. Fueled by a favorable economic environment, new technological developments, and the COVID-19 pandemic, modular architecture is showing up in new and unexpected ways.
The Only Thing New About Prefabrication Is the Recent Interest
Assembling architecture in a factory isn't a new idea. In 1943, Skidmore, Owings & Merrill managed to construct 3,000 prefabricated houses for members of the Manhattan Project in the secret location now known as Oak Ridge, Tenn. By splitting construction among factories, field shops, and the job sites, SOM was able to assemble 30 to 40 houses a day from asbestos-cement panels that slid into preassembled frames. Had the project been completed today, investors would have been salivating over SOM's innovative application of industrial processes to homebuilding. Instead, the war ended, the federal housing contracts receded, and SOM went on to apply its systematic design approach to sleek skyscrapers. As for the Oak Ridge development, it was largely forgotten, one item in a long list of breakthroughs and sacrifices brought about by the war effort.
Some of the techniques employed at Oak Ridge aren't too different from how houses are constructed today. Windows and casework are often manufactured off-site and then installed on-site. In fact, whole assemblies such as machine rooms and HVAC systems are commonly built off-site and craned into place. Terms like "prefabrication" and "modular" are therefore a little murky since contemporary buildings always involve off-site manufacturing to some degree.
The next wave of modular companies generally fits into one of three categories, says Tyler Goss, a project manager focused on construction at Hypar. First, full-stack modular construction companies, such as RadUrban and industry giant Katerra, are competing head-to-head with developers to produce buildings more efficiently. Next are companies offering ready-made, off-the-shelf modular architecture that they can ship to your site much like a product from Amazon (see Cover, Mighty Buildings, Haus, and Dwellito). Last are design-develop firms, such as Juno and Apt, which are streamlining the modular design and development process while leaving the construction to other entities.
Each company seems to have their own take on modular construction—and their own strategy for reshaping the building industry. Some of these companies are building their own factories, while others are outsourcing the construction to another entity. Some operate like an architecture firm, producing design variations, while others operate like car companies, producing standardized products. Some get involved in the early stages of a project, like financing and site selection, while others focus more on the construction phase. What many of these companies do have in common are the three underlying factors driving the recent wave of interest in pre-fabrication: money, technology, and COVID-19.
Startups Can't Start Fast Enough
In 2017 McKinsey released a 155-page report on the global construction industry that outlined a $1.6 trillion opportunity to move the construction industry toward "a manufacturing-inspired mass-production system." This wasn't news for industry insiders, but for cashed-up outsiders the report effectively drew a bright red target. "The one thing that I can tell that has changed is the funding climate," Goss says. "There is a lot of money sitting out there with venture capitalists who have read the McKinsey report and think the industry is ripe for disruption."
The money pouring into modular construction is hard to keep up with. Recently Juno, a startup founded by Apple and Tesla veterans, announced it had raised $11 million to "rethink how housing is developed." Shortly afterwards, Factory OS reported that it had raised $55 million from Autodesk, Facebook, Google, and others to build houses "more like cars." SHoP Architects recently revealed that it was launching Assembly OSM, a separate company aimed at reimagining building manufacturing (perhaps picking up from its earlier modular foray with the B2 apartments in Brooklyn, N.Y.). Katerra has raised more than a billion dollars to fund its factories, which can make everything from precast frames to countertops. And even Ben Huh, the former CEO of the early 2000s meme website "I Can Has CheezBurger?", has thrown his hat in the ring. Huh's company Social Construct aims to turn the "construction site into an efficient assembly line" and is backed by preeminent Silicon Valley investor Y Combinator.
What's Different: Technology
Importantly, along with the recent flood of investor capital, the technology of modular construction has advanced significantly in the past decade. "The problem traditionally with modular construction companies is that although they use advanced manufacturing and off-site technology, they're still in their small bubble within the industry at large," explains Danil Nagy, chief technology officer at iBuilt, an early prefabrication pioneer founded originally as Deluxe Modular in 1965.
Essentially, modular construction companies were perceived as almost interchangeable with a conventional construction firm. They would often get engaged on a project after the design phase. Any potential savings achieved by building in a factory would thus be negated by the expense of reworking the design to fit a modular system. "Just doing construction in a new way isn't enough to innovate," Nagy says. "You have to take on more of the process to disrupt the industry; you need both a new business model and the technology to make that business work."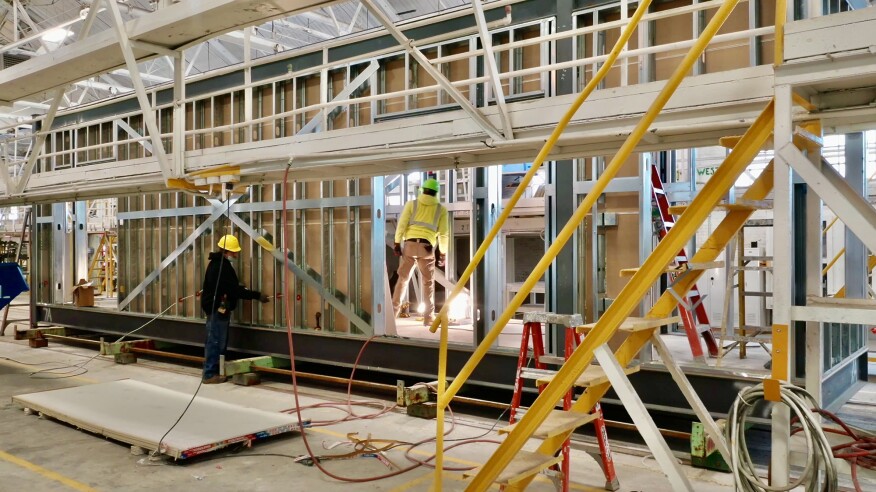 And that technology is largely here. Modular systems traditionally worked a bit like Legos, with rigid units that stack to form a building. With recent developments in computational design, designers can now create modules that offer a degree of flexibility. Rather than being uniform bricks, the modules can shrink, grow, or truncate to better fit a project. This is especially important for urban sites where space is at a premium and a rectangular box won't necessarily provide the most efficient layout. This technique is familiar to many architects, with computational designers at practices like Zaha Hadid Architects using similar algorithms to adjust façade panels to fit an irregularly shaped building.
The COVID-19 Card
Another driver behind the interest in modular architecture is the COVID-19 pandemic. With the increase in telecommuting, many people are moving or rethinking their living arrangements. Like the wartime effort to build 3,000 houses in Oak Ridge, modular construction may provide a way to quickly satisfy the demand for new housing. Beth Cameron, the co-founder and director of Makers of Architecture, a New Zealand firm that specializes in prefabricated housing, says that while work initially slowed at the pandemic start, her firm has experienced a "huge wave" of business as people began seeing "their home environments through a new lens."
With money, technology, and market conditions all in alignment, modular architecture may seem like an existential threat for firms, particularly for those that deliver everyday projects that could be replicated in a factory. On the other hand, with so many companies vying to make their flavor of modular construction succeed, it's not clear which—if any—will be successful. While raising money at the moment is easy, Hypar's Goss says, running a factory, which needs a steady and continual flow of projects to keep operating, is much harder. "Tesla is perhaps the only example of company pulling that off recently," he notes. "And it's had billions of dollars in investment."
courtesy Generate
The assembly sequence of the Model-C apartments by Generate and Placetailor.
Case Study: Generate
Still, architects have plenty of opportunities before them. Some may chose to enter modular construction wholesale, as SHoP Architects has done with Assembly OSM, and as Michael Green did by selling his eponymous firm to Katerra. Others may partner with a modular manufacturer to help realize projects. In 2009, KieranTimberlake got together with PlantPrefab to develop a series of net-zero LivingHomes. Among the firm's pre-fabrication endeavors, it published Refabricating Architecture (McGraw Hill, 2003), a seminal book on modular construction, and partnered with Lake|Flato and Bensonwood to create the OpenHome, a modular design system that can achieve Passive House certification.
After spending his formative years in China "building the unbuildable" with ZHA, John Klein, AIA, took a position at MIT where he focused on the twin crises of housing affordability and climate change. After realizing that many of the techniques he had used to create large, one-off projects in China could be applied to develop more replicable and sustainable buildings in the U.S., he founded Generate, an architecture studio that specializes in modular construction.
Generate has recently partnered with Placetailor (a Boston-based design, development, and construction cooperative that focuses exclusively on zero-carbon housing) to design and deliver the Model-C housing project. The five-story, 20,000-square-foot building in Boston doesn't look modular. It fills an irregular wedge of land so particularly that its factory origins seem improbable. The walls run at odd angles, tracing the site's perimeter instead of a factory-made grid. Inside, the apartments aren't uniform; rather, each contains a unique combination of bedrooms and living room layouts sized to fit the skewed exterior.
Moreover, the flexible module is constructed from cross-laminated timber. Using software that Klein developed with his team, he can quickly lay out his modules on a site and export drawing sets to a factory, which follow the principles of Design for Manufacturing and Assembly (DfMA).
"We at Generate and Placetailor believe the Model-C apartments will be one of the most sustainable buildings in the U.S.," Klein says. Designed to the Passive House standard, the building is expected to operate at a net-zero carbon level when it is completed late next year. With nine other projects in the early to late design phases, Generate and its novel construction systems seem to be finding early success.
Case Study: Makers of Architecture
Makers of Architecture highlight another path. In 2013, Beth Cameron co-founded the practice with three friends, all recent graduates who met in college in Wellington, New Zealand. Collectively, they developed a computational system for designing and prefabricating houses from CNC-cut plywood, cross-laminated timber, and timber framing. They borrowed time on a friend's CNC router to manufacture their first house before they quickly realized "that to be able to experiment, iterate, and test, we needed our own equipment," Cameron says. "At that point, we invested in our own CNC machine."
The practice is split into two separate entities: Makers of Architecture are the designers while Makers of Fabrication comprises the builders, factory, and CNC machines. Together, the two firms employ about 20 people, reliably turning out high-quality, sustainable, prefabricated projects in their remote corner of the Earth. It's a long way from the deep-pocketed venture capitalists of Silicon Valley, but they're making modular construction work on their own terms. The initiative feels futuristic, a group of young architects harnessing technology to reimagine how projects are constructed.
In many ways, modular architecture harkens back to a time when architects were "master builders" and when design and construction were more tightly integrated. Perhaps the next big thing in architecture is simply how it gets made.