It's that time of year. From competitions to convention halls, new products are being feted for their designs, material choices, and "smart" functionality. One of the most celebrated forums is the annual IF Product Design Awards, which is hosted by the Hannover, Germany-based IF International Forum Design and covers products spanning from tableware to automobiles. This year, its international jury called out 50 of the more than 1,000 winning products to receive its Gold Award. Below, we spotlight a selection of the technology and design products among this top tier.
Yumi, Shigeru Ban for Fontana Arte
Shigeru Ban, Hon. FAIA, winner of this year's Pritzker Prize, designed the Yumi luminaire for Fontana Arte. A composite frame encased in carbon fiber allows for its pronounced bend, while 170 embedded LEDs deliver a diffuse downward glow. The pairing of a minimalist frame and a 3000K light source, the jury wrote in its statement, "is a surprise that feels like a little gift for the spectator."
Nova, Lunar
From German manufacturer Lunar, Nova pulls triple duty as a climbing wall, luminaire, and wall panel. Panel cutouts serve as grips and illuminate to highlight paths that users select from an accompanying smart phone app. The jury cited the structural panels' modern design as a differentiator. Rather than imitating rock forms, the panels meet the aesthetic requirements of an interior finish while offering "the same range of functions as a natural climbing wall," the jury wrote. When not in use, the panels function as a light source.
XS Quattro Electronic Fitting, Dorma
The XS Quattro electronic door lever's slender frame offers integrated access control and a card reader, pairing discreet design with security for applications such as hospitality and healthcare. The jury explained that the fitting, from German door hardware manufacturer Dorma, "convinces through its unobtrusive and precise design language." The product is part of the XS Quattro hardware series, which comprises a range of door fittings and locking cylinders.
Tex Glass, Nya Nordiska and Glassolutions
A fabric interlayer between two glass lites opens up "entirely new possibilities in textile interior design," wrote the jury in regards to this collaboration between German textile maker Nya Nordiska and Saint-Gobain's Glassolutions architectural glass division. For use as an interior partition, Tex Glass is offered with 23 textile options and in glass-unit thicknesses of 9.5mm, 11mm, and 13.5mm.
Air Engine, Balmuda
Air Engine's two fans work in tandem to intake and purify air through a 360-degree filter that catches and removes airborne particles. From Tokyo-based Balmuda, which also makes lighting products, the system's minimalist design helps it blend into a space, the jury wrote in its statement.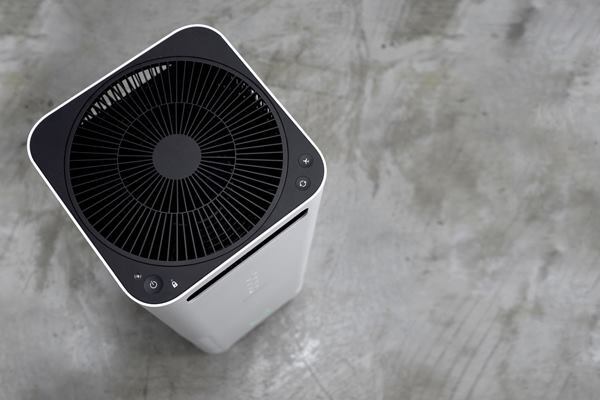 Smart Heater, Balmuda
Balmuda was also awarded Gold for its streamlined SmartHeater aluminum radiator, which earned the jury's accolades for being "the opposite of a technically overloaded product." Still, the ultra-efficient radiator heats five times faster than conventional oil heaters, its maker says, and it has seven control levels. The unit is Wi-Fi enabled.
Add, Werner Aisslinger for Flototto
A clip-like fastener allows the components of this interior modular furniture system to be assembled in several configurations. By German designer Werner Aisslinger for furniture brand Flototto, Add includes a sideboard, cabinet and drawer, bookcase, shelf, and desk.
Metronomis LED, Philips
Outdoor lighting designers must reconcile inevitable shadows and light pollution at night with client concerns for safety. Philips' Metronomis LED street lighting system helps work shadows into a space's design through luminaires whose diffuse warm and neutral white light can be projected onto the ground in four patterns (foam, shown). The diffuser also can be modified to create illumination effects such as moving waves. An integrated LED module below the diffuser can be specified to accent the mast.
Inipi B, EOOS for Duravit
Making a 15-square-foot impression, the Inipi B sauna designed by EOOS for Duravit allows designers to create a luxe spa in indoor environments that are tight on space. The freestanding system only requires an electrical outlet. The jury wrote that the sauna, which can fit one or two people, offers "attractive and intelligent detail solutions in addition to minimal demand in space and energy [to] provide a maximum sense of spaciousness."