Sometimes, all it takes for an architecture firm to find its calling is a single, exceptional project. That's true for San Francisco–based Leddy Maytum Stacy Architects (LMS), winner of the 2017 Architecture Firm Award. Soon after principals William Leddy, FAIA, Marsha Maytum, FAIA, and Richard Stacy, FAIA, founded LMS in 2000, they were commissioned to design a building for the formerly homeless in San Francisco's gritty Skid Row neighborhood.
The nine-story Plaza Apartments helped shatter the convention that affordable housing has to be ugly or blandly institutional. The LEED Silver–certified building is constructed of concrete, but LMS added sunshades and multicolored wood panels to "soften the look," Stacy says. As the project was nearing completion, Leddy recalls, he and his colleagues began getting phone calls from commercial real estate brokers asking how much the "cool condos" on Howard Street would be listed for. "We'd say, 'Those aren't condos. That's housing for the homeless.' The response was usually, 'Are you kidding?' "
The success of the Plaza Apartments, which became the city's first permanent housing for the formerly homeless, cemented LMS's reputation as a mission-driven firm focused on "design with a purpose," as Leddy puts it. "We realized that we could work for for-profit developers building high-end condos for rich techies," he continued, "or we could take this other path. We saw that there was this segment of society that needed great design, but that often got second-rate design. So why would we not want to follow that path?"
Craig Hartman, FAIA, senior consulting design partner in Skidmore, Owings & Merrill's San Francisco office, praises the firm's approach: "I think LMS represents the kind of values the architectural profession should aspire to, especially at this particular moment in history," he says.
Based in a former elevator repair shop in the South of Market neighborhood, LMS (originally founded in 1989 as Tanner Leddy Maytum Stacy Architects) has deliberately stayed small; currently, the firm employs about 25 designers. "We try to do one or two great projects at a time," Leddy says. "We try to make the most with the least, both in terms of resources but also in terms of architectural expression."
LMS's projects share an understated design palette and a pioneering commitment to sustainability (the firm has won nine COTE Top Ten Awards). But the connecting thread is more about impact. "Many of our buildings have had ripple effects beyond the Bay Area," Maytum says. "They serve as case studies showing that you can have great design that integrates good social values and environmental stewardship."
Here are six case studies that demonstrate the firm's enduring influence.
1. California College of the Arts, 1999

After the 1989 Loma Prieta Earthquake, a cavernous 1951 maintenance facility for the Greyhound bus company, designed by SOM's Walter Netsch, "was about 30 seconds away from a catastrophic collapse," Leddy says. The structure proved salvageable, however, and in 1996, Oakland, Calif.–based California College of the Arts purchased it for a new San Francisco campus.
Tanner Leddy Maytum Stacy brought in the engineering firm Arup to help design a new bracing system for the structure. Together, they devised a series of tubular steel frames that support the building's original concrete arches at their weakest points. The frames, painted white, are angled to allow for an uninterrupted corridor that extends from one end of the building to the other.
Studios, workshops, classrooms, galleries, and a café are elegantly placed on either side of the corridor. Light pours in through skylights and 30-foot-high glass curtainwalls. "We took the path of doing the most with the least," Leddy says.
The firm convinced CCA to heat the building almost entirely by using solar hot-water collectors on the roof. "This was at a time when solar was still considered kind of hippy-dippy," Leddy says. "But we were able to show the college that they'd save about a million dollars in construction costs."
2. Ed Roberts Campus, 2010

The signature element at Berkeley's Ed Roberts Campus, home to about a dozen agencies and nonprofits serving people with disabilities, is a red-paneled helical ramp that allows visitors—disabled or not—to move easily between floors of the 82,500-square-foot building. The ramp, just off the lobby entrance, is 56 feet in diameter and delicately suspended from the ceiling by steel rods.
The firm could have designed a more conventional and less expensive switchback-style ramp. But LMS wanted to make a statement: "This building really cemented for us the notion that architecture is for everyone," Leddy says.
Project architect Gregg Novicoff, AIA, adds: "Office spaces can often be dark and hard to get to. For the disabled, navigating them can lead to a sense of shame, seclusion, and isolation. Entering a building that is well-lit and uplifting leads to a greater sense of self. That was a fundamental goal of the building."
Inside, walkways (including the ramp) are 7 feet wide to accommodate two wheelchairs side-by-side. Elevators can be operated by foot pedals and are also double-sided to allow people in wheelchairs to exit without having to turn around.
"It is an egalitarian oasis that, with luck, will send ripples into the mainstream," raved John King in the San Francisco Chronicle.
3. Rene Cazenave Apartments, 2013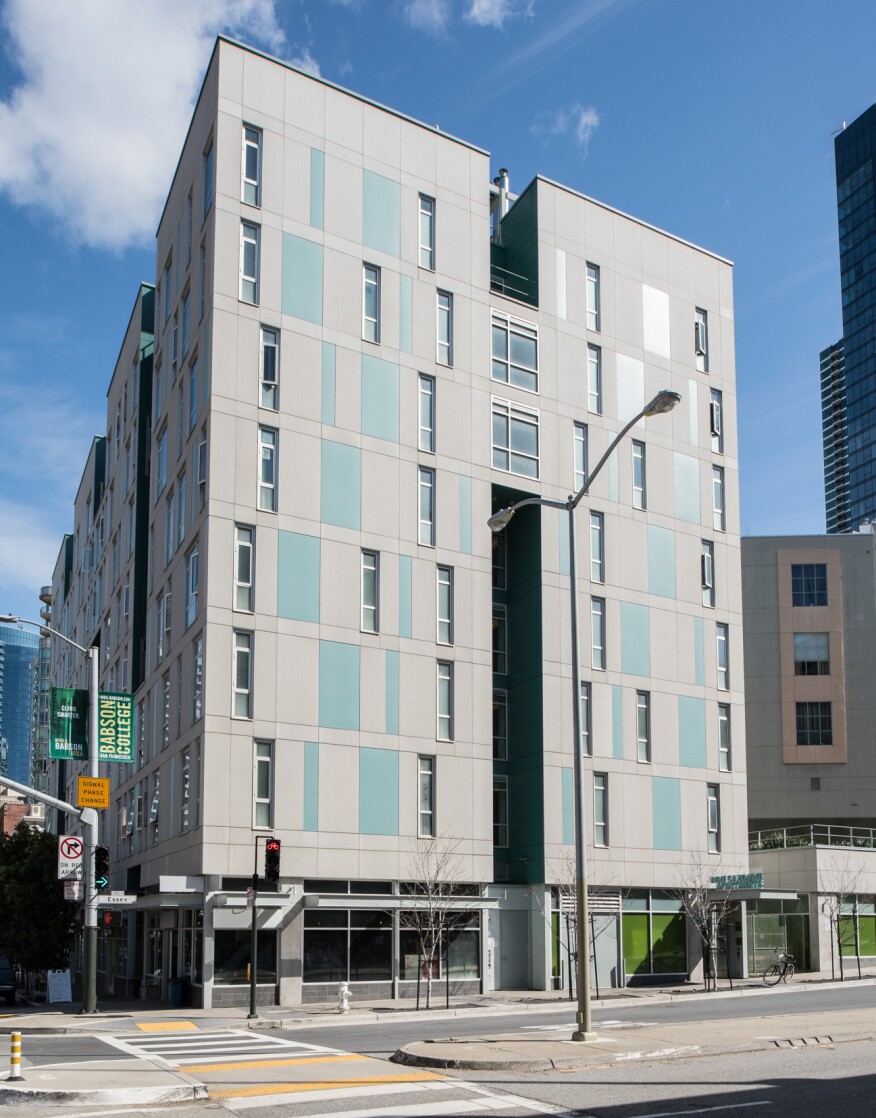 The Rene Cazenave Apartments in San Francisco's Transbay Redevelopment Area are located on a tight, irregular site that once contained a parking lot and a freeway off-ramp. LMS partnered with two nonprofit housing developers, Bridge Housing and Community Housing Partnership (the building's owner) on the project, which provides housing and support services for 120 formerly homeless persons. There's a private courtyard off the lobby and a second-floor community garden, and the attractive studio and one-bedroom apartments have floor-to-ceiling windows and brightly painted walls. "The idea," says project architect Vanna Whitney, "is to create spaces that are comfortable, homey, and welcoming."
Typically, Whitney says, such buildings tend to have support facilities—medical and psychological services—tucked away in back offices. "There's some reluctance for residents to use the services," she says. "There's a stigma attached to them. We thought that was too bad, so we decided to make them more prominent." LMS created a "main street corridor," daylit by several large, circular skylights and lined with community spaces and support services. "We wanted them to be a part of the residents' everyday experience as they go to and from their apartments."
4. U.C. Berkeley Jacobs Institute for Design Innovation, 2015

Jacobs Hall, as it's called, a 24,000-square-foot, three-story innovation hub, came with "lots of interesting design constraints," as Leddy puts it. Two engineering buildings—one designed by SOM, the other by Edward Larrabee Barnes with Anshen & Allen—border the site to the west and south. And the two-story basement of the Barnes building, known as Soda Hall, extends under it. "We didn't know that until after we got the job," Leddy says. As a result, Jacobs Hall cantilevers about 12 feet over the existing basement.
A cantilevered photovoltaic array on the roof provides 58 percent of the energy needs for the building, which earned LEED Platinum certification. LMS used aluminum panels and glass for exterior cladding, with horizontal sunshades and vertical fins to reduce solar heat gain Stairwells on both ends of Jacobs are highly visible, even at night. "We designed the interior lighting to glow at night," Leddy says, "so the building becomes kind of a lantern."
5. Family House, 2016

Located in San Francisco's Mission Bay neighborhood, the LEED Platinum–certified Family House offers free housing for families of children being treated for life-threatening illnesses at nearby UCSF Benioff Children's Hospital. For LMS, the challenge in designing the 80-bedroom, five-story facility was: How do you create a temporary living space for traumatized families that doesn't feel sterile and institutional? "We used a number of different strategies," says Stacy. "We started by organizing the guest rooms into clusters of eight 'mini neighborhoods,' each with its own common living, kitchen, dining, laundry, and play spaces."
Downstairs, the lobby features a low, unintimidating reception desk, a lounge area, and a wide wooden staircase that doubles as auditorium seating for movies. "We tried to make the whole arrival sequence feel more like a hotel," Stacy says.
Generous shared spaces promote interaction among the guests. "These are pretty traumatic events for the families," Stacy says. "Often they have little notice. They get a diagnosis, and the next day they're off to San Francisco. Socializing and creating bonds between families is critical."
6. Pier 2 at Fort Mason Center, 2017

Overlooking San Francisco Bay, Fort Mason once served as a major port of departure for U.S. Army soldiers shipping out to the Pacific. Today, the site is a National Historic Landmark District owned by the National Park Service. In 2014, LMS completed a $21 million rehabilitation of Pier 2, a massive Mission Revival shed built in 1912.
Now, the firm is piloting the adaptive reuse of the structure into the graduate center of the San Francisco Art Institute, a project scheduled to be completed in June. The challenge: inserting studios, galleries, and offices into a 35,000-square-foot space without losing its historic character. "Our solution," says Maytum, "was to put the studio spaces off to the sides, leaving a long corridor down the center of the building. When you walk in, you can see from one end to the other, and you can look up and see the trusses that support the roof."
The studios are arranged in pods broken up by open spaces, allowing unobstructed views of the other historic piers on either side of the building. On a recent tour, Maytum showed off a seminar room with a direct sight line of the Golden Gate Bridge: "Look at the view these lucky students will have!"