Mork-Ulnes Architects
The concept for this northern California house is all about response to its exceptional site. An Arcadian retreat nestled in a grove of remarkably picturesque oaks, it has been quite literally shaped by the three locally known land formations to be seen from its site: Eagle Rock, a mountain range, and a valley of vineyards.
To allow occupants to savor views of these three different land forms, the house's plan consists primarily of three arms extending in different directions, placed to avoid sacrificing a single existing tree; each arm is oriented to frame a distinct view. To permit construction without severing tree roots, the house is supported on steel stilts sleeved into concrete piers.
The spaces in the two arms occupied by sleeping areas can be closed off or integrated into the fluid interior by opening doors on either side of their compact closet–lavatory blocks. A fourth, smaller arm (more like a thumb) accommodates an entry and a bath. Juror Joel Sanders observed that "floating above the earth" is an effective site-specific strategy here. Josh Shelton was happy there were no platforms for outdoor living spread among the trees, observing that the one narrow deck off the main living area provides "a perfect stoop where you could sit."
Click here to see all of the winners of the 2014 Residential Architect Design Awards.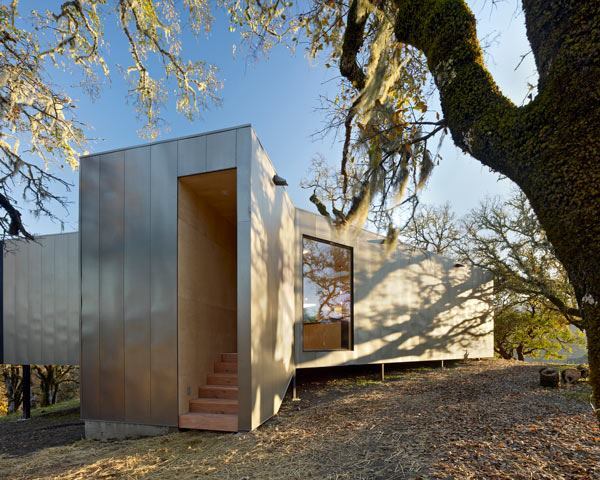 Drawings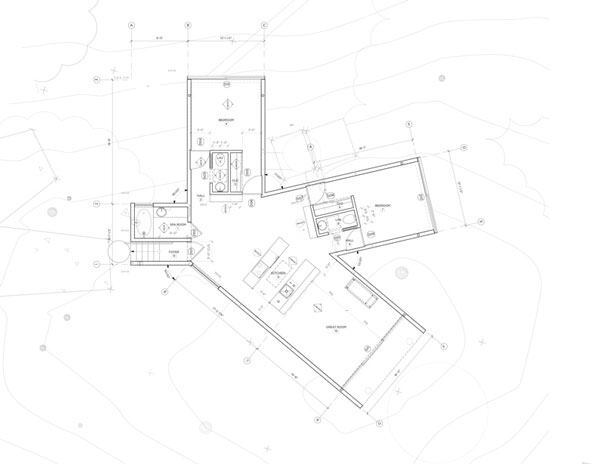 ---
Project Credits
Project Moose Road Residence, Ukiah, Calif.
Architect Mork-Ulnes Architects, San Francisco—Casper Mork-Ulnes, AIA
General Contractor Crossgrain Co.—Stephen Ottmer
Photography Bruce Damonte
Project Size 1,150 square feet
Construction Cost $190 per square foot
Materials and Sources
Bathroom Fittings Hansgrohe hansgrohe-usa.com; Kohler kohler.com
Bathroom Fixtures Kohler kohler.com
Countertops Paperstone paperstoneproducts.com
Doors Panda Windows and Doors www.panda-windows.com
Exterior Siding Standing seam metal panels
Flooring SEMCO-coated OSB
Kitchen Cabinets Custom (fronts); Ikea (cabinets) ikea.com