To help understand the evolution of the 60-year-old Seattle Center Monorail from a quaint tourist attraction to a high-impact public transportation link, start by looking up.
Thanks in large part to 340 gracefully arcing, sinewy metal beams, the once dowdy station is now an uber-cool, last-mile gateway to the likes of Paul McCartney, Cheap Trick, Shawn Mendes, Odesza, the NHL Kraken, and a world of big arena excitement.
The historic landmark underwent a $6.6 million renovation last year. "If you had seen the station before, you'd know how radically different it is. Yet it feels like it was always there. It's transformational," explains senior associate and project lead Emily Perchlik, AIA, of Seattle-based VIA Architecture. "The ceiling is a very logical reaction to space and function."
The updated station is the transit gateway to the new $1.15 billion Climate Pledge Arena, the world's first net-zero-carbon arena. The 0.9-mile monorail track links the city's light rail system to the 17,459-seat venue, the Space Needle, and other attractions at the 74-acre Seattle Center.
Aggressive Budget & Schedule
The challenge for Perchlik and her team was to reinvent the station without disrupting the facility's technical constraints. "To modernize a long and narrow space, we wanted a canopy that suggests mass while allowing at least 70 % of it to be open for air and light. The soft, curved aesthetic creates a spirit of movement," she says.
Just two things stood in the way: budget and timing. The scheduled opening was timed to coincide with the first home game of the NHL's Seattle Kraken in September 2021. The project commenced in April 2021 with an aggressive six-month schedule. Fabricating hundreds of custom extruded aluminum beams within budget and on time wasn't possible; some ceiling manufacturers offered beams but with design compromises that defeated the architectural intent.
Only CertainTeed Architectural
One commercial ceiling manufacturer stepped forward. "Only CertainTeed Architectural could handle vertical curves on both the top and bottom of the beam. They also met our schedule and budget," Perchlik recalls.
The custom extruded, curved metal beams – called High Profile Series Vertically Curved Beams – range in length from six to 18 feet. Installation was limited to evenings (monorail trains operate up to 16 hours a day and run every 10 minutes), and beams were shipped in batches to keep the installation crew continuously busy. Each batch was transported to the station platform the only way possible: by monorail, of course.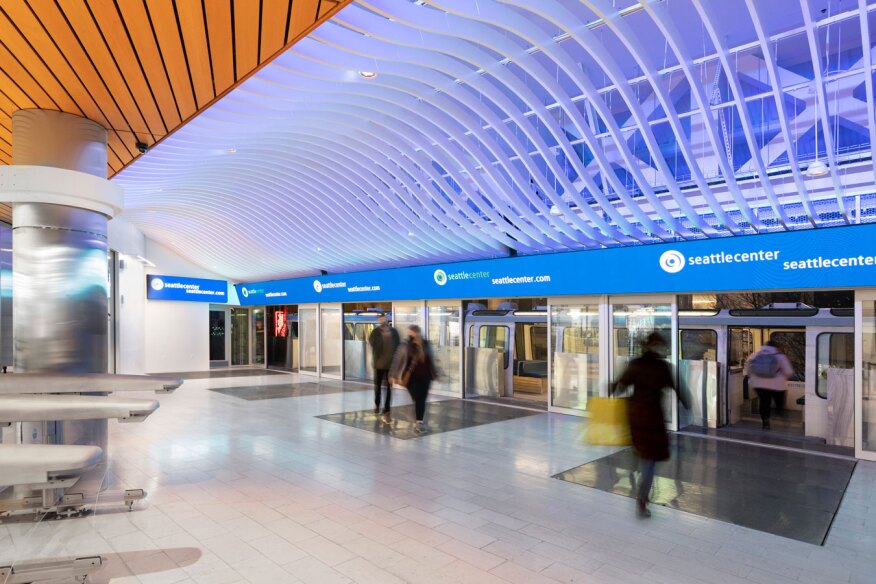 Expectations Exceeded
Each beam was sized and engineered to a specific angle and sequence. A sophisticated lighting system with programmable colors and lively sequencing was installed to enhance the rider experience. As the project's single-source ceiling supplier, CertainTeed Architectural was responsible for the station's entire ceiling system, including linear wood panels. All ceiling components were installed in six weeks and met every project requirement.
Today monorail ridership is running well above projection. Civic leaders hail the visually stunning station for helping energize riders to and from the arena. Especially hockey fans.
"The NHL Kraken includes free monorail rides with every single-game ticket and season pass," Perchlik says. With help from CertainTeed Architectural, this storybook makeover now plays a starring role in Seattle's public transit renaissance.
Learn more about enhancing your next project with CertainTeed Architectural innovation and style.