Project Description
Contemporary Australian architectural styles have largely evolved from the current architectural trends, or otherwise imitate previous Australian styles. Like Organic, Sydney Regional, Tropical, Brutalist, Structural, etc. Let's look into some of the more inspiring architectural solutions for home exterior as they stand today.
Recycled-brick upgrade home
Located on a corner plot and squeezed by a laneway on two sides, this house designed by Austin Maynard Architects stands as a bookend to a row of garages in the Melbourne suburb of Richmond. The building's exterior is patterned by small red- and blue-glazed bricks, earning it the name Brickface. The house was built for the client's daughter on the site of their former garage. According to Maynard Austin Architects, Melbourne's property market is so inflated that an entire generation is not only struggling to buy a home, but also struggling to find affordable places to rent. So, many parents are exploring the city's under-utilised laneways, creating a second residence for their children where they can live during university and early career years. The house layout consists of a ground level garage, a studio living space and a roof deck that also functions as a garden. A tall galvanized steel spiralling staircase winds up from the backyards pool's edge to the roof terrace. According to the architects, the building's recycled red and blue brick façade contrasted by round windows help soften the solid block of the entire structure.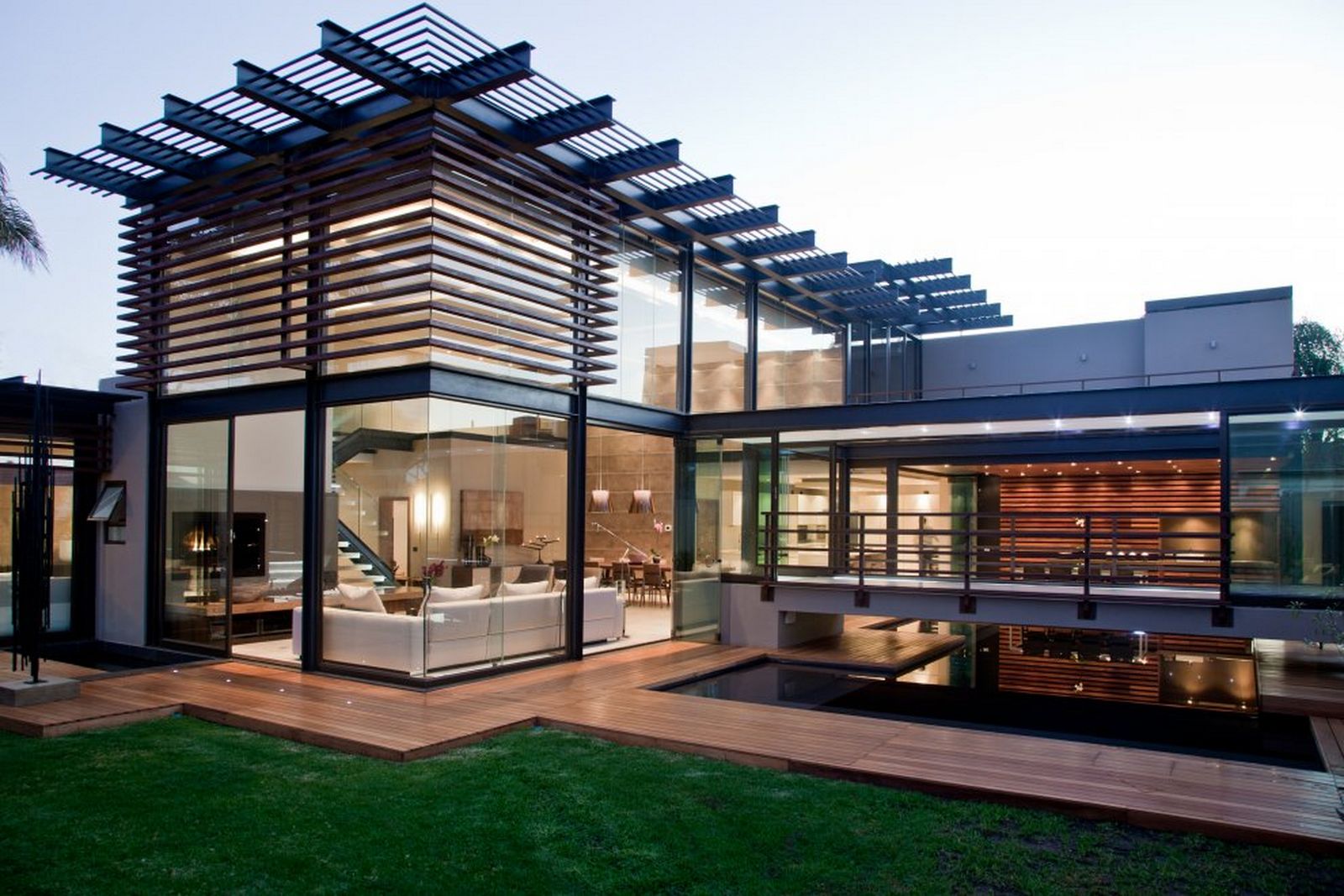 Japanese hillside stilts
Designed by Japanese Tato Architects and Australian Phorm Architecture, this hillside house in Brisbane is a combination of Japanese design and a traditional Australian style called the Queenslander – a wooden stilted building with a veranda. This style actually used to be very popular in sloping Brisbane suburbs. As a result, every room in this two-storey house has its adjoining outdoor area. A steep flight of steps leads up from a road-level parking spot to an outdoor area adjoining the ground floor. Aside from connecting residents to their surroundings, the verandas double as an entrance porch and reception area. The Japanese-inspired overhang roof protects the building and the verandas below from the harsh Australian sun. Among many challenges of building on a sloped terrain, there's an issue of positioning exposed steel I-beams which form the house structure. Luckily, with such a demand for stilted homes, finding a rentable crane in Australia has never been easier.
Bushland home fireproof
Nestled into a base of a sandstone outcrop in a patch of dense coastal bushland of the Palm Beach peninsula just off Sydney, this house is armoured in blackened zinc panels to defend it from wildfires. The clients wanted a home surrounded by shrubbery, and a forest of gum, oak and blueberry ash so the architect Glenn Murcutt angled the building to preserve as many of these trees as possible. One of the trunks even extends through the gap purposefully left in the roof structure, while the windows project outwards in places selected for the best views. The two-storey Donaldson House is about the same height as the sandstone outcrop, so it's invisible from the street that runs past it. A flight of concrete steps leads down from a street parking space, past the outdoor shower to the upper storey. The blackened zinc was selected for the exterior mainly because of the property's location in an area that has a high risk of bushfires. Even windows are made from toughened mesh-covered glass and set in anodized aluminium to protect against embers. Murcutt is known for his sensitivity to landscape and attention to climatic conditions, so this house design architectural solutions respond directly to the unique site demands.
Each of these styles has a different emphasis on practicality, like physical needs, layout and views, land and environmental considerations, such as weather. On the other level, there are aesthetic considerations like planar, volumetric, and sculptural form, as well as emotional and spiritual qualities.