Wood products are enjoying a renaissance in architecture. But when designers Yugon Kim and Tomomi Itakura, partners at Boston-based IKD, looked at the life cycle of timber, they found "inefficiencies in maximizing carbon sequestration, one of which was the unused waste from the milling process," Kim says. They wanted to reuse the C-shaped trim pieces of logs—which can comprise up to 38 percent of a felled tree—without down-cycling them into lower-grade products like particleboard, wood pulp, mulch, or fuel.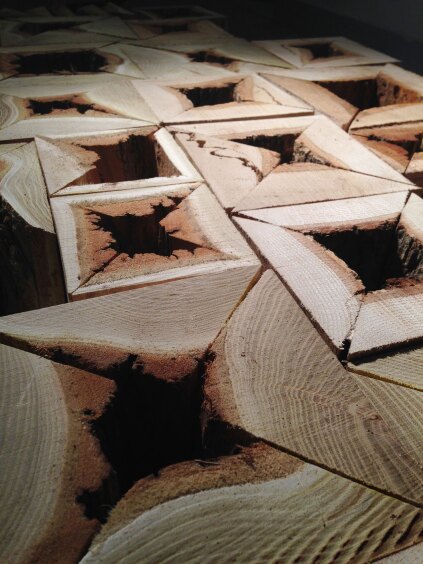 Their solution is remarkably simple: turn the pieces' flat, sawn faces out and create blocks that can stack in modular fashion. Kim, a former sculptor and furniture designer, and Itakura salvage the edges from local sawmills, cut them into manageable 8-inch lengths, and reassemble them four pieces a time, with mitered corners. The resulting "Timber waste Modular Unit" ("TwMU") is a hollow, load-bearing block. Juror Doug Stockman, AIA, contrasted the elegance of IKD's prototype, in which "literally the edges are ripped off and reassembled in a different way, without further manipulation," to other wood products that use reconstituted material.
For the first trial of the TwMU system, IKD built a five-course-tall circular bench around the base of a tulip tree at the Heritage Museums and Gardens in Sandwich, Mass. During its five-month tenure, the blocks began to crack, Kim says, due to the uneven release and absorption of moisture. IKD began developing new prototypes to improve TwMU's durability. They drilled notches to facilitate evaporation and contraction, and applied coatings of beeswax, pine tar, and char. They also tested hardwood versus softwood, and green versus kiln-dried wood. As of press time, these second-generation prototypes had endured nine months outdoors, with the notched and coated versions faring better than the initial prototypes. Kim plans to run the trial for two years.

See all the 2016 R+D Award winners here.
---

Project: Timber Waste Modular Unit ("TwMU")
Design Firm and Fabricator: IKD, Boston · Yugon Kim, Tomomi Itakura (leaders); Yuki Kawae, Steven Hien, Brendan Casimir, David Morgan, Erin Kim, James Fan, Miguel Lorenzo Gumila (student research assistants)
Drawings: IKD
Funding: Heritage Museums & Gardens; Rhode Island School of Design
Photography: IKD
Special Thanks: Windy Hill Farm Sawmill