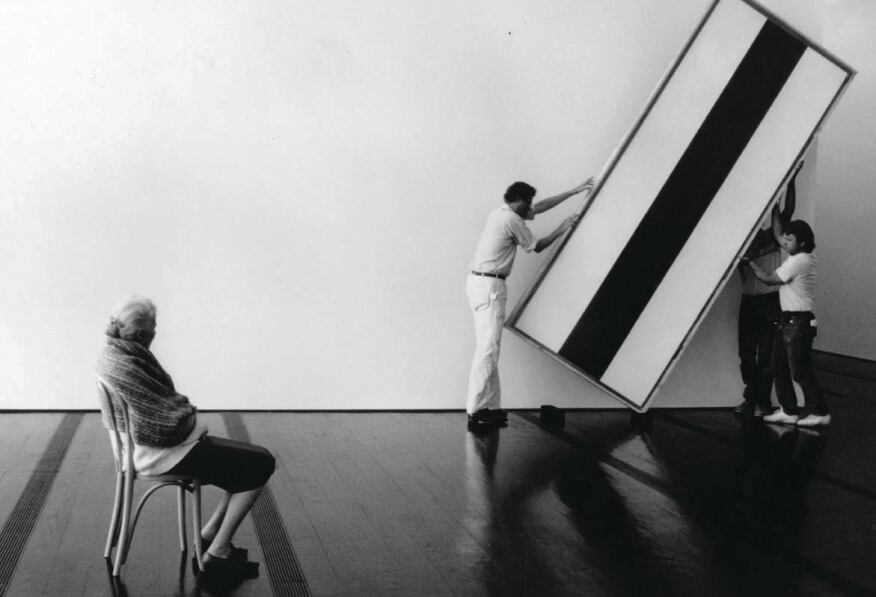 In 1948, John and Dominique de Menil decided to build a house. They lived in Houston, then as now a booming oil town, so the idea was hardly an unusual one. John was the president of Schlumberger, an oilfield services company, and the de Menils purchased a lot in River Oaks, the kind of stately neighborhood where you would expect a wealthy oil man to build. Half a century later, Jeffrey Skilling, one of Enron's self-proclaimed geniuses, would own a mammoth mansion directly across the street before the Feds relocated him to a more modest residence at the Englewood correctional facility. The de Menils' decision and the address were all as Houston society of the time would expect. The house would prove to be something else. But then, so would the de Menils.
They first arrived in town in 1941, wartime refugees of a kind, but instead of carrying battered canvas luggage, they brought an oil company. Schlumberger was the family business. Dominique had been born Dominique Isaline Zelia Henriette Clarisse Schlumberger, in Paris in 1908. "John," who was actually Jean Marie Joseph Menu de Menil, the son of the Baron Georges Auguste, also had been born in Paris, four years earlier than his wife. They'd met at a party in Versailles, married in Saint Dominique-Saint Matthieu Chapel in Paris, and honeymooned in Morocco.
As a young couple, they lived in a spacious apartment in Paris, and it's interesting to ponder the life they might have lived had the war not intervened. But Schlumberger decided the Nazi invasion was a good time to relocate. John's family had a military heritage dating back to Napoleon, and before leaving France, he had been part of the resistance, sabotaging oil trains among other things. So the de Menils came to America.
Somewhere along the way, John and Dominique fell madly in love with Modernism in all its forms—architecture, painting, and sculpture. The house that they built brought that aesthetic to Houston in its high midcentury form, and the city was never quite the same.
The de Menils hired Philip Johnson, FAIA, then up and coming, for the project, in part because a friend told them that they could get him for $25,000 cheaper than Ludwig Mies van der Rohe. John de Menil and Johnson quickly hit it off. "They were both men on the make," says Stephen Fox, an architectural historian at Rice University in Houston. Dominique was not so taken. In a single-spaced letter to Johnson, she complained, among other things, about how his casement windows banged in the wind.
Banging windows aside, the house Johnson built the de Menils was an iconic expression of Modernism: long, low, and nearly windowless from the street. Inside, visitors are immediately surprised by a series of glass walls that open into an interior courtyard, and that create a sense of opacity and light that has lost none of its power today.
The house befuddled Houston in more ways than one. Cabbies thought they were delivering passengers to a dentist's office or clinic. Deliverymen mistook the front door for the service entrance. But it was among the city's social elite that the house had the biggest effect. "There were other modernist houses, but they were struck by the audacity of this one," Fox says. "It really served as a symbol to old Houston society of what they could do."
And so the de Menils began a life of cultural and architectural patronage that continues to shape the city today, and that stands as an argument for the power of great architecture and art to reach through the years. "What's interesting is that they really didn't build that many buildings," Fox says. "But they inspired so many people."
In 1954, the de Menils commissioned Johnson to design a master plan for St. Thomas, a small Catholic university in Houston that they had decided to support. The school's central quadrangle of two-story brick and glass buildings is another example of modernist simplicity and functional grace. When the Basilian fathers running St. Thomas resisted some of the de Menils' ambitious plans (particularly John's plan to make St. Thomas less Catholic), the family transferred their patronage to Rice University, where they became active supporters of architecture and the art department.
It wasn't the last time that they pushed a little too hard, at least for some tastes. "People liked what they did and also didn't like their strength," says Helen Winkler Fosdick, who first met the de Menils as an art history student at St. Thomas, and was part of a coterie of idealistic young people who ended up working for them. "There were people in Houston who thought it was either the de Menil way or no way."
In the 1930s, they had begun collecting art. One of their first pieces was a small Cezanne; another was by the surrealist Max Ernst, even though Dominique admitted that when a friend initially showed them a painting of birds by Ernst, they were far from impressed. "We told our friend, please explain to Max Ernst that we liked birds that looked like birds."
Nonetheless, trying to support a young artist that a friend believed in, the de Menils commissioned a portrait of Dominique from Ernst. When it arrived, they discovered that they cared for it no more than his birds, and they packed it away to be largely forgotten during the war years.
Today, that painting is one of several Ernsts on display in the Menil Collection, which is housed in a Houston museum designed by Renzo Piano, Hon. FAIA. The de Menils' art collection would eventually grow to more than 10,000 pieces, including works by the leading artists of abstract expressionism, surrealism, and pop art. After the war, when they found the parcel containing the Ernst portrait of Dominique, they discovered that their tastes had changed. "By this time, our eyes were opened. Our eyes were different," Dominique told an audience at an art show she curated in the 1970s. "We hadn't seen something, and now we could see it."
A collection that began with a Cezanne and a disdain for Ernst would end up including everything from African tribal masks to Warhol silkscreens. Josef Helfenstein, the current director of the Menil Collection, believes it was a way of carrying one of their passions with them into a new life. "When they came to Houston, it was really a very young city. There wasn't a lot of culture," Helfenstein says. "Building a museum, sort of in their own heads, was a way of dealing with where they had landed."
That could lead to the impression that they dismissed Houston, but François de Menil, their youngest son and a noted architect himself, says his father, in particular, found it a congenial home. "My father loved the Texas spirit—the can-do, will-do Texas spirit," François says.
Still, an awkward contrast in styles was sometimes apparent. A film made by François of the Max Ernst show captures a reserved and still quite continental Dominique and a wide-eyed, blinking Ernst dealing with a parade of old-school Houstonians, by turns kind, overly effusive, and mildly challenging. The highlight comes when a patrician woman with a honeyed Southern accent tells a baffled Ernst that after seeing a painting by him of an owl, she had been fascinated to meet him "and find out what kind of bird you are."
Ernst was one of many artists, architects, and writers who visited the de Menils in Houston. Le Corbusier, Warhol, and Norman Mailer all swung by. Magritte appears in photos proudly wearing a cowboy hat after a visit to the rodeo. François recalls as a child thinking these guests were simply his parents' friends. "But looking back I can see the house became a salon of sorts—not because they were trying to operate a salon, but because they were bringing the culture they were familiar with in Europe to Texas."
The de Menils were a partnership of equals, but John is remembered as the more outspoken one. "John de Menil used to say it was not worth doing unless you did it the absolutely best way it could be done," says Winkler Fosdick. Stephen Fox offers a more colorful take on their differences. "John was the kind of guy who would jump up on a table and point at people and tell them, 'You're not good enough.' Dominique would go around the table and pat them on the back and say, 'No, no, you're good enough.' "
There is little doubt that they had the attention of Houston's cultural elite. At the same time they were commissioning Philip Johnson's design for St. Thomas, the Houston Museum of Fine Arts hired Mies van der Rohe to design the first of two additions that he would eventually develop for the museum. "It was seeing what the de Menils had accomplished that gave them the confidence to go out and hire Mies van der Rohe," Fox says.
Philip Johnson would end up designing many other buildings in Houston, but the real testament to the de Menils is probably in the local architectural scene that has flourished since. Howard Barnstone and his partner Eugene Aubry, FAIA, who assumed responsibility for the de Menils' house after Johnson grew dismayed at Dominique's hiring of the too-colorful-for-Johnson interior decorator and fashion designer Charles James, carried the mantle of Modernism forward in the city. It lives today in the work of several Houston firms, including Stern and Bucek, who handled an immaculate restoration of the de Menil house, completed in 2004.
The commission to design the Menil Collection captures an essential part of the de Menils' relationship with the city. After John passed away in 1973 (this son of the French aristocracy carried to the church in a battered Volkswagen van that had been used to transport his beloved art), it fell to Dominique to decide the future of the family collection. The Louvre and the Museum of Modern Art in New York were both interested, but after lengthy deliberation she decided the collection needed its own museum.
If Dominique had sometimes been at odds with Johnson, she found her temperamental match in Piano. "His focus on details resonated with her," Fox says. "They were both logical, calm people." Returning in 2007 for the museum's 20th anniversary, a decade after Dominique had passed away, Piano remembered the intensity of their collaboration, calling her the most stubborn woman he had ever met, but also a careful listener. "You do not have good architecture without a good client. And architecture is, in some ways, a mirror of the client," Piano said. "So this building is a portrait of Dominique de Menil."
Dominique told him she wanted a museum largely lit with natural light, allowing the mood to change with the passage of the day—but without damaging the art, of course. Piano's solution: a series of curved baffles integrated with the skylights to diffuse the harsh Texas sun, while still allowing a sense of the day to come through. "The way Piano resolves the daylight was kind of stunning," Helfenstein says. "This is where he became kind of this magician of light."
The building has been recognized as an early Piano masterpiece, but one of the things little noted is that it sits in the middle of a residential neighborhood, and with its wrap-around portico, it quietly echoes the bungalows on neighboring blocks. Along with its broad green lawn that functions as an informal park, the museum clearly welcomes the neighborhood in, a reflection of the way the de Menils viewed architecture and art. "They always saw the end goal as a public good, which I find beautiful," Helfenstein says.
Piano enjoyed his work at the Menil enough that he later returned in the mid-1990s to design a smaller freestanding gallery dedicated to the work of artist Cy Twombly. Once again Piano would find an innovative way to work with natural light, this time with fabric and mechanical louvers, creating a building that shares an affinity with the Menil next door, but is its own unique creation.
One of the de Menils' only other commissions also captures something essential about their relationship to the city: The Rothko Chapel, just down the street from the Menil, was unveiled in 1971 to house 14 large paintings by Mark Rothko. Philip Johnson, Howard Barnstone, and Eugene Aubry all made contributions to the project. The site also includes a reflecting pool with a sculpture, Broken Obelisk by Barnett Newman, at its center. The main room of the chapel is a sparse, octagonal space with simple benches for contemplation of the massive, black-hued paintings that fill the walls. It's as severe an expression of high art as you're likely to find, but with the sculpture, the chapel site also illustrates how the de Menils were committed social activists. They contributed to and helped organize programs in Houston's black community, including one of the city's first serious exhibitions of African art that was held at the De Luxe Theater.
The de Menils had originally offered the Barnett Newman sculpture to the city of Houston, but they wanted it dedicated to Martin Luther King Jr. It was less than a year after King's assassination, and racial tension still ran high, especially in the South. A nervous city council rejected the gift, but the de Menils were undeterred. They put the obelisk with its dedication in its current site, an expression of how they saw art as an essential commentary on the human condition. Winkler Fosdick remembers John loved the piece so much that he would often have the driver divert the car when they were coming home at night, just so they could drive past it.
The Rothko Chapel receives thousands of visitors a year, but it also has become a more formal ecumenical gathering place. In 1991, on the chapel's 20th anniversary, a ceremony was held to present a special award to Nelson Mandela from the Carter-Menil Human Rights Foundation, founded in 1986 with former President Jimmy Carter. A large tent was erected for the crowd that gathered to see the luminaries, which included Bishop Desmond Tutu. After the ceremony in the chapel, Carter and Tutu entered the tent to meet the public. As they did so, Winkler Fosdick remembers Dominique de Menil trying to slip across the stage behind them.
The de Menils' long relationship with Houston hadn't always been easy, but now recognition of all they'd done seemed to fill the audience. Applause swelled throughout the tent. Carter and Tutu stood aside and raised their hands to acknowledge the woman responsible. "That was the first really strong indication of how she'd really won over this town," Winkler Fosdick says. "The crowd went crazy. They just went crazy for her."
25 Year Award Jury
Mary Katherine (Mary Kay) Lanzillotta, FAIA (chair) Hartman-Cox Architects, Washington, D.C.; Brian Fitzsimmons, AIA Fitzsimmons Architects, Oklahoma City; John Kane, FAIA Architekton, Tempe, Ariz.; William Leddy, FAIA Leddy Maytum Stacy Architects, San Francisco; Philip Loheed, AIA BTA Architects, Cambridge, Mass.; Robert Maschke, AIA Robert Maschke Architects, Cleveland; Douglas L. Milburn, Assoc. AIA Isaksen Glerum Wachter Urbana, Ill.; Becky Joyce Yannes, AIAS Drexel University, Philadelphia