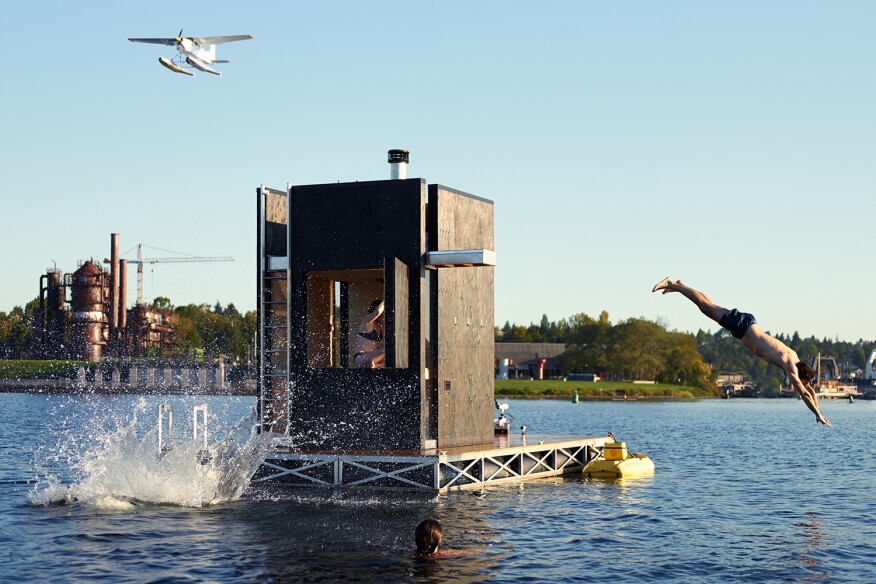 The AIA announced that nine projects have been recognized by its Small Project Practitioners Knowledge Community for exemplary design within a minimal footprint. These winning projects, which jury members selected for their adherence to the theme of "Small Gesture, Big Impact," include portable, floatable, and temporary structures as well as permanent buildings. The nine selected works illustrate that overall square footage isn't necessarily a determining measure of design quality, and that diminutive projects can celebrate details in unexpected ways.
The jury for the 2016 AIA Small Projects Awards was led by Marika Snider, AIA, of Snider Architecture in Beavercreek, Ohio, and included Will Bruder, FAIA, of Phoenix-based Will Bruder Architects; Mira Locher, FAIA, of Kajika Architecture in Salt Lake City; Elizabeth Ranieri, FAIA, of Kuth Ranieri in San Francisco; and Jonathan Tate, of Office Jonathan Tate in New Orleans.
For more images and information on each of the 2016 AIA Small Projects Award winners, click on an image below to see the full entry in ARCHITECT's Project Gallery.
Category One: Up to $150,000 in construction costs

Carnegie Library of Pittsburgh Studio Hive, Pittsburgh
GBBN Architects
Jury comment: "A graceful solution to a ubiquitous problem. The project is especially innovative in how it quantified the positive effects of design, which could benefit a myriad of future projects."

Deployable Smocked Porch, Winterset, Iowa
Substance Architecture
Jury comment: "A delightful intervention that successfully melds handcraft into a refined, yet mysterious, experience, embodying the possibilities for small-scale, tactical work."

Wa_Sauna, Seattle
goCstudio
Jury comment: "Suspended within the expanse of the lake, this modest project offers a set of intimate and specific experiences of being on the water. The wa_sauna project captured the spirit of the 'small projects, big impact' theme."
Weihnacht Huts, Bethlehem, Pa.
Nikolov Architecture and Design
Jury comment: "While alluding to the form and genre of the typical shack at a traditional German Christmas market, the Weihnacht Huts present a contemporary, cost-effective, and clever solution to the need to provide shelter, identity, and flexibility,within a standardized design."
Category Two: Up to $1,500,000 in construction cost

Girl Scouts Camp Prairie Schooner, Kansas City, Mo.
el dorado
Jury comment: "This Girl Scouts Camp project reinvents the simple shed with small moves to create a big impact. The project is both durable and delightful. It's smart about light, color, scale and materiality."

Linear Cabin, St. Germain, Wis.
Johnsen Schmaling Architects
Jury comment: "Deceptively simple, yet immaculately detailed, [this is] a beautiful minimalist cabin in the woods."

St. Pius Chapel and Prayer Garden, New Orleans, La.
Eskew+Dumez+Ripple
Jury comment: "In a sliver of available space, the dexterous form of the chapel skillfully manages to complement the monumental main sanctuary while creating a respite with contemporary sensibilities."

Studio Dental, San Francisco
Montalba Architects
Jury comment: "The project deftly balances the challenging program with a sense of dignity, and impeccably detailed spaces that could inhabit any size building."

Village Health Works Staff Housing, Kigutu, Burundi
Louise Braverman, Architect
Jury comment: "The elegant yet exuberant structure pays attention to the occupants' needs by creating a connection between indoor/outdoor space and between the building, the sites, and the views."