A new mosque has risen at the center of the burgeoning city of Kırıkkale, the capital of Turkey's Central Anatolia region. Located nearly 50 miles east of Ankara, but still in the western half of the country, the city is home to a population of almost 200,000. The Kırıkkale Merkez Nur Mosque, which was designed by Turkish architect Necip Dinç and completed in 2015, accommodates up to 10,000 worshipers at a time. Its design borrows from 16th century Ottoman influences, such as Mimar Sinan's Selimiye Mosque across the Bosphorus in Edirne, with a central dome that reaches 105 feet high and four 200-foot-tall minarets at its outlying edges. Eight carrier columns radiate from the central dome to distribute the structural load outward. Five additional domes shelter the entrance, and a dome-covered portico extends along an east–west axis to provide shaded access to the mosque, as well as a buffer between city and courtyard.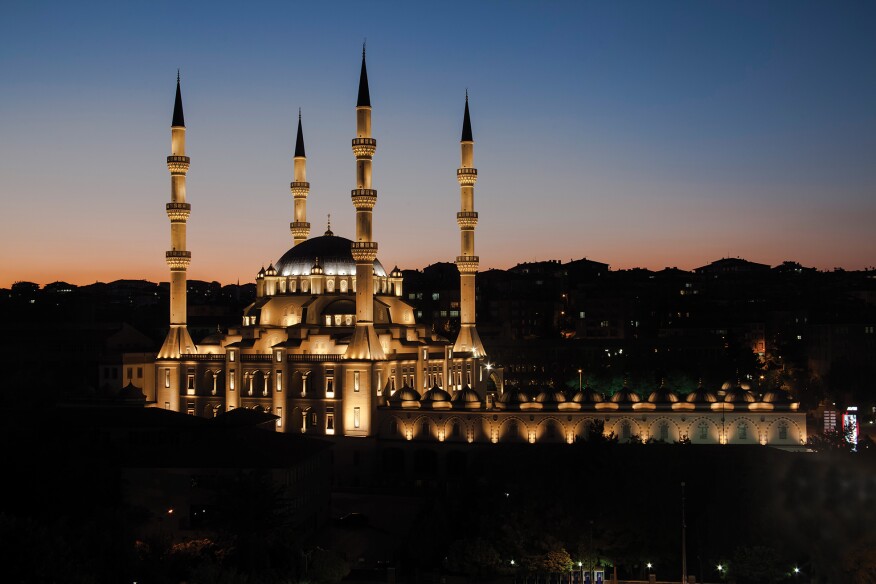 In order to make this place of worship a focal point for the city, the design team from Istanbul-based Zeve Lighting chose an illumination strategy that emphasizes the depth of the mosque's architectural features, using a variety of color temperatures to establish a visual hierarchy on its surfaces. The interplay between light and shadow assists in that overall effect, with half-domes in shadow and patterned windows lit by narrow-beam uplight. Cool-white light washes the curves of the central dome, while warm-white light adds linear definition to the undersides of the minaret balconies and the crescent at the dome's apex. Cool-white fixtures embedded into niches in the minarets illuminate the rectangular windows.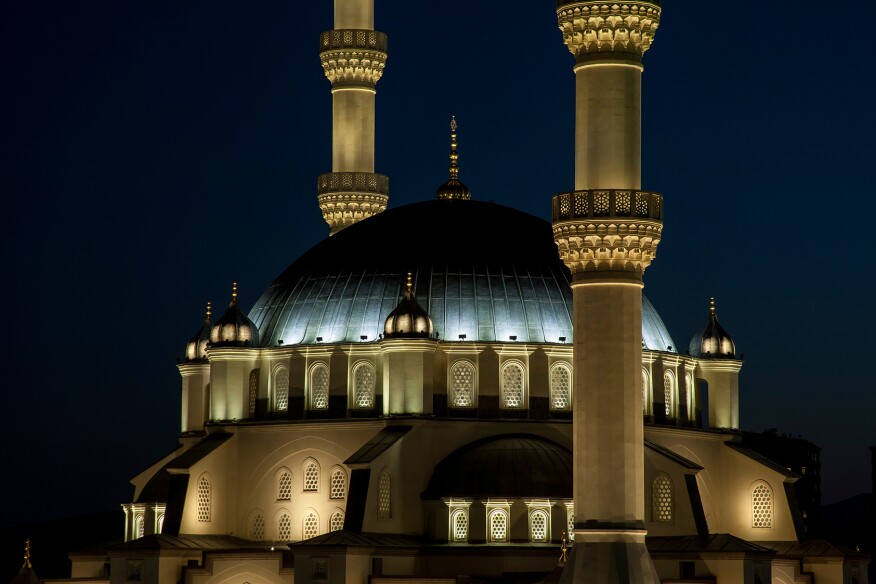 Zeve Lighting used short-throw, narrow-beam luminaires to accentuate the high-relief patterns of muqarnas, a form of high-relief honeycomb-like vaulting, above the columns. Wide-beam fixtures bathe the undersides of the entry dome with warm-white light, and a warm-white spotlight demarcates the main entrance. Where possible, fixtures were concealed or painted to match or minimize their daytime visibility.
Kırıkkale is a city that will continue its growth around the mosque, with additional demands for resources arising as it expands. Recognizing that sustainable lighting design is an important means of energy reduction within the city, LED luminaires are used exclusively, and programmed lighting scenarios minimize the mosque's overall energy consumption, while still underscoring its prominence at the city's center.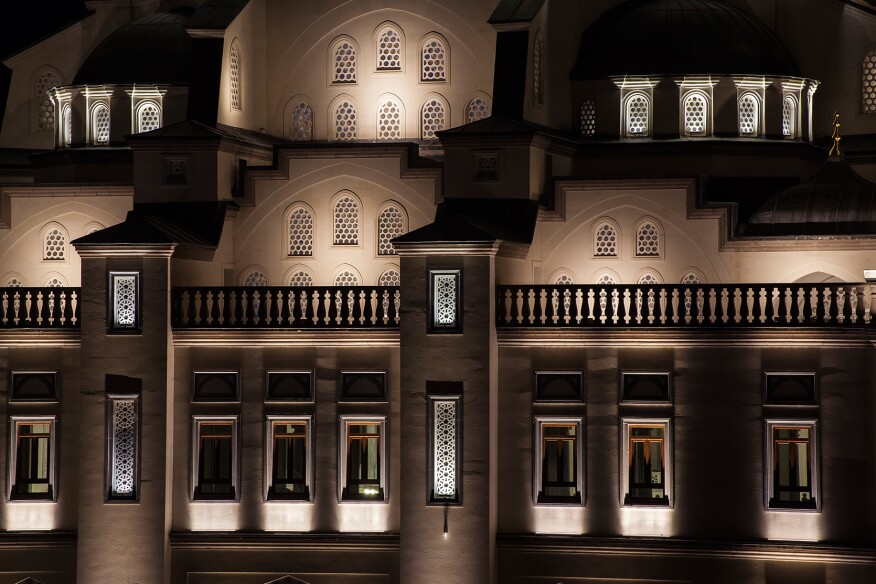 Details
Project: Kırıkkale Merkez Nur Mosque, Kırıkkale, Turkey • Client: Turkiye Diyanet Foundation, Kırıkkale, Turkey • Architect: Necip Dinç, Istanbul • Lighting Designer: Zeve Lighting, Istanbul • Team Members: Ayrim Yaser Talu and Kenan Akifoglu, 3D Visualization Artist • Project Coordinator: Bekir Gerek, Kırıkkale Provincial Mufti • Photographer: Idris Ekinci • Project Size: Total lighting area is approximately 7,040 square meters (75,778 square feet). The building is 2,450 square meters (26,371 square feet). Height of main dome from the ground is 32 meters (105 feet); height of minarets is 61 meters (200 feet), and inner diameter of the dome is 20 meters (66 feet) • Project Cost: €11.6 million ($12.7 million) • Lighting Costs: €135,000 ($148,000) • Watts per Square Meter: 2.07, Total Power 14.6kW • Code Compliance: Not Applicable • Manufacturer: Philips Color Kinetics
Jury Comments
Scale is extraordinary. • Chose the right surfaces to light. • Color temperature selection is very good. • Contrast is just right. • Right amount of balance.