The extensive ivory collection of Count Franz Graf zu Erbach-Erbach has been on view in Erbach, Germany, for decades, and this past fall, a portion was relocated to the city's Erbach Palace. Designed by Sichau & Walter Architekten, the new exhibition is showcased in a set of "galleries" that take the form of a walkway that wraps around exhibit cases set against an anthracite-colored backdrop. The deep-red walkway meanders like a ribbon through clusters of specially designed frosted-glass cases that contain the ivory sculptures.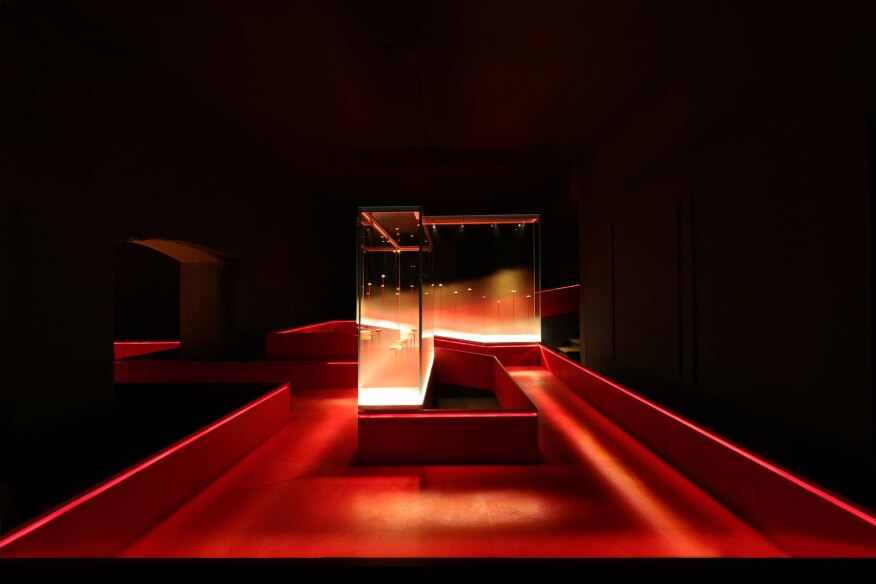 Licht Kunst Licht was asked to create a lighting scheme to showcase the setting and highlight the collection. The designers concealed LED edge lighting in the frosted bottom third of the glass cases, which makes the carvings inside appear shrouded in mist. Each display is then lit from above using miniature 3000K 14- and 30-degree LED spotlights for glare-free accent lighting. The walkway is illuminated using concealed LED strips to emphasize the exhibit's ambiguous sense of ground and ceiling plane.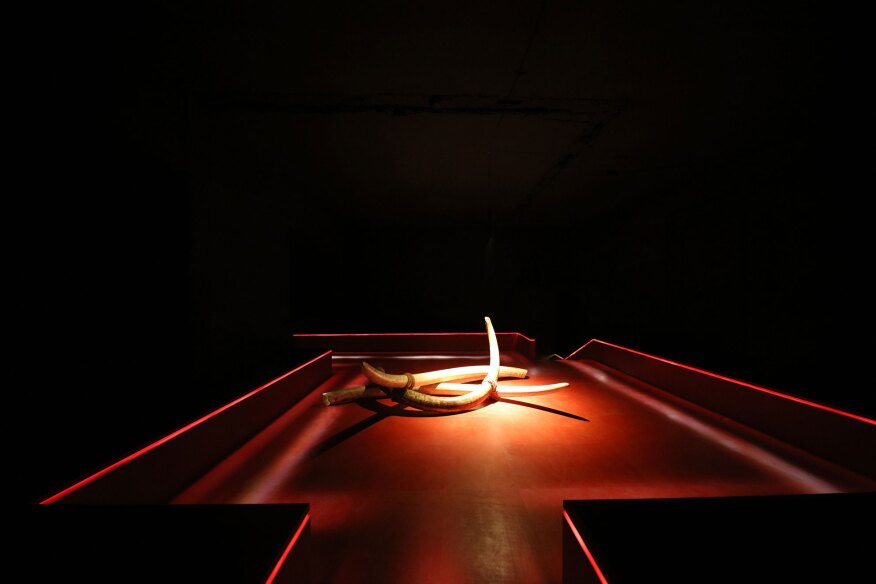 The exhibition includes a variety of display treatments, including a room of closets transformed into edge-lit showcases reminiscent of more traditional museums. The exhibition ends with three elephant and mammoth tusks, illuminated using small LED projectors mounted to the ceiling, that remind visitors of the controversial nature of the collection.
Jury Comments
The cases are an unusual treatment and add to the unique presentation of the collection. • Exquisite. • Stunning.
Details
Project: German Ivory Museum, Erbach, Germany • Client: Administration of National Palaces and Gardens of Hesse, Germany • Architect: Sichau & Walter Architekten, Fulda, Germany • Lighting Designer: Licht Kunst Licht, Berlin and Bonn, Germany • Lighting Team Members: Andreas Schulz, Till Armbrüster, Felix Beier, Stephanie Grosse-Brockhoff • Photographer: Sichau & Walter Architekten • Project Size: 4,850 square feet • Project Cost: $1.39 million • Lighting Cost: $62,000 • Watts per Square Foot: 0.51 • Code Compliance: Not Applicable • Manufacturers: LED Linear, XAL