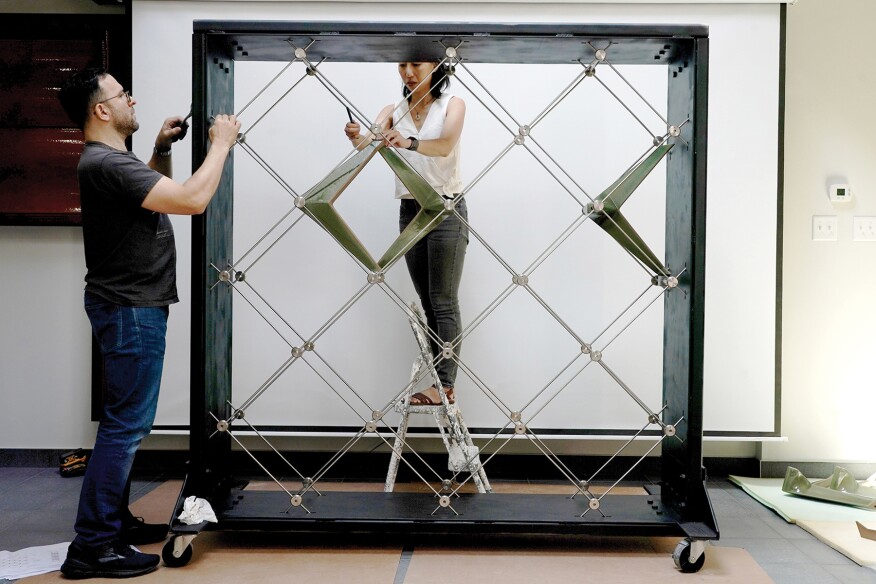 "The deep research and iterative prototyping development behind V-Soleil is so thoughtful and unique. The form and array of the modules are strikingly beautiful, and the analysis of how the terra-cotta forms can be aggregated, altered based on façade orientation, and replaced if needed, perfectly demonstrates the rigor and creativity of the team behind this project." —Juror Kat Schneider
As part of the sixth annual Architectural Ceramic Assemblies Workshop, the New York–based Architecture Research Office collaborated with Heintges Consulting Architects & Engineers and fabricator TriPyramid Structures to explore the use of terra cotta in high-performing building envelopes. The result is V-Soleil, a curtainlike terra-cotta brise soleil inspired by the organic forms of vine structures and traditional diamond-patterned espalier trees.
The V-Soleil system comprises interlocking V-shaped glazed terra-cotta modules measuring approximately 18 inches across that are supported on a double-layer tension net structure, creating a diamond-shaped screen. Depending on a façade's solar orientation, the module can be rotated to optimize its shading capability.
Each module is made of dark brown clay with green glazing. Portions of the clay are strategically exposed for an organic effect but also out of practicality: Due to the module's geometry, the designers had to consider how each would be supported during the firing and glazing process to avoid fusing to the kiln. Working with a glazing specialist, ARO developed a firing support that would intentionally leave selected surfaces unglazed, an important consideration given that each piece would be viewed in the round.
Throughout the six-month iterative design process, the team carefully tested the prototype's form for solar performance, structural stability, and visual impact. ARO and Heintges worked closely with TriPyramid to refine the prototype and to ensure that it could be manufactured economically. The module can be sized up or down to work at different scales and on a range of building types. If a module breaks, it is designed to be removed individually without the need to disassemble the entire system.
Applied across a large-scale façade—Heintges tested spans up to 54 by 54 feet—V-Soleil appears as an abstraction of natural vines while providing effective shading and minimizing the solar heat load. A thoughtful fabrication process elevates the beauty of natural terra cotta and lends scale, pattern, and texture to a piece of architecture.
Project credits:
Lead principal: Stephen Cassell
Collaborating principals: Kim Yao and Adam Yarinsky
Architecture Research Office project team: Neil Patel, Jenny Hong, Lian Ren, Brennan Heyward
Heintges project team: Robert Heintges, David Bott, Jean Gu
TriPyramid project team: Michael Mulhern, Joe Kelly, Matt Bull
Partnership: Architecture Research Office, Heintges Consulting Architects and Engineers, TriPyramid, Boston Valley Terra Cotta