This week, we're sharing projects from Seattle to Sondrio, Italy, Seaside, Ore., and Lyon, France, with several stops in between. In addition to the projects that we give more detailed coverage, we highlight work that architecture firms share with us every day through the Project Gallery, the user-generated portion of ARCHITECT's web site. To date, we have more than 15,000 projects.
This weekly roundup showcases some of the coolest new projects to be added to the gallery—thanks to architects like you.
Mgf House
Sondrio, Italy
Gianluigi Moreschi
"The apartment is located in the old town of Sondrio, inside a building dating back to the 17th century. A volume altered over the years and then abandoned. The intervention aimed to bring everything to its ancient splendor, affecting as little as possible the feeling of welcome and beauty transmitted during the first visit."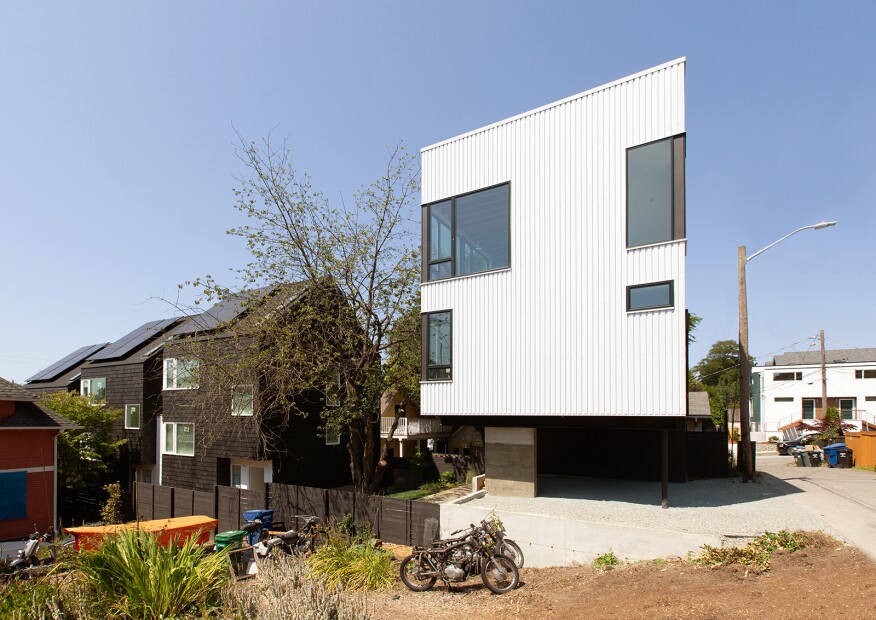 The Lookout
Seattle
Hybrid Architecture
"Elevated for a larger "treehouse" feel and with access to both street and alley, the modern home provides both a lightness and flexibility in its construction. Hybrid Architecture's development, design, and build for the site worked around preserving a beautiful cherry tree to the lot, which provides economic, social, and environmental value to the space."
Seaside Civic and Convention Center
Seaside, Ore.
Holst Architecture
"The renovation and expansion of the Seaside Civic and Convention Center aims to better connect the existing facility to its natural and urban context and improve its functionality, appeal, and visibility from downtown Seaside. In doing so, the design enhances the Center's regional competitiveness, increases its profitability, and support the City's goal to attract new visitors for year-round activity."
Haikou Apartment
Haikou, China
New Office Works
"This house is a play between being hidden and exposed. In contrast to the typical division of domestic functions, the private functions (master bedroom, bathroom and wardrobe) remain on the first floor while the more public functions (living room, kitchen and study) are located on the second floor. A concrete spiral staircase acts as the entrance foyer and immediately leads visitors up to the more public second floor."
Me-Kwa-Mooks Net-Zero
Seattle
Shed Architecture
"The Me-Kwa-Mooks project showcases the transformative remodel of a once awkward, poorly remodeled home within its existing footprint on a steeply sloped, triangular lot. SHED Architecture's new design improved access to the residence, connecting to views of the greenbelt and Puget Sound, while improving interior flow. The home is on track to achieve net-zero energy efficiency."
M Lyon
Lyon, France
Kohn Pedersen Fox Associates
"Designed by KPF with the support of local architect Soho Atlas, the project reinterprets the strong architectural and historical signature of the Part-Dieu District while incorporating contemporary markers to achieve 'smart building' status. A large central atrium allows office occupants to benefit from optimum natural light, while also giving the project a sense of unity despite its large dimensions."
Rio House
Rio de Janeiro
Olson Kundig
"Essentially a steel-and-glass box, the house hovers above the land supported structurally by two concrete piers, one of which also functions as an indoor/outdoor fireplace. Tucked into the juçara palm and cariniana trees on the 3.1-acre site, the north end of the home contains a single bedroom while the south end opens to views of city, the sea, and Rio's famous Christ the Redeemer statue."
Librio Yukuhashi Library
Yukuhashi, Japan
Mikami Architects
"This project served to spark improvements to user-friendliness for local residents and create a bustling city center. The expectation was not only of a library that could attract many visitors, but a multi-purpose complex that could facilitate civic activities as well as child-care support."
Iowa City Public Works
Iowa City, Iowa
Neumann Monson Architects
This new public works facility by the local firm Neumann Monson Architects houses pieces of civic machinery in a largely concrete structure punctuated by luminous panes of LED-lit, semi-translucent plastic material. "It's really hard to get taxpayers excited about these buildings," says NMA architect Jesse Bulman. "Most people never get to see them, but they depend on them." Read more about the project, featured in ARCHITECT's January Typology department, here.
Want to see your firm's work highlighted here? Sign up for an account with our Project Gallery, add your firm, and upload your projects. Go to the home page for the gallery and click on Create a Project.