When I first encountered the Belgian firm 51N4E about two decades ago, the firm consisted mainly of three (somewhat) angry young men, Johan Anrys, Peter Swinnen, and Freek Persyn, who promised to upend the then-prevailing idea that the only good work coming out of their country was a kind of vernacular Minimalism. Instead, they promised to dig deeper into the fabric of Brussels, Antwerp, and the other cities where they worked to open up new ways of looking at and remaking their country. Now 51N4E, named after Brussels' geographic coordinates, describes itself as a "self-steering collective" of about 50 people working in the attic of a train station and producing everything from office towers to museums. In their work, they are showing a different kind of Minimalism—one rooted in the notion that architecture is a type of research that leads to a revealing and repurposing of what is there, rather than just a making of new forms.
I visited 51N4E as part of a research trip through Northern Europe I took this summer with architectural designer Richard Quittenton for a book I am writing on what I call imaginative reuse. I was trying to find firms that are urban miners and hunter/gatherers making architecture out of what is already there, revealing the history embedded in everything they repurpose along the way. What I found were firms that were also changing the nature of how architecture is practiced.
51N4E delivers its services through three studios. Acte, as the firm calls what is more or less its traditional design studio, focuses "on creating the conditions for social and spatial transformations," according to its website. The team consists of not just architects, but a "diverse group of actors" who use design "as a tool to imagine the future in a collective way, regardless of expertise or discipline." Cast, meanwhile, focuses on "the realization of adaptable structures and environments" that are meant to "reactivate contexts" that will continue to evolve. Then there is Root, "an experiment in bringing together the expertise of designers, architects, biologists, and ecologists" that operate all the way from the interior through the landscape and urban design.
You could be cynical and say that these are just fancy ways to describe 51N4E's design studios, research department, and interior design, landscape, and urban design specialties with different names, but it's clear from the backgrounds and passions of the people I met in Brussels that they aim to avoid the usual clichés and traps that come with those roles while finding an economically and socially viable manner of practice.
Very few of 51N4E's projects are standard, either by nature or in the collective's approach. An example is ZIN, the team's largest in-progress commission. It encompasses the renovation of (and addition to) two office buildings in Brussels' Northern Quarter. Built between 1970 and 1983, the twin structures of what had been the local World Trade Center were standard-issue, 30-story blocks clad in dark glass and steel. By the second decade of this century, they had outlived their usefulness and needed major improvements. The developers who bought the structures turned to 51N4E in 2017, and the firm set itself up on an empty floor there to hold a workshop—an occupation that led to the temporary site becoming their headquarters.
Working with neighborhood activists as well as economists and real estate consultants, 51N4E developed a scheme by which one of the towers was turned partially into an apartment building, while the other one became a hotel. The firm then installed a new office tower between the two existing structures, which 51N4E stripped down to their skeletons. This strategy allowed for a densification of the site using the same plinth. What is particularly remarkable about the way the team repurposed the site is the configuration of its three elements. The office block consists of double-height spaces that can accommodate current calls for more open, flexible, and airy workplaces. These workspaces then ooze into the two existing blocks, taking over every other floor of either the apartment or the hotel structure. Thus the three functions are woven together. Within this overall plan, 51N4E worked to leave as much of the original structure exposed and to use recycled materials in any new construction. The whole complex will open this fall.
Reuse and renovation is a constant theme in 51N4E's work, evidencing itself not just in more standard adaptive reuse projects—I visited a beautifully renovated former IBM office tower that is now home to a combination of hotel, office building, and WeWork-like incubator spaces—but also in what you might think of as more landscape architecture work. The most prominent of the latter is the firm's redesign of Skandenberg Square, the central civic space in Tirana, Albania. The team also participated in the campaign, started by former mayor and now Albanian Prime Minister Edi Rama, to paint vast swatches of the city as a cheap way to improve its image, and have just built a curving tower there covered in a checkerboard of stone panels.
The project that most intrigued me during my visit to Brussels was ASIAT, the repurposing of a former army barracks on the city's edge. In 2018, the local community of Vilvoorde, which had gained control of the half-million square-foot site, decided not to give in to pressure from developers to raze the ruins and fill the site with housing or office blocks, but to let 51N4E, working with local activists and artists, open the space up for adaptive reuse.
Walk into the area now, and you enter down a narrow walkway between the former central administration buildings. ASIAT's occupants, organized by 51N4E into a collective, have covered the area with a scaffolding of steel tubes and painted or tie-dyed sheets that make it usable during inclement weather. Peek into the windows and you see a variety of activities and degrees of finish. A ceramics workshop and a gallery have fully outfitted their spaces. Artists are tinkering with work in other rooms with no ceilings. At the end of the walkway, a restaurant occupies a space that has been cleaned up, but where the bare brick walls, with remnants of plaster still clinging to them, and empty frames are open to the elements blowing in from all sides.
Deeper into the territory, nature has taken over what were once parade grounds and neat lawns. Working with plant specialists and landscape architects, 51N4E brought back native vegetation, resisted invasive species, and created moments of density and openness without seeming to design anything. Strewn throughout the park are works of art. Some are traditional objects in space, but most are containers or shelters of some sort, seemingly cobbled together out of whatever the makers could find lying around:sheets of plastic, leftover roofing material, and scaffolding.
My favorite structure at ASIAT is a colonnade that marches between another row of barracks, one of which was being outfitted with a climbing wall when I visited, while another was already in use as a coffee roastery. The columns are not made out of marble, but consist of sewage and drainage pipes, precast elements used to support bridges, and some materials whose original purpose I couldn't identify. Mismatched but of a similar form and finish, these elements evoke either the splendor of some past civilization that might have existed here, or the beginning of the (re)construction of another one.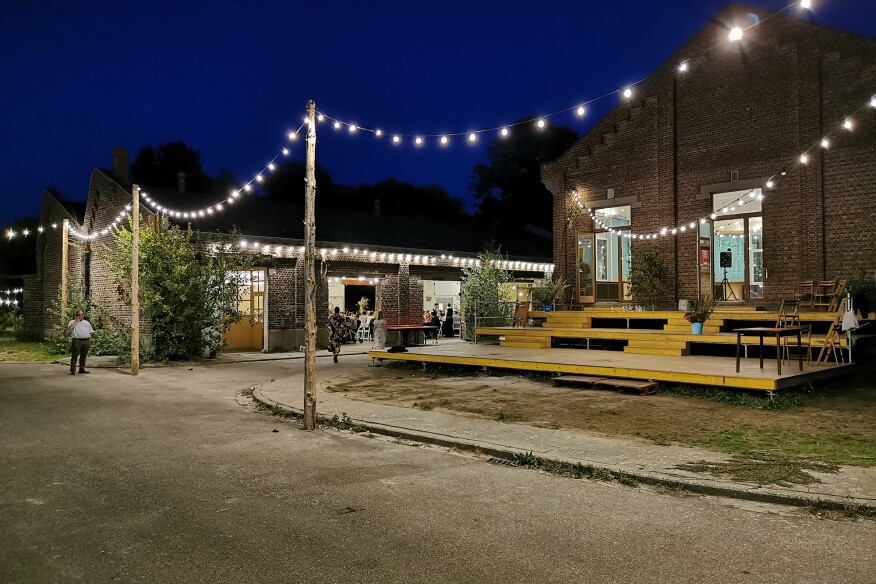 Everywhere you turn at ASIAT there are experiments, constructions, shelters, and activities taking place in and around these structures. Concerts and other public events are held here, people walk their dogs and stroll with their babies. Economic activity mixes with leisure. The area has been so successful that it is feeling the pressures of overuse on some weekends, but that success has also led the energy company across the canal to ask 51N4E to extend its work to some of their former storage areas in the shadow of their giant cooling towers. That project is now in design.
ASIAT will change, which is part of how 51N4E likes to operate. They are less interested in creating monuments for the ages, and more in activating scenes for use. If ASIAT and some of the other sites I visited are any indication, they are very good at that.
The views and conclusions from this author are not necessarily those of ARCHITECT magazine or of The American Institute of Architects.
Read more: The latest from columnist Aaron Betsky includes sculptures at Montana's Tippet Rise Art Center, the 2023 Venice Biennale, and road-tripping through Europe.