Under construction, closed off, empty, or filled with objects that are impossible to understand: That is the condition of what I think are the best country pavilions at this year's Venice Biennale. The idea that nations show the best architecture (or art) that they have to offer, which was the original intention of these places—and the whole Biennale—when the event started in 1893, has been eroded by years of doubts and debates about both what it means to be a state and the value of newness and invention. Add to that situation the fact that this year's event, curated by Lesley Lokko, was meant to question and criticize colonialism in its broadest sense, and the notion of filling your national showcase with pretty objects or images from your best makers within the Western tradition, often created with materials sourced from former colonies (minerals and wood to make models, other ores for pigments) seemed just not the right thing.
However, the polemical anti-installations, which reversed the usual strength of such an art form in massing its material and meaning in your face, raised the problem of legibility and interpretation. The most radical gesture was made by Israel, which sealed off its light and airy building. I thought its exhibition Cloud-to-Ground, staged outside the closed-off pavilion, was a mea culpa for the way that country, built as a refuge for Jews after the World War II, has turned into giant de facto colony hiding behind concrete walls and missile defense meant to protect itself against the original inhabitants of Palestine. In fact, the texts in the still-accessible garden behind the sealed structure pointed out that for curators Oren Eldar, Hadas Maor, and Edith Kofsky the act was meant to represent the data centers being built both there, with its heavy reliance on high-tech industries, and elsewhere. These boxes are indeed inaccessible, blank, and disassociated from everything around them, but for me the issues they raise seemed beside the point of this year's event. I almost wish I had not read the explanation. As a self-flagellating, anti-colonial gesture, the (non)exhibition was brilliant; as a statement about a building type, weak.
Similarly, the German Pavilion, which titled itself Open for Construction, was a beautiful assemblage of building materials stacked with a precision and an eye for composition that hinted at some very talented designers at work (led by Juliane Greb, collaborating with the German magazine ARCH+). Like last year, the structure was shot through with fissures and cracks that revealed part of the construction underneath its white walls and stone floors. All of the material, as well as the gaps, were left over from last year's Art Biennale, when artist Maria Eichhorn had sought to comment on the fact that the building was a remnant from the Nazi era that needed extensive repairs by highlighting the messy reality behind its stripped-down Neoclassical forms. For me, the act of reuse seemed enough of a statement, but this year's curators meant the work to be a reference to the 1960s and 1970s squatter movement in Germany and most of northern Europe, which had pioneered the idea of repurposing empty office buildings and mansions for housing and community living. The curators extended their argument into the idea that we should not use up any resources that cannot be replenished to make new buildings, and so they utilized everything they found. Whatever the intended meaning, the result was beautiful, turning the trope that a building under construction is much more beautiful than a finished one into a three-dimensional artwork.
The American Pavilion—organized by the Cleveland gallery SPACES under the direction of Tizziana Baldenebro, who is co-curating with Lauren Leving—expanded on that idea by exhibiting sculptures made out of plastics and waste materials. The objects in Everlasting Plastics sat in and in front of a similarly Neoclassical building, showing the paradoxical beauty of things we usually dismiss as inferior, as well as, according to the curators, showing how these cast-offs could be used as novel forms of building material. Here the objects were generally beautiful, but rather static.
The curator of the adjacent Nordic Pavilion, Joar Nango, deployed a different kind of reuse and assembly, but tied it directly to the Biennale's anti-colonial agenda by filling the Sverre Fehn–designed space with Girjegumpi, which he described as an archive of the Indigenous Sami people. Over the last 15 years, Nango has collected books and ephemera about these nomadic Laplanders, as well as artifacts from their culture. Within the expanse of the pavilion, he piled up a selection of that material in what appeared to be a temporary encampment that had strayed far from its usual tundra environment. I am not sure if this culture, which has only barely managed to escape from the strictures of the various states through which its territories run, is fully present here in anything more than a version of the kind of ethnographic displays that used to be at the core of our colonial museums acting as warehouses for exotic (to us) cultures, but there is a beauty and sensuality to the material that manages to take you far away from Venice.
The Dutch Pavilion builds on the fact that its Gerrit Rietveld-designed building is being retrofitted with a rainwater collection device on the roof to, once again, highlight construction in scaffolding and other building detritus. To extend the exhibition, curator and architect Jan Jongert of Superuse Studios also has hung reproductions of Carlijn Kingma's The Waterworks of Money drawings, which purport to delineate the intertwined flows of capital and that most basic fluid resource, but which instead look like cities of some mythical time and place that are always under construction.
Beyond the reaches of the Giardini, or public gardens, where most of the countries have their sites, there are a few other attempts to evoke the spirit of a nation in a way that uses architecture as type of resistance to the forms and norms imposed on its inhabitants. My favorite of those is the Mexican one, tucked away in an ancillary building next to the Arsenale, the Biennale's main display space. There Mexico City–based firm APRDELESP gives us a ready-to-use basketball court, both appropriating an American sport that has become a mainstay in many other countries in the Americas, and showing that any space can come alive with some sweat and sports strategy. All that is missing is a good boombox to make the place really rock.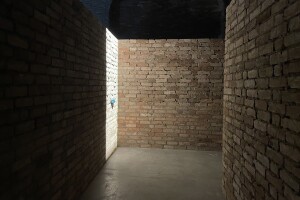 By contrast, Uzbekistan's entry, also somewhat hidden in an ancillary space at the end of the Arsenale area, is mainly empty. It consists of a labyrinth the curators, Karl Fournier and Olivier Marty, constructed out of bricks left over from Venetian construction and demolition sites. Meant to evoke the Zoroastrian ruins of Mizdakhan at Karakalpakstan, they lead you through a dark hangar to a model at the construction's core. More evocative than that rather conventional object, however, are the bits of blue glazed ceramics made by Uzbekistani master Abdulvahid Bukhoriy, which glisten in the sparse light like jewels from a long-lost civilization.
There were also sites of interest beyond the official locations. The Taiwan Pavilion is always engaging (and conveniently located right around the corner from St. Mark's Square), and this year showed vernacular building types. Estonia took over a rental house and promised to use actors to turn it into a "critical space for reflection" on issues of domesticity and tourism but, at the beginning of what the curators envision as an experiment in living that was also a performance piece, it just felt like the barely inhabited Airbnb it was. In general however, what most disappointed me this year is the lack of high quality or noteworthiness in the many country pavilions and collateral events that you can find spread throughout Venice until the Biennale closes in November.
Of course, I know I missed a few exhibitions, as they are far-spread and diverse, and thus I may not have seen some hidden gems. Most significantly, I did not make it to San Giorgio Island's flashy opening celebration and display of NEOM, the 170-kilometer long, 50-story tall mirrored glass city currently under construction in northwestern Saudi Arabia. Master planned by Thom Mayne, FAIA, and filled out by an array of other architects (almost all white and male) who evidently have weighed the opportunity to build a kind of utopia as more significant than the ethics of working with a repressive state, it is perhaps a post-Biennale event: a collection of experiments in form and technology by the best designers from around the world coming together in one country to create a kind of enormous pavilion. I am sorry I did not see the models that, according to one of my friends who did attend, used up enough plastic, minerals, and laser-cutting power to offset all the savings generated by reuse in the rest of the Biennale. I can only hope that the latter approach of beautiful reassembly, reuse, and reimagination is the future we will see on display at the next Biennales, and not the oil-fueled scar Saudi Arabia is building across its virgin desert.
This article has been updated.
The views and conclusions from this author are not necessarily those of ARCHITECT magazine or of The American Institute of Architects.
Looking for additional Venice Biennale coverage? Click here.
Read more: The latest from columnist Aaron Betsky includes looks at the work of Arkansas-based architect Marlon Blackwell, sculptures at Montana's Tippet Rise Art Center, and the 2023 Venice Biennale.