On a warm late-summer afternoon, the view from the Edith Green–Wendell Wyatt Federal Building's 18th and highest floor is a remarkable spectacle: Portland, Ore.'s City Hall and downtown skyscrapers rise to the west, the Willamette River and snow-capped Mt. Hood to the east. It's the kind of office space the private sector would pay top-dollar for, should the U.S. General Services Administration (GSA), which owns and operates the building, ever decide to part with it.
Until recently, however, this level was filled by a different kind of tenant: mechanical equipment.
Thanks to the radical transformation of the 1970s concrete box of an office building by James Cutler, FAIA, and SERA Architects—which traded massive forced-air fans and vents for radiant heating and cooling—the majority of the penthouse level can now be used as offices for one of the building's 16 residing federal agencies. "This is the difference between a forced-air building and a radiant building," says Patrick Brunner, who oversaw the project's construction for the GSA. Clearing away the 18th-floor equipment and recladding the entire structure in a curtainwall that hangs 22 inches beyond the perimeter of the existing building yielded an additional 33,000 square feet of space.
Initially approved in 2005 but subsequently shelved by Congress, the Portland Federal Building's renovation has undergone a lengthy gestation—it was restarted in 2009 as a shovel-ready project eligible for financing from the American Recovery and Reinvestment Act. And with its slanted roof calibrated to maximize the effectiveness of the solar panels and striking west façade of thin, reedlike aluminum screens, the transformed structure is an eye-catching addition to Portland's skyline.
What's more, Cutler's form-making isn't just for show, but works toward the project's ambitious efficiency goals: The renovated building is 55 percent more energy efficient than the original, which was designed by Skidmore, Owings & Merrill. A new rainwater harvesting system, which provides water for flushing toilets and irrigation, has enabled a 60 percent reduction in the use of potable water below what is required by Oregon code. Solar thermal panels provide 30 percent of the building's hot water. And the elevator bank was reduced from eight cars to six due to the installation of a smarter demand-dispatch system that collates riders going to nearby floors.
More broadly, Cutler's design, which is targeting LEED Platinum, embodies the interlocking GSA goals of commissioning visually compelling architecture while advocating leading-edge sustainability. This is not architecture as sculpture, but with a racecar-like beauty rooted in function.
The design philosophy comes from an unexpected source. Cutler, 63, studied under Louis Kahn at the University of Pennsylvania, and he since has amassed a portfolio of restrained, yet elegant, houses and small-scale public buildings. Through projects like the Maple Valley Library outside Seattle and the Purchase Residence outside New York City, Cutler's Bainbridge Island, Wash.–based firm, Cutler Anderson Architects, is known for its use of soaring wood roof lines and wide expanses of glass. The aesthetic has garnered the firm six national AIA Honor Awards.
Cutler sees the Federal Building as a potential career turning point: At 525,000 square feet and $139 million, it's the largest and most expensive project he's ever done. It has already earned praise from Cutler's toughest audience: his friend and longtime mentor, AIA Gold Medal winner Peter Bohlin, FAIA, of Bohlin Cywinski Jackson. Cutler recalls a recent conversation with Bohlin: "I said, 'I think it's at least an eight and a half.' Peter's usually been my worst critic, but he said, 'No Jimmy, it's an 11. … It's shocking because everybody thinks of you as nuts and berries, this wood stuff. This is a totally different realm.' "
The project, completed this year, is the end result of a multiyear evolution. The design originally called for the west façade to be clad in vegetated screens, which would shed their leaves in winter to admit more light, and grow lush again in summer to keep out glare from the afternoon sun. The experimental solution attracted political pressure from Sens. John McCain (R-Ariz.) and Tom Coburn (R-Okla.), who included the Wyatt on a list of projects ostensibly wasting stimulus money. Another, more important reason for switching to aluminum screens, Cutler says, was that the plants would have taken about three years to grow in. (In a note of compromise, vegetation will still grow up the first three floors, wrapping around the aluminum reeds.)
To make the aluminum screens work entailed a three-way push-pull, in which Cutler would craft a design, SERA would study its metrics and daylighting ramifications, and curtainwall contractor Benson Industries would weigh in on its constructability. "We didn't want to have an evenly spaced series of reeds," explains SERA Architects' Lisa Petterson, AIA, who helped develop the project's daylighting scheme. "We needed something more biophilic and rhythmic." The design team also crafted a series of vertical and horizontal exterior shades for the building's other three sides.
In the end, for all of the building's transformative new looks, Cutler's design also highlights the original building. On the ground level, for example, the architects removed large sections of the floor plate, revealing the old concrete structure and bringing light to a formerly windowless basement level. There is also a new entry sequence that smartly takes advantage of the building's position on a sloping site. The east and west entrances are on two different floors, and meet in a double-height space that offers gracious access to a highly trafficked IRS Taxpayer Assistance Center as well as to new conference space.
"It's a question of what feels generous, what feels gracious, and what feels appropriate in terms of scale," Cutler says. But he notes that pragmatism also plays a central role. "I want to make things pretty, but it's always generated by tangible reality."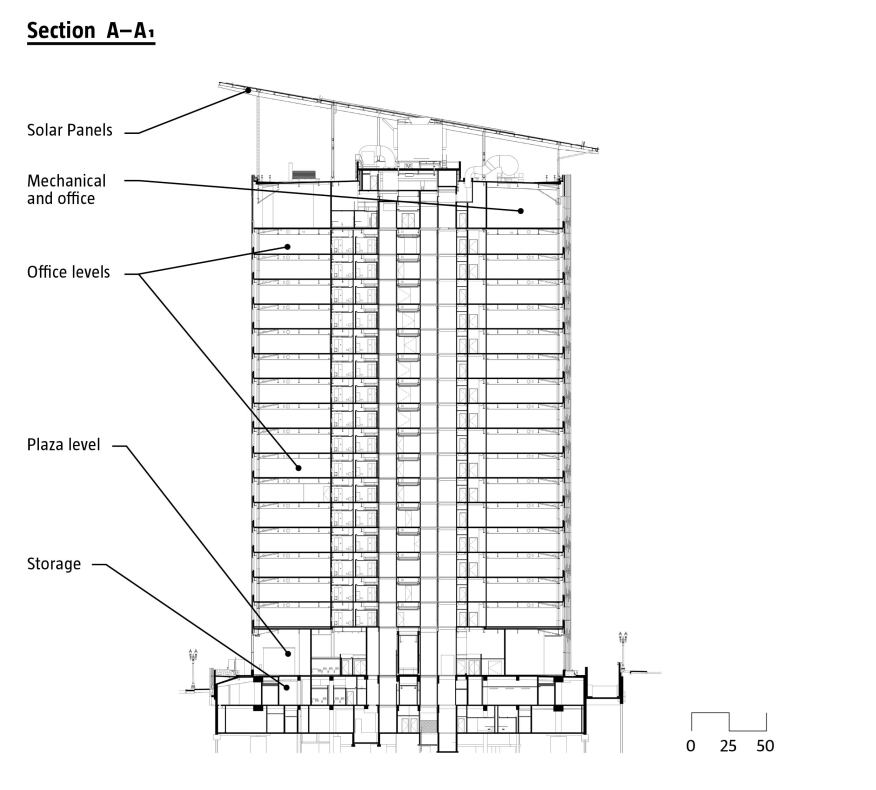 ---
Project Credits
Project Edith Green–Wendell Wyatt Federal Building Modernization, Portland, Ore.
Client U.S. General Services Administration (GSA), Region 10—Pat Brunner (contracting officer)
Design Excellence Architect Cutler Anderson Architects, Seattle—Jim Cutler, FAIA (design architect); David Curtin, AIA
Executive Architect SERA Architects, Portland, Ore.—Don Eggleston, AIA (partner-in-charge); Jennifer Taylor, AIA, Stuart Colby (project managers); Jim Riley (project architect); Suzanne Blair (T.I. project architect); Gauri Rajbaidya (job captain); Clark Brockman, AIA, Lisa Petterson, AIA, Kate Turpin, Jessica Gracie-Griffin, Priya Premchandran (high-performance green building/LEED specialists); Natasha Koiv, Elizabeth Johnson, Carissa Mylin, Craig Rice, AIA, Roberta Pennington (interiors team); Timothy Richard, Nick Mira, Cathy Ballensky, Matt Piccone, Sara Vonde Veld, Crawford Smith, Margo Rettig, Travis Dang, Kristie Morrison, Liatt Braun, Fernand Banna, Tuan Vu, Jessamyn Griffin, Erin Hastings, Andrea Schultz-Winter, Jon DeLeonardo (design team); Anneliese Sitterly, Russell L. Pitkin, AIA, Audrey Craig, Trevor Elvey (team support)
Interior/Lighting Designer SERA Architects (tenant improvements)
Mechanical Engineer Stantec Consulting
Plumbing Engineer Interface Engineering
Structural/Civil Engineer KPFF Consulting Engineers
Electrical Engineer PAE Consulting Engineers
Construction Manager GSA Region 10—Pat Brunner (project executive)
General Contractor Howard S. Wright Constructors, a Balfour Beatty Company
Landscape Architect Place Studio
Environmental Graphic Design Mayer/Reed
Acoustics Charles M. Salter Associates
Life Safety Aegis Engineers
Blast Engineer Weidlinger Associates
Commissioning Glumac
Curtainwall Subcontractor Benson Industries
Mechanical Subcontractor McKinstry
Electrical Subcontractor Dynalectric
Size 536,260 square feet
Cost $137 million (construction cost, including T.I.s)
Material and Sources
Acoustical System Grabber Construction Products grabberman.com; Hilti hilti.com
Adhesives, Coatings, and Sealants Dow Corning Corp. dowcorning.com
Building Management Systems Delta Controls deltacontrols.com
Carpet Shaw Contract Group shawcontractgroup.com
Ceilings Armstrong armstrong.com; 9Wood 9wood.com; Steel Ceilings steelceilings.com
Concrete Ross Island Sand and Gravel
Curtainwall Benson Industries bensonglobal.com
Flooring Terrazzo; Johnsonite johnsonite.com
Glass Viracon viracon.com
Gypsum CertainTeed certainteed.com; USG usg.com
HVAC Alliance Air Products allianceairproducts.com; SPX spxcooling.com; Hydrotherm hydrotherm.com; Carrier carrier.com
Insulation Thermafiber thermafiber.com
Lighting Controls nLight nlightcontrols.com
Lighting Acuity Brands/Peerless Lighting peerlesslighting.com; Acuity Brands/Lithonia Lighting lithonia.com; Focal Point focalpointlights.com; Bega bega-us.com; Isolite Corp. isolite.com; B-K Lighting bklighting.com; the Lighting Quotient thelightingquotient.com
Metal Clark Dietrich Building Systems clarkdietrich.com
Millwork Turtle Mountain turtlemt.com; Fuller Cabinets fullcab.com
Paints and Finishes Miller Paint millerpaint.com; Rodda Paint roddapaint.com
Photovoltaics or other Renewables SolarWorld solarworld-usa.com
Plumbing and Water System Zurn zurn.com; American Standard americanstandard-us.com; Jay R. Smith Mfg. Co. jrsmith.com
Roofing T Clear tclear.com
Site and Landscape Valley Growers valleygrowers.com
Structural System Alliance Cos. alliance-industrial.com
Wallcoverings Fabricmate fabricmate.com
Walls Cascade Acoustics cainc.biz
Wayfinding Sign Wizards signwizards.com