This piece originally appeared on the website
of the Society of Architectural Historians.
I knew ahead of time that Delhi would be crazy, but I was not prepared for the amount of crazy. Perhaps it is because I chose to stay in one of the most congested portions of an already congested city. Today Paharganj is known for its bazaar, as it was almost 400 years ago. It is described as "chaotic, noisy, and dirty," on the Delhi Tourism website, and is commonly referred to as the "traveller's ghetto." It was exhilarating at the same time that it was exhausting. I had done enough online research to know what to expect, but there is not much one can do in terms of preparation for that type of environment. I had a hotel room with no external windows, which was fine since the decibel level of noise pollution on Arakashan Road was outstanding, even for India. Despite all of that, there was a certain magic to Arakashan Road, as hotel sign advertisements lit up the night sky like Broadway.
Delhi is a highly fragmented, frenetic city, with old and new quarters existing in stark juxtaposition. As a World Monuments Fund brochure proclaims, "Delhi is not one city, but many."1 Since Paharganj traditionally lay outside the old city walls it is a transitional, interstitial space. In Paharganj one is a short bajaj ride from Connaught Place (1929-1934), the commercial complex designed to act as a nodal point between Old and New Delhi. It still serves this purpose today.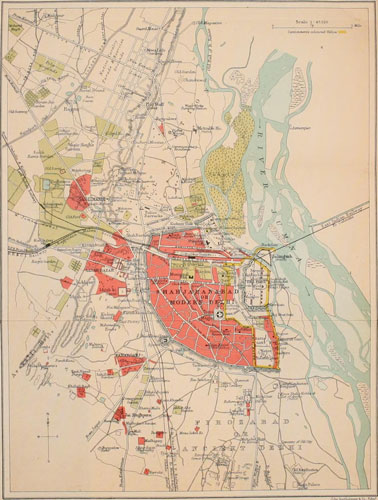 Figure 1. 1911 map of Shahjahanabad, noted as "Modern Delhi" in the map, but known as "Old Delhi" today. Paharganj is slightly southwest of the city. Lutyen's Delhi has yet to be designed and constructed south of Shahjahanabad. Source: John Murray, A Handbook for Travellers in India, Burma, and Ceylon. (London: J. Murray; Calcutta: Thacker, Spink, & Co., 1911). Flickr Commons.
I was amazed by the pollution in Delhi. I could see it when touching down at Indira Gandhi International Airport. I could feel it when my eyes watered incessantly. AnIndia Today magazine I picked up in the airport had a cover story entitled "Death in the Air." The Editor-in-Chief, Aroon Purie proclaims "dust from construction, exhaust fumes from vehicles, coal plant and factory emissions, diesel generators, stubble burning in fields, garage fires, and makeshift cooking appliances have made air pollution a public emergency."2 The articles discussed the rise in the mortality, cancer, and respiratory disorder rates related to the situation in Delhi, and in India more broadly.
There is no need to enhance a photograph taken in Delhi with a filter. With today's preponderance of digital photography posted online through sites like Instagram, fancy photo editing techniques are in common amongst the tech savvy population. Filters add atmosphere, hues, tints, and tones, "romantic" noise and dust. They add a special dreamlike ambiance to the image. But in Delhi, there is no need for a filter. The smog from the pollution does that just fine. It is lovely in a deadly, sad way.

Figure 2. India Gate by Edwin Lutyens, New Delhi (1921-1931). Natural "atmospheric filter" courtesy of smog.
Incredible !ndia: Delhi and Agra
Since my time in Delhi would be much shorter than my stays in other major cities along this trip, and since I had a friend meet me in the city I elected to take packaged tours to significant architecture sites. Normally I would do something more organic, wandering my way through the streets and often stumbling upon places that I had not even planned to visit, but time was of the essence. The packaged tour kept me from exploring Delhi in a more in-depth manner, but it was necessary with the limited amount of time I had in the city. The truth of the matter is, I would not have extended my time in Delhi.
The city tour was arranged by the Incredible !ndia affiliate in my hotel. India has, in comparison to many of the destinations I have visited on this fellowship, a very succinct and smooth tourism industry machine. Incredible !ndia offices with a selection of maps, brochures, and tours have been highly visible in every state I have visited – Maharashtra, Goa, Uttar Pradesh, Rajasthan – as well as the National Capital Region. This makes the touring aspect of India so much easier than Ethiopia, Ghana, Guatemala, and Mexico.
In addition to the Incredible !ndia marketing efforts by the Government of India, the permanent delegation to UNESCO submitted "Delhi – A Heritage City" to be included in the list of World Heritage sites. The World Monuments Fund already laid the promotional groundwork, developing the Delhi Heritage Route.3 The Delhi Heritage Route was created in advance of the XIX Commonwealth Games of 2010 to promote tourism in the massively sprawling city. The Delhi Chapter of the Indian National Trust for Art and Cultural Heritage (INTACH) developed much of the content for the heritage route and contributed to the publication of 20 informational booklets and 18 walking tours that linked the sites together. It is an impressive promotional collection. Unfortunately most of this literature, which is free and accessible through the World Monuments Fund website, is not found at the sites themselves (I believe it is because these are not money-making ventures). One must know where to look for the information beforehand.
My pre-arranged city tour started in Old Delhi, or Shahjahanabad. Cultural scholar Shu Yamane states:
Shahjahanabad was built as the capital of the Mughal Empire, India's most powerful and largest Islamic dynasty. This makes it one of the most pertinent cities for the study of urban formation in the Islamic region.4
This is one of the reasons I am slightly regretful about not spending more time in Old Delhi. Jyoti Hosagrahar's JSAH article "Mansions to Margins: Modernity and the Domestic Landscapes of Historic Delhi, 1847-1910," also made me question whether or not I should have spent more time in the area. Her article details the evolution of the haveli form in Old Delhi from the grand palaces of the elite to sub-divided and multifunctional new spaces for the people:
In colloquial usage, the word haveli in Delhi has remained a signature of traditional aristocratic living. However, in its many variations the haveli was not a timeless or changeless house form. From princely mansion to modest dwelling and then into a tenement house or a more rational and efficiently designed house, the haveli has undergone a variety of metamorphoses.5
Granted, these kinds of changes might not be obvious to someone walking through the neighborhood. It might take actually going in and doing more in-depth analysis of the buildings themselves. In the end, for me, it was important to know about the urban fabric and history of Shahjahanabad even if I was not able to spend ample time there myself.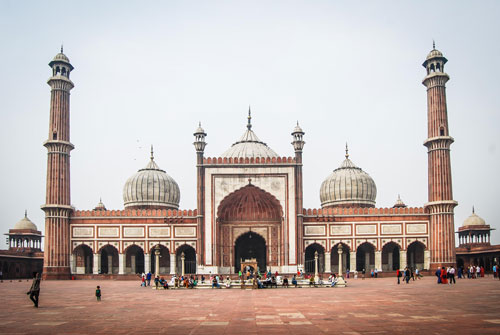 Figure 3. Jama Masjid (1644-1656), Shahjahanabad.
These issues are the cursed part of taking a pre-arranged tour. The blessing is seeing countless (although singular) sites in one day. In Shahjahanabad we visited the Jama Masjid and Red Fort, two outstanding examples of monumental architecture of the former Mughal Empire. The use of red sandstone at Jama Masjid and the Red Fort would prove to be a common thread with architectural monuments throughout the region.
The rest of the day tour included Humayan's Tomb, the Lotus Temple, and Qutb Minar. All the sites were extremely impressive in their own ways, and we could have gone to more locations if we did not linger so long earlier in the day. The Humayan Tomb (1565-1572) complex was amazing. The title of the site only represents a fragment of the wonders situated there. One can get a sense of the growth of the complex, and see changes that come as a result of additions and subtractions. Some are drastic, like the wall that was blasted through to create an entrance to the Humayan Tomb portion of the complex.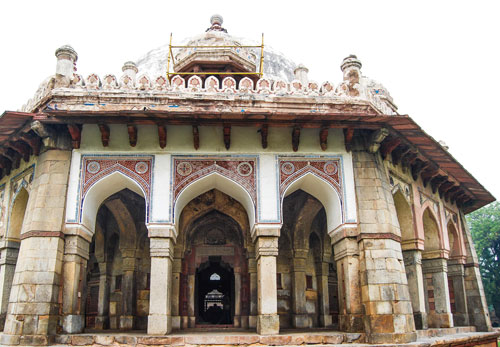 Figure 4. Isa Khan Tomb (1547-1548). Photograph illustrates recent restorative work done on building.
One is greeted by the Isa Khan Tomb upon entering into the complex. It is located off to the right of the central walkway, though it predates the Humayan Tomb. The building is compact, the design is all encompassing. It truly represents what art historians would call a gesamtkuntswerk – if art historians chose to use the term for anything other than Western art and architecture. Isa Khan's Tomb underwent major renovation with aid from the World Monuments Fund. This project built on a pre-existing public-private partnership between the Aga Khan Trust for Culture Urban Renewal Initiative, Archaeological Survey of India, Sir Dorabji Tata Trust, and the Municipal Corporation of Delhi. The work at the greater Humayan Tomb complex is significant enough that it should be followed over the next few decades. It is a great case study in public-private partnerships, preservation as a means for a larger urban renewal process (with a social equity factor and without the negative connotations that we have in the States), and craftsman training that spans different countries. It is also important as a shining example that history is not dead, and that solid "facts" may change. Archaeological work at the Isa Khan Tomb complex revealed a sunken garden, one that predates any others known in India, changing the chronology and evolution of the garden type.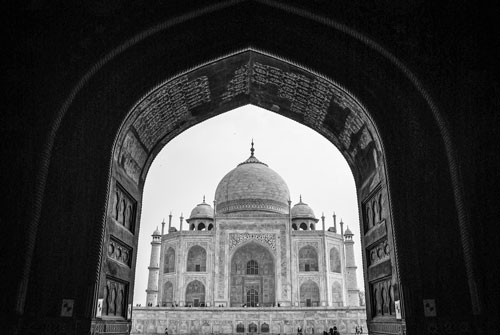 Figure 5. Entering the Taj Mahal (1648) garden complex Agra.
Before I embarked on this trip I always considered Mughal architecture to be typical of what one finds in the whole of India, more so than the Buddhist and Hindu shrines I had seen in central India. My mind's eye envisioned all of India through an Indo-Islamic lens. My time in Delhi, Agra, and later on in Rajasthan, was rewarding in a sense that I was seeing things that looked familiar to me – especially the Taj Mahal. This is because if and when architectural surveys make a foray into Indian architecture, the Taj is the symbol celebrated as representative of India. What this trip showed me is that it is representative of a specific time and place in India. The diversity of the Indian subcontinent is overwhelming – the differences between the states and cities make India a powerful and compelling place to study not just Mughal architecture, but Buddhist, Hindu, Jain, Rajput, Portuguese, and British.
Princely Rajasthan
Depending on how you choose to do the Golden Triangle it could be equilateral or obtuse. Equilateral = Delhi, Agra, and Jaipur. Obtuse includes the addition of Udaipur. After my time in Delhi and Agra I took a quick flight to Jaipur in the princely state of Rajasthan. I took a train from Jaipur to Udaipur, and then flew back to Delhi and off to Vietnam (more about Vietnam in my next post).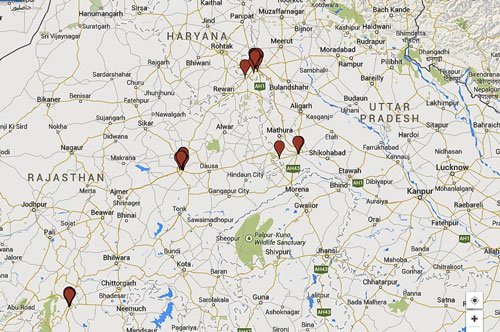 Figure 6. Golden Triangle Google Map. Clockwise from top: sites in Delhi, Agra, and Jaipur. Bottom left cluster of sites are located in Udaipur.
Tourism in Jaipur and Udaipur was another well-oiled machine. Careful maintenance was evident in the City Palace (1729-1732). The complex housed several unobtrusive shops, and every detail in presentation was considered. The complex is managed by a trust that includes members of the royal family, and is used as both a museum and a residence.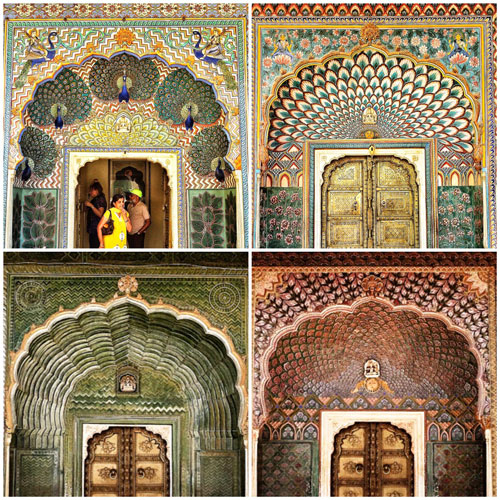 Figure 7. Ridhi Sidhi Pol. Four gates that form the entrance to the inner courtyard that leads to Chandra Mahal in the City Palace, Jaipur. These gates represent the four seasons and various Hindu gods.
Other major monuments of Jaipur are easy to reach by foot, so I visited the Jantar Mantar and Hawa Mahal the same day I visited City Palace. The city of Jaipur, the City Palace and the Jantar Mantar are carefully preserved testaments to the deep cultural and scientific interests of Maharaja Sawai Jai Singh II, who founded the city in 1727. The layout of the streets of the old city of Jaipur was based on the Vastu Purusha Mandala, creating a grid-like pattern that is still evident in the historic center. The Jantar Mantar (originally Yantra Mantra, meaning Instruments and Formulae) in Jaipur is one of a set of five astronomical observation sites that Sawai Jai Singh created throughout India to act as:
A meeting point for different scientific cultures, and [give] rise to widespread social practices linked to cosmology. [They were] also a symbol of royal authority, through [their] urban dimensions, [their] control of time, and [their] rational and astrological forecasting capacities.6
The sculptural quality of the observatory in Jaipur is poetically evocative. Sculptor Isamu Noguchi visited both the Jantar Mantar in Jaipur and in Delhi in 1949 and 1960. The Isamu Noguchi Museum in Long Island City, New York, currently has an exhibit entitled "Noguchi as Photographer: The Jantar Mantars of Northern India" that highlights the sculptor's photographs of these cosmological wonders. The show runs until May 31. It looks fascinating, and I hope SAH members in the area will take the time to visit the exhibit to see the complexes through the master sculptor's eyes.7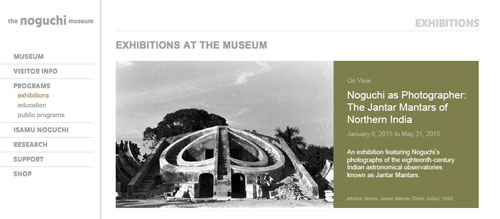 Figure 8. Screenshot of Isamu Noguchi Museum website.
I also visited both the Jantar Mantar in Jaipur and Delhi. Since the modern city of Delhi grew around the Jantar Mantar complex it is easily overlooked, standing in the shadows of skyscrapers, markets, and the buzz of Connaught Place. The Jantar Mantar in Jaipur is better preserved due to its proximity to the royal enclosure. While it is easy to appreciate the observatories for their sculptural value, it is much more difficult to understand them for their scientific value. So much of the ancient practice of astronomy and observation has been lost to our culture, as we rely on our smart phones and hi-tech watches to tell us the time of day and to predict the weather, sunrise, sunset, and cycles of the sun and moon. Both observatory sites could benefit from multimedia interpretations to demonstrate how each of the various instruments within the complexes work.
In all, the Golden Triangle does not disappoint. It is as romantic and magical as the advertisements proclaim. The realities of the growing metropolis of Delhi, however, are hard to ignore. At the same time that the countless public-private partnerships are improving the tourist experience in the city, there needs to be an even greater effort in abating the pollution and traffic issues that plague the city. There is no doubt that visitors to Delhi would spend more time, more money, and discover the "off the beaten path" sites in places like Shahjahanabad if a week in the city were more tolerable. But the concerns about the environment are not only about attracting tourists – they need to address the quality of living in the city in an inclusive manner for residents and visitors alike. In addition to the health concerns, the pollution creates a real threat to the vitality of the same cultural monuments the tourism board is trying to promote.
H. Allen Brooks Travelling Fellowship Google Map
Recommended Readings
Salahudin Ahmed, "Jantar Mantar, Jaipur: Implementing the Management Plan,"Context: Building, Living, and Natural 10 no. 2 (Winter 2013/Spring 2014): 141-148
Catherine B. Asher, "Jaipur: City of Tolerance and Progress," South Asia: Journal of South Asian Studies 37 no. 3 (2014): 410-430
Balkrishna V. Doshi, "The City of Jaipur," Architecture + Design 5 no. 2 (January/February 1989): 96-104
Shuji Funo, Naohiko Yamamoto, and Mohan Pant, "Space Formation of Jaipur City, Rajasthan, India: An Analysis on City Maps (1925-28) made by Survey of India,"Journal of Asian Architecture and Building Engineering 1 no. 1 (March 2002): 261-269
Oleg Grabar, "From Dome of Heaven to Pleasure Dome," Journal of the Society of Architectural Historians 49 no. 1 (March 1990): 15-21
John D. Hoag, "The Tomb of Ulugh Beg and Abdu Razzaq at Ghazni, A Model for the Taj Mahal," Journal of the Society of Architectural Historians 27 no. 4 (December 1968): 234-248
Susan N. Johnson-Roehr, "Centering the Chrbgh: The Mughal Garden as Design Module for the Jaipur City Plan," Journal of the Society of Architectural Historians 72 no. 1 (March 2013): 28-47
Clay Lancaster, "A Critique on the Taj Mahal," Journal of the Society of Architectural Historians 15 no. 4 (December 1956): 7-11
K. K. Muhammed, "World Heritage and Archaeological Excavations: Fatehpur Sikri," Context: Building, Living, and Natural 10 no. 2 (Winter 2013/Spring 2014): 95-102
Vikramaditya Prakash, "Between Objectivity and Illusion: Architectural Photography in the Colonial Frame," Journal of Architectural Education 55 no. 1 (September 2001): 13-20
Sugata Ray, "Colonial Frames, 'Native' Claims: The Jaipur Economic and Industrial Museum," Art Bulletin 96 no. 2 (June 2014): 196-212
Martin Reinhold, "Local Stone (A Fragment)," Architectural Design Special Issue: Made in India 77, no. 6 November/December 2007Kazi Ashraf, ed.: 56-59
Siddhartha Sen, "Between Dominance, Dependence, Negotiation, and Compromise: European Architecture and Urban Planning Practices in Colonial India," Journal of Planning History 9 no. 4 (2010): 203–231
Jyoti P. Sharma, "Mughal Gardens of the Indian Subcontinent and the Colonial Legacy: The Treatment of Delhi's Shalamar Bagh," Journal of Landscape Architecture4 no. 2 (2009): 32-47
Patwant Singh, "Sir Edwin Lutyens and the Building of New Delhi," ICON (Winter 2002/2003): 38-43
Giles Tillotson, "The Jaipur Exhibition of 1883," Journal of the Royal Asiatic Society, Series 3, 14, 2 (2004), pp. 111–126
---
1. INTACH Delhi Chapter, Rashtrapati Bhawan and the Central Vista (2012), 1.
2. Aroon Purie, "From the Editor-in-Chief," India Today (March 16, 2015)
3. World Monuments Fund, Delhi Heritage Route website.
4. Shu Yamane, Shuji Funo, Takashi Ikejiri, "Space Formation and Transformation of the Urban Tissue of Old Delhi, India," Journal of Asian Architecture and Building Engineering (November 2008): 217.
5. Jyoti Hosagrahar, "Mansions to Margins: Modernity and the Domestic Landscapes of Historic Delhi, 1847-1910," Journal of the Society of Architectural Historians 60 no. 1 (March 2001): 42.
6. UNESCO, Jantar Mantar website.
7. Disclaimer: I am a huge Noguchi fan, I collected the postal stamps when they came out, and I would love to go to this exhibit myself but I can't. PLEASE go for me! Whoever you are! And report back.