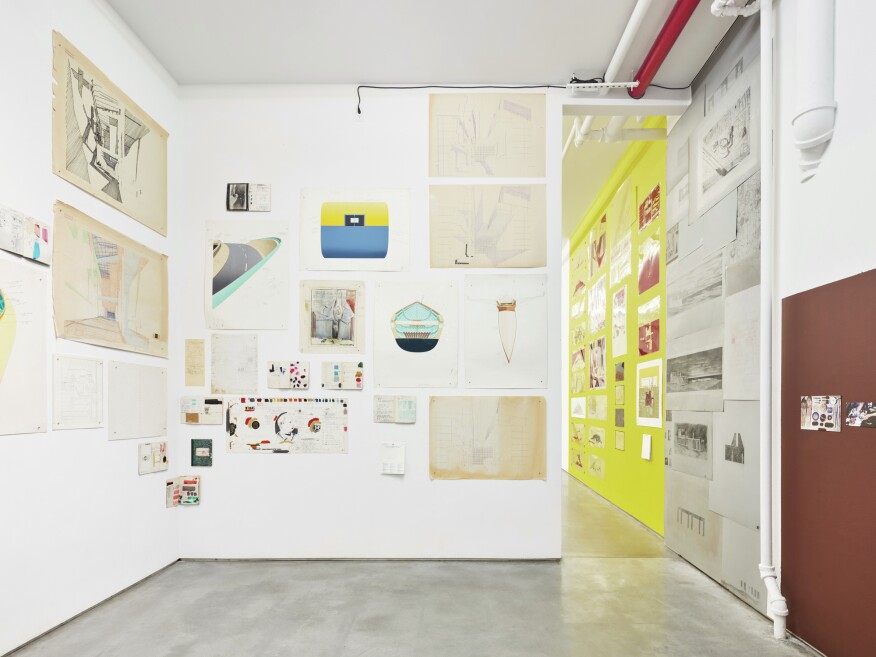 Picture a dense urban scene, drawn in pen. Walkways cut through oculi in the middle of buildings. Structures rise in grids tied together with square knots and surmounted by a tube. Arches with stepped interiors allow octagonal lozenges to pass through their voids. Lost in the crisscrossing of the many elevated roads and containers and partially obscured through the fragments of geometry rising above and around them, there is a blob or ooze, seeping down over one crossing and enveloping a cube. This "City in the Sky," as the late architect James Rossant called the series of which this is one exquisitely drawn image, was one of the many revelations I found at the three-part exhibition Architectural Image-Making in 1980s New York: The John Nichols Printmakers & Publishers Collection, part one of which is on view in the A83 Gallery in New York through March 19. Taking its place among work by architects who launched their career in that time and place, like Steven Holl, FAIA, and Michael Graves, as well as luminaries such as Frank Gehry, FAIA, and Thom Mayne, FAIA, the Rossant drawing brought to mind how productive and complex the utter confusion that marked Postmodernism was.
A83 is well-placed to celebrate that period of architecture. Its modest spaces sit on top of the shop founded by printmaker John Nichols, whose family now runs this combination of production and display space. Archive, press, and gallery at the same time, A83 dips into its holdings to assemble some shows, while attracting contemporary makers for others. While the drawings in the 1980s exhibition take up the walls of the SoHo space, easels in the middle of the room show works by the Drawing Architecture group, which just published a collection of their work as a special issue of the British periodical AD. There you can find the wizardry of Perry Kulper, Bryan Cantley, C.J. Lim, Neil Spiller, and Riet Eeckhout, as well as that of Archigram co-founders Michael Webb and Peter Cook, framed and propped up for your perusal.
It turns out that both sets of artworks share a great deal of ambition and drawing technique. To go from Rossant's isometric version of Manhattan (I think I spy Roosevelt Island in the back of the theoretical composition) in pen to Bryan Cantley's mechano-morphic fantasies of Los Angeles turns out not to be much of a jump, just as Perry Kulper's computer-assisted collages continue the ways in which Webb and Cook imagined a consumerist society producing a melding of projected and constructed reality.
What ties these two exhibitions together most clearly are transitional figures, most notably Thom Mayne and Peter Eisenman, FAIA. Inspired by Archigram and fascinated (in his more youthful days) by technology, Mayne in particular developed a drawing technique that melded solid form with ink-drawn vectors into structures that had no beginning or end, layered to accrete new architecture out of familiar shapes and geometries. Eisenman was in the thick of things in New York and, though his contributions here pale in their visual force next to that of many of his colleagues, his theoretical and analytic influence seeps through much of what is on view.
The exhibition belongs, however, to Michael Graves and Steven Holl more than anybody else. That is both because these two architects worked most closely with Nichols (Nichols's wife Karen has been a partner at Graves's firm since 1977), and because their work best used the various techniques the press provided them as tools to extend their visual reach. Both architects saw the world then as made of standard types and modules that displayed endless variation, just as different proofs of a print do, and built their architecture out of these familiar and standardized blocks. They then elaborated this underlying order or arrangement of things into more abstract and hybrid constructions. These compositions maintained a sense that they were part of a reality you knew, but that was, after their design efforts, somehow altered and new.
It is easiest to see this process in the work of Holl. You can watch him take types he had researched, from New York rowhouses to the Southern "dog trot" house, and then analyze, organize, hybridize, and develop them into the Porte Vittoria proposal for Milan or a visionary linear city meant to be a wall at the edge of Phoenix's sprawl. These grand schemes then fed into proposals for homes he translated into drawings that evoke a more elemental condition of being on the land or by the side of the sea.
Graves's work cloaked its inventions with more directly allusive bits and pieces of architecture: fat columns, slow arches, and above all sequences of punched square window and colonnades. It exploited the memories of older structures these elements brought with them, using them as a repeated bass-note rhythm for lyrical assemblies covered in the pastel hues of terra cotta and light blue for which Graves's architecture became as famous as for its shapes. When they come together in the landscape, as in the proposal for the Clos Pegase Winery, the effects make you imagine that beauty can be constructed out of what to many of us then looked like debased and thin derivatives of a grand past—though, unfortunately, the resulting built structure was value-engineered into blandness.
The A83 presentation is as Postmodern as its main subject matter: It consists of a collage of elements, overlapping and echoing each other, many of them unfinished and only vaguely alluding to a finished product (whether that is a sellable print or a building), and organized to tell a story. As what the organizers see as the first of three exhibitions that will stretch for most of this year, this first collection, subtitled "Proofs, Misprints, and Process," delights in its unfinished nature while showing the steps of the printing process. After an introduction, it is all there, from "The First Step in The Translation of an Original Artwork into the Visual Information Necessary to Make Prints" to "Print Scraps with Multiple Projects Superimposed Registering the Overlap of Authors within the Studio." In between we are shown "The Aluminum and Zinc Plates Used for Lithography," "Paper Tests," and other try-outs of various kinds, including the napkin sketch Gehry and Nichols labored to turn into limited edition placemats.
In the 1980s, the exhibition implies, the making of finished buildings might have been the point, or an aim, but the delight of architecture lay in exploration, analysis, experimentation, iteration, and imagination. The process of making the image and its reproduction were as much what the architect did—also because commissions were few in New York in the early 1980s—as the production of the line of documents from sketches to design development to working drawings necessary for the construction of a single object. By showing not only the beauty of such fragments and figments of architects' imagination, but also how current designers are continuing that work in new media and modes, A83 has provided an invaluable counterpoint to the mindless making of buildings that dominates far too much of the discipline.
The views and conclusions from this author are not necessarily those of ARCHITECT magazine or of The American Institute of Architects.
Read more: The latest from columnist Aaron Betsky includes reviews of Theaster Gates's exhibition at the New Museum, Edward Hopper's show at the Whitney, and Jean Nouvel's new monograph.