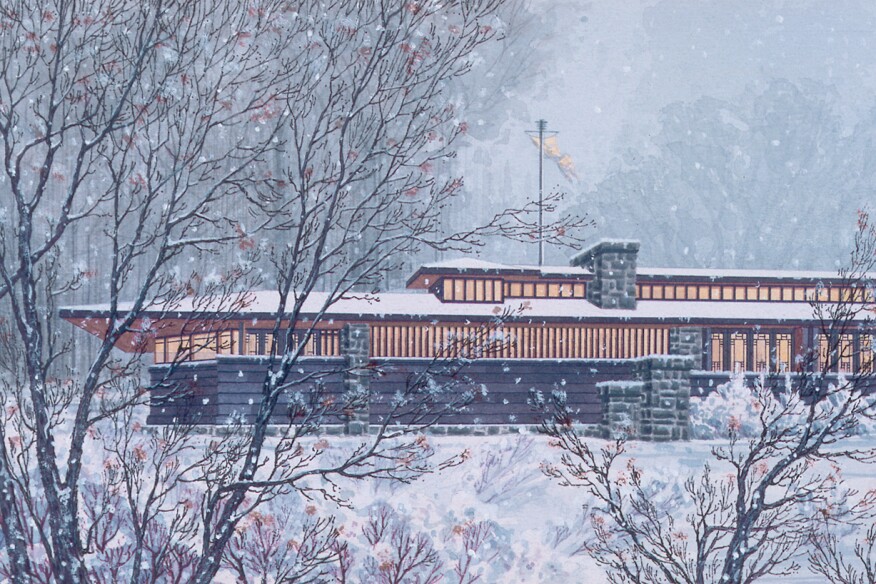 Every architect leaves behind a portfolio of dreams: buildings designed or sketched that were never built. The more ambitious the architect, the bigger the size of those dreams. There are also the buildings that once took solid form, that were built and then torn down—not dreams so much as ghosts. Few architects in the 20th century were more ambitious than Frank Lloyd Wright, and perhaps none had a career that encompassed more unfulfilled dreams and persistent ghosts. About 530 Wright buildings were constructed during the architect's lifetime, and he left behind drawings for another 500 or so, including 100 in which the designs reached a fairly advanced stage.
What if you could give life to the unbuilt projects? And what if you could rebuild the projects that were torn down?
That simple idea, equal parts audacious and quixotic, is behind the Frank Lloyd Wright Revival Initiative, which was founded by Michael Miner, 54, an independent filmmaker who has produced four documentaries that examine the architect's legacy. For the initiative's first project, Miner is hoping to rebuild a park pavilion in Banff, Canada, that Wright designed in 1911 in association with his student Francis C. Sullivan, and which was demolished in 1939. The pavilion was 200 feet long with a low-hipped roof and the strong horizontal lines characteristic of Wright's prairie style. Constructed of local stone, cedar, and spruce, it had a central space with art-glass windows running along one side and a pair of stone fireplaces. Men's and women's "retiring" rooms were located on each end of the building, which was unheated and usable about four months a year.
It's not one of Wright's better known buildings, but Jennifer LaForest, development planner for Banff, says the pavilion influenced the city's design guidelines both through its use of local materials and the way it fit into the context of the landscape. "There's no question that this is an amazing masterpiece and an important building—one of only two buildings that he designed and built in Canada," she says. "It has not just a lot of architectural significance, but also national significance."
The Frank Lloyd Wright Revival Initiative has an impressive name, but it's a small operation, with a volunteer staff that consists of Miner, his wife Carol, and director Lane Manis, the former executive director of the Jacksonville, Fla., AIA chapter. The initiative's fundraising is focused on small donations, a Bernie Sanders–inspired crowdsourcing model that seems unlikely to attract the many millions needed for significant reconstructions. It would be tempting to dismiss the effort as a romantic pursuit or even a Hollywood-type vanity project, except that it has already made notable progress.
The city of Banff has given Miner preliminary approval (the city council still has to OK the final design), and he is confident that he can get the pavilion rebuilt, at a cost of about $2 million or less. He has reached out to construction and materials companies to solicit material donations, and he has the support of Eric Lloyd Wright, Frank Lloyd Wright's grandson, who studied at Taliesin West under his grandfather and has been involved in the restoration of several Frank Lloyd Wright structures, including the Storer and Ennis houses in Los Angeles. If Miner's plans are successful, he hopes that as a second project he can complete Wright's original design for the 1963 Pilgrim Congregational Church in Redding, Calif. Because of cost, the church built only one wing—or roughly 20 percent–of Wright's original design, which depicted a sprawling, much more dramatic structure.
He repeatedly emphasized he wasn't interested in buildings "inspired" by Frank Lloyd Wright or that might emerge from a collaborative effort with a contemporary architect.
But the initiative has been greeted warily in some Frank Lloyd Wright circles, the mini-industry that is devoted to protecting and promoting his legacy. None of the major Frank Lloyd Wright organizations—the foundation, the trust, or the conservancy—are actively supporting Miner. A pair of Wright experts I interviewed also questioned the logic of building decades-old designs, especially when many existing Wright buildings are in need of financial support for upkeep. "I'm skeptical. I think it's wonderful that someone is so enthusiastic about Frank Lloyd Wright," says Anthony Alofsin, AIA, an architect and professor at the University of Texas in Austin. "I just think there has to be a really strong rationale for doing such things. … The other end of the spectrum would be the city of Banff saying, Let's build a new pavilion that's got as much class and creativity as something that Frank Lloyd Wright would have built."
Still, a new design, even if brilliant, is unlikely to inspire the response of a rebuilt Wright structure. For Miner, the justification is simple. "He was a great artist," he says of Wright, and if you have a chance to bring more great works of art by a great artist to the world, you should do it.
How Miner came to be the person trying to do that begins with another kind of love story.
A Question of Purity
On a beautiful morning last fall I rode with Miner up the winding back canyon roads of Malibu, Calif., to visit Eric Lloyd Wright. The drive was, in a metaphorical sense, the continuation of a journey for Miner that began back in the 1990s when he took what he describes as a "three-year road trip" across America.
He was recovering at the time from a breakup with a girlfriend who had shared her love of Wright, and as he traveled across the country he became, without really planning it, one of the many Wright pilgrims, visiting one famous Wright structure after another. As he did, Miner says, his appreciation for Wright grew. "Every building you go to you see some amazing new thing," he says, "and to recognize that this came from one person's mind—when you recognize genius at its highest level, it seizes you."
Miner had owned a chain of video stores in California in the 1980s that left him financially comfortable. He'd migrated to the production side of the film industry in the 1990s, debuting a short film at Sundance and then working in commercial video for a time. "I never got off the ground on the kind of independent films I really wanted to do," he says. But with Wright he found inspiration as a documentarian. He began with Sacred Spaces, in 2005, which focused on Wright's churches, followed in 2008 by A Child of the Sun, which looked at the Florida Southern College campus that contains 10 different Wright buildings, and then Romanza, which examines Wright's California architecture.
The morning we drove up to see Eric Wright, Miner was in deep into the last stage of production on his fourth Wright documentary, Masterpieces, a tour of Wright's most celebrated work, and has spent the night before in a recording studio in downtown Los Angeles working with his narrator. He was dressed casually in shorts and a polo shirt and had the slightly disheveled air of a distracted college professor.
The visit to Eric was to update him on the progress of the effort in Banff and to get his input on how to meet some of the design challenges going forward. "We chose this project because on paper it was the simplest, least expensive, and most feasible," Miner says. "We thought it was a wonderful project to get our feet wet and show what can be done."
The pavilion was originally built as an indoor gathering and changing space in a community recreational area (a kind of city park), but ballfields constructed sometime after the building's demolition mean that it will need to be reoriented at least 30 degrees from the original location. The site is also prone to flooding—flood damage is believed to be one of the reasons the original structure was torn down—and the new building will either have to be flood proof or be sited at a higher elevation.
These concerns and others were on Miner's mind as he arrived at the Wright compound, which offered breathtaking views of Malibu and the ocean from high above the city. Eric Wright, a small man with a mildly unruly white beard and heavily lidded, thoughtful eyes, was waiting for us in the main house, wearing a black t-shirt featuring the words, "I intend to live forever. So far, so good."
Even though Eric Wright studied under his grandfather, he said that when working on a restoration, "the main challenge I always find is getting myself into the mind of Frank Lloyd Wright when we start, and thinking, 'Would Frank Lloyd Wright have done it this way?' "
Yet Wright seemed less worried about practical alterations than Miner, whose devotion to maintaining the purity of the original designs seems absolute. He repeatedly emphasized he wasn't interested in buildings "inspired" by Frank Lloyd Wright or that might emerge from a collaborative effort with a contemporary architect. He is looking for the right architect to work on the project, one willing to fully subsume their vision to Wright's. Banff will set the standard."The first one is the most important one," he says. "That's why it's essential to maintain the integrity."
Compromised Magic
Photographs, final drawings, and other materials related to the pavilion make that fidelity at least theoretically possible. But if the initiative succeeds and tackles other never-built structures, the challenge grows, notes Sidney Robinson, an emeritus professor of architecture at the University of Illinois in Chicago, and the author of numerous books on Wright. "As any architect knows, the completed building incorporates information that is never drawn, so when the architect is involved in the construction, his or her pattern of choices or selections is incorporated in the building," Robinson says. "And when someone builds based on the drawings, there is a gap, and that gap can be serious—or not."
As an example, Robinson cites Monona Terrace in Madison, Wis. The convention center was designed by Frank Lloyd Wright in the 1930s, but the advent of World War II and political resistance to the size and scale of the design along the city's waterfront delayed the project until 1997, when it was finally built. To meet today's requirements, however, changes were made both in the building's height and elevation along the lake that resulted in "a building whose magic has been compromised," Robinson says.
Whether more substantial unbuilt Frank Lloyd Wright designs can be constructed without facing similar challenges is an open question. Larger projects also seem likely to test the financial and organizational capabilities of the initiative. Yet my time with Miner left me convinced of his sincerity and dedication to the cause, and if the Banff pavilion is rebuilt, it could open the doors to other projects.
Eric notes that his grandfather took a pragmatic view of his finished buildings. "He would say, 'I've already done that. It's up to them now. I've moved on.' "
Nearly everyone I spoke to for this story rattled off a list of lost or unbuilt Wright buildings that, as Alofsin says, "would have been extraordinary." He pointed to the San Marcos in the Desert resort near Chandler, Ariz., a victim of the Great Depression, and Wright's plans for the Doheny Ranch residential development near Beverly Hills. Robinson mentioned the Oak Park kindergarten buildings in Chicago, which Wright called Kindersymphonies, that he sketched out in 1926. Other notable projects: The Larkin Building in Buffalo, torn down in 1950, and the Midway Gardens in Chicago, demolished in 1929.
Will Miner's initiative succeed in bringing more of them back? And how would Wright have felt about the initiative? Eric notes that his grandfather took a pragmatic view of his finished buildings. "He would say, 'I've already done that. It's up to them now. I've moved on.' "
Yet it's hard to believe Wright, never known to be self-effacing, wouldn't be pleased to see new buildings pay tribute to the enduring power of his dreams.