"If you're going to make a building complicated, this is it." That's how Derek Foster, contracts manager at U.K. construction company Morgan Sindall, summarizes the Essex Business School, a three-story timber-framed building designed by the London office of BDP under the direction of former chairman Tony McGuirk. The 59,200-square-foot, 590-foot-long academic building curves both in plan and in section and molds into a hillside with a 30-foot drop located at the edge of the University of Essex's campus in Colchester, England.
Realizing the structure was challenging both "geometrically and logistically," Foster says. "There wasn't a right angle in the place." Its crescent shape and distinctive "roundels"—circular lecture halls clad with traditional lime render that pop out of the building mass—emerged from a rigorous site analysis that examined solar exposure and wind patterns, among other things.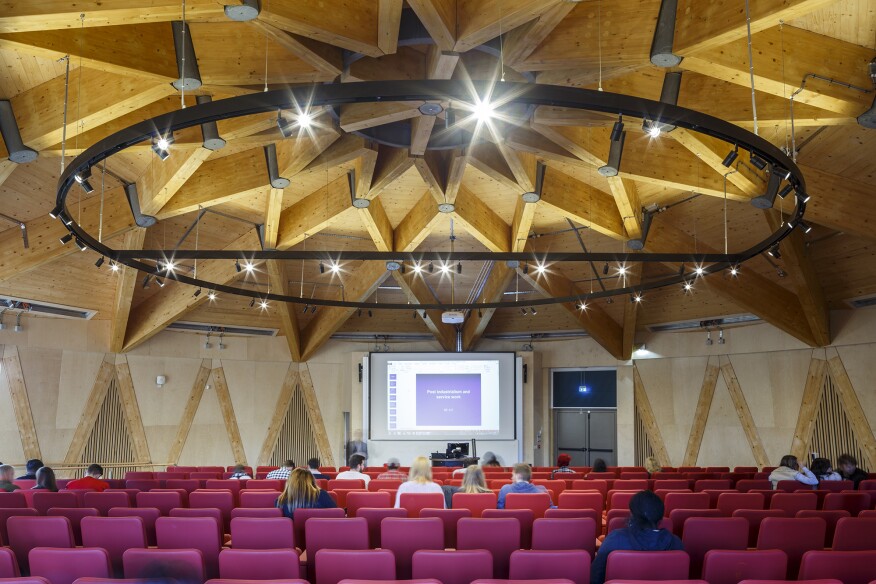 The largest roundel, 60 feet in diameter, houses the main lecture theater and is topped by a geodesic timber roof. A lattice of angled glulam beams, each 8.7 inches wide and ranging in depth from 25.2 inches to 26.7 inches, connect in diamond formation via steel knife plates welded to custom hollow steel tubes. As the lattice ascends to the dome's apex "almost like a crown," as McGuirk describes it, it meets a 118-inch-diameter steel ring beam, within which a central steel node with welded knife plates connects the six topmost beams, each with a depth of 15.7 inches, in a radial array.
The geodesic structure was erected from the ground up, with temporary centering used for each ring until the "key," or central node of the dome, was securely in place. "It was very much like building an arch," Foster says. The roof was finished with 3-inch-thick cross-laminated timber decking, a waterproofing membrane, insulation, and living roof media.
At its base, the entire timber dome roof ties into an outer steel ring beam that sits on angled glulam columns arranged in "V" formations, like the web of a truss, and tie into steel plates anchored into a circular concrete foundation. McGuirk says the dogtooth pattern was not only logical but also helped to unify the "very characterful" architecture.
Such a "characterful" building presented innumerable construction challenges, beginning with the creation of construction drawings for the building's hodgepodge geometries, done in 2D using Bentley Systems' MicroStation. McGuirk credits its realization to the entire project team, including London-based structural engineer Engenuiti and Derby, England–based timber supplier and contractor B&K Structures.
At least seven types of wood appear in the school, including pine in the glulam structure and western red cedar and iroko for its exterior cladding, for a total of 45,000 cubic feet of timber. The glulam was manufactured by Rubner Holzbau at its facility in Austria, where it also grows its own timber. Given the project's complexity and tolerance of just 1 millimeter for the glulam, Foster says it was "extraordinary how it all fit together."
Additionally, every bolt hole in the glulam members had to be filled and sanded to match the wood. "There were thousands and thousands and thousands of plugs done, each of them by hand," McGuirk says. "Modern construction tends to be fairly methodical, but this needed a lot of skill."
McGuirk, who left BDP in 2014 to launch his own practice, says the academic building, completed in 2015, exceeded even his own expectations: "It's almost like the building is a landscape as well as a building."
Featuring prominent green roofs and an angled rooftop solar array, the timber-clad business school wraps around a 250-year-old English oak tree, which the architects kept despite the specimen looking somewhat worse for wear. (An arborist assured them it was healthy.) As a result, the building feels natural, which the architects intended. McGuirk recalls the school's then-director, Michael Sherer, asking BDP at the project onset, " 'Does a sustainable building look any different from anything else?' And I said, 'Yes, I believe it should.' "
More about Bentley Systems