This story was originally published in Architectural Lighting.
Once again, Lightfair recognized outstanding product developments during its annual Lightfair Innovation Awards. The 29th installment of the program served as the traditional kick off to the tradeshow start of Lightfair, which, this year, was held in Chicago at McCormick Place from May 8 to 10.
The 2018 program received 238 product entries across 14 product categories; the categories reflect the current evolution of lighting products and lighting technology, and the "Winning entries exemplified the best in innovative design and thinking." This year's products were reviewed by a jury of lighting design professionals that included: Catherine Hall, HGA, Milwaukee; Guilio Pedota, Schuler Shook, Chicago; Matt Alleman, SmithGroupJJR, Detroit; Emily Lai, PG Enlighten, Westmont, Ill.; Evelyn McGowan, Pivotal Lighting, Seattle; Richard H. Wyton, Steiner Electric Company, Elk Grove Village, Ill.; and Adam Koch, Facility Solutions Group, Austin, Tx. To view all of the 2018 Lightfair Innovation Awards entries, visit the 2018 Lightfair Innovation awards website.

The following products received the competition's highest honors:
Most Innovative Product of the Year: NU4RD Vector, Alphabet by Ledra Brands • The NU4RD Vector 4" recessed downlight features dynamic beam-shaping technology from LensVector and a liquid crystal lens optic that can be adjusted from 10 degrees to 55 degrees via Bluetooth. NU4RD also offers app-based commissioning controls, scene setting and system grouping and timing, and smart color-tuning. Specifiers can select either the Xicato XTM or the Seoul Semiconductor Acrich LED modules, and from a range of color temperatures—2700K, 3000K, 3000K vibrant, 3500K, 4000K, and 5000K—with a color rendering index (CRI) between 83 and 98. Overall, the dimmable downlight can deliver up to 1,500 lumens. Suitable for new and retrofit construction, and wet locations. NU4RD Vector was also the category winner for Recessed Downlights, Wallwashers, and Multiples.
• alphabetlighting.com
Design Excellence Award: Juno FlexConnect, Juno/Acuity Brands Lighting • Designed for wall grazing, wallwashing, and other architectural applications, this linear optic lighting system features MicrOptix technology and miniature silicone optics in 15-degree, 20-degree by 45-degree, and asymmetric light distributions. The silicone-encapsulated FlexConnect can be formed to follow both linear channels and curved surfaces. Available in 20' spools, it can be field-cut and reconnected in 6" increments using integral connectors. It is available in 2200K, 2700K, 3000K, 3500K, and 4000K, and delivers up to 450 lumens per foot. Rated for indoor damp-location luminaires and indoor/outdoor IP67-rated luminaires. Juno FlexConnect was also the winner in the category Dynamic Color, Theatrical, Cove, Strips, and Tape • juno.acuitybrands.com
Technical Innovation Award: SolarSync Photosensor (GLS-LCCT), Crestron Electronics • The SolarSync Photosensor incorporates a correlated color temperature (CCT) and a luminous intensity meter that can instruct the indoor lighting system to match both the color and intensity of natural light throughout the day. SolarSync's light-sensing capabilities operate between zero and 100,000 lux (zero and 9,290 footcandles). Though it can match CCT values from 2000K to 25000K, it is most accurate from 2700K to 5700K. Typical power consumption is 70mW with maximum consumption at 4.9W during self-heating. SolarSync also has a manual mode to enable control of the lighting effect no matter the natural lighting conditions. A white acrylic, diffused dome tops the photosensor's PTFE, IP67-rated housing. At 2.77" tall with a 2.69" diameter, SolarSync can be mounted to a junction box or an enclosure via a 0.5" conduit knockout. SolarSync was also named the winner of the category Controls: Components, Sensors, Interfaces, and Software. • crestron.com
Judges' Citation Award: Ores LiFi, LumEfficient • This fixed LED downlight also functions as a light-fidelity (Li-Fi) access point, enabling the creation of a wireless network with a bidirectional line rate of up to 42 Mbps through the luminaires. Each downlight can serve up to eight Li-Fi USB keys and includes a high-power LED in neutral white (4000K) with a CRI of 80. The fixture uses a recessed and faceted aluminum reflector, and its optical compartment is sealed with tempered glass. The pin-block molded housing is made of black anodized aluminum and shielded by a perforated steel plate, while the steel trim is finished with a powdercoating. Power-over-Ethernet (PoE) compatible. • lumefficient.com
The remaining category winners are:
Non-Luminous Products: Research, Publications, Software, and Specialty Hardware: Hekla, LEDiL • These 44mm-diameter sockets and solderless connectors feature two push-in connectors that allow the same socket to be transformed into a solderless connector. The low-profile design provides constant pressure between the chip-on-board (COB) diodes and the heat sink, while a twist-and-lock mechanism allows for quick lens attachment. The Hekla connectors work with eight of LEDiL's lens and reflector families and support COB LEDs from several other manufacturers, including Bridgelux, Cree, Citizen, Lumileds, and Sharp. • ledil.com
Lamps: Conventional, Retrofit, and Replacement: HID LED 25W Lamp, Green Creative • Designed to replace 70W to 100W high-intensity discharge (HID) lamps, the HID LED 25W lamp delivers 3,200 to 3,400 lumens total, or 128 to 136 lumens per watt. Available with either an E26 or an EX39 socket base, the A23 lamp shape allows for omnidirectional lighting and can be used in a variety of bollard, post-top, and low-bay luminaire applications. Available in warm white (3000K), cool white (4000K), and daylight (5000K), the lamp has a rated lifetime of 50,000 hours, according to the manufacturer. • gc-lighting.com
LED/OLED, Chips and Modules: LaserLight Fiber Module, SLD Laser (formerly SoraaLaser) • As the first white-laser light module that can remotely deliver more than 1,000 megacandelas per square meter, according to its manufacturer, the LaserLight Fiber module is suitable for a variety of applications in architectural, entertainment, outdoor, and automotive lighting. With an output of 400 lumens, CCT of 5600K, and CRI of 70, the module provides an ultra-long throw distance, sharp beam cutoff, and high contrast light field gradients. Compatible with a high-efficiency waveguide delivery. • sldlaser.com
Ballasts, Transformers, Drivers, Systems, and Kits: PoE-CP12-V1A, Iota Engineering/Acuity Brands Lighting • This UL-listed emergency lighting LED battery pack (driver) can convert a standard PoE luminaire into an emergency luminaire that complies with NFPA 101, Life Safety Code. The driver contains a battery, charger, and converter circuit within a single can unit. In a power failure scenario, the PoE-CP12-V1A enables the connected luminaires to operate an additional 90 minutes. It can power an LED array load at 12W with constant power at a rated output voltage of 10V to 60V without risk of illumination degradation during this run time. • iotaengineering.com
Track, Display, Undercabinet, and Shelf: Supersystem II, Zumtobel • This slim-profile LED spotlight track system for low-voltage lighting applications uses either a 1"-wide H- or U-shape track to provide a full range of lighting options for general, accent, direct, indirect, and wallwashing in lumen packages up to 1,200 lumens. Trackheads are available in mini, midi, and maxi sizes with an array of beam spreads options, including superspot, flood, framing, and wallwasher. The LED modules are available in 2700K, 3000K, and 4000K. Trackheads are made of die-cast aluminum, in coated black or with a white finish. • zumtobel.us
Indoor Decorative: Tik-Tak, Sonneman • The Tik-Tak suspended luminaire features LED rods grouped in pairs, which can be specified as a duo unit or in multiples tiers (up to six) to create dynamic and sculptural lighting configurations. Each 0.75"-tall by 47.5"-long by 7.25"-deep rod can be positioned as an uplight or a downlight, and uses two 20W 3000K integral LEDs with a CRI of 90. The lens is made of an optical acrylic. Available body finishes are polished chrome, satin white, satin nickel, and satin black. • sonnemanawayoflight.com
Parking, Roadway, and Area Luminaires: Gardco PureForm LED Site and Area Luminaire, Philips • This family of outdoor lighting fixtures includes a bollard, post-top, sconce, and medium- and large-area luminaires. The luminaires can be specified with either comfort optics or precision optics for a range of mounting heights and lumen outputs, and with an array of control options for energy savings. Based on configuration, Gardco PureForm can output up to 28,000 lumens. The medium- and large-area luminaires feature a low-profile design and are intended to maximize pole spacing. Available in 4000K with a CRI of 70 with Type II, III, IV, and V distributions. • lightingproducts.philips.com
Sports, Step, Landscape, Pool, and Fountain Luminaires: Portal, Hess America • The Portal Column, in the Portal family of exterior luminaires, is designed for exterior and interior public spaces, such as conventions centers, corporate and university campuses, and parks. The extruded aluminum housing comes in 8' or 10' heights. An anodized aluminum bezel surrounding the ringed light source aperture provides a design accent to conceal the CoB LED light engine. Available in 3000K or 4000K with a CRI of 80-plus, the luminaire uses 38W and is CSA/US Certified for wet locations. Standard finishes are matte silver gray metallic, graphite gray, or dark gray; custom RAL finishes are also available. • hessamerica.com
Industrial, Vandal, Emergency, and Exit: ELM2LF Emergency Light, Lithonia/Acuity Brands Lighting • Providing at least 90 minutes of illumination in AC power failure scenarios, the wall-mounted Quantum LED Fixed Optics 220 Lumens Emergency Light is 5VA flame-rated (the highest rating possible in UL 94, Standard for Tests for Flammability of Plastic Materials for Parts in Devices and Appliances), impact-resistant, scratch-resistant, and corrosion-proof. The 9.7"-long by 4.68"-tall and 3.1"-deep fixture's thermoplastic housing comes in white (standard) and black, and integrates a low-profile, backlit test switch with a visible multicolor LED status indicator. With a fixed lamp head arrangement for easy installation and to maximize illumination of egress paths with no aiming required, the luminaire uses two high-performance 1.2W LEDs and delivers 220 lumens in a linear pattern. • lithonia.com
Commercial Indoor: Troffers, Suspended and Surface Mounted: Chisel, Mark Architectural Lighting/Acuity Brands Lighting • Chisel is a family of indirect recessed LED luminaires available in five sizes–1'×2', 2'×2', 2'×4', 1'×4' and 6"×4'–and three textures: minimalist, weave, and pyramid. The luminaire provides tunable white illumination options as well as directional gradients—side, corner, parallel, and full—that allow Chisel to be illuminated from one side or multiple sides without reducing lumen output or light quality. The luminaire is outfitted with integrated wired and wireless controls by nLight. • marklighting/acuitybrands.com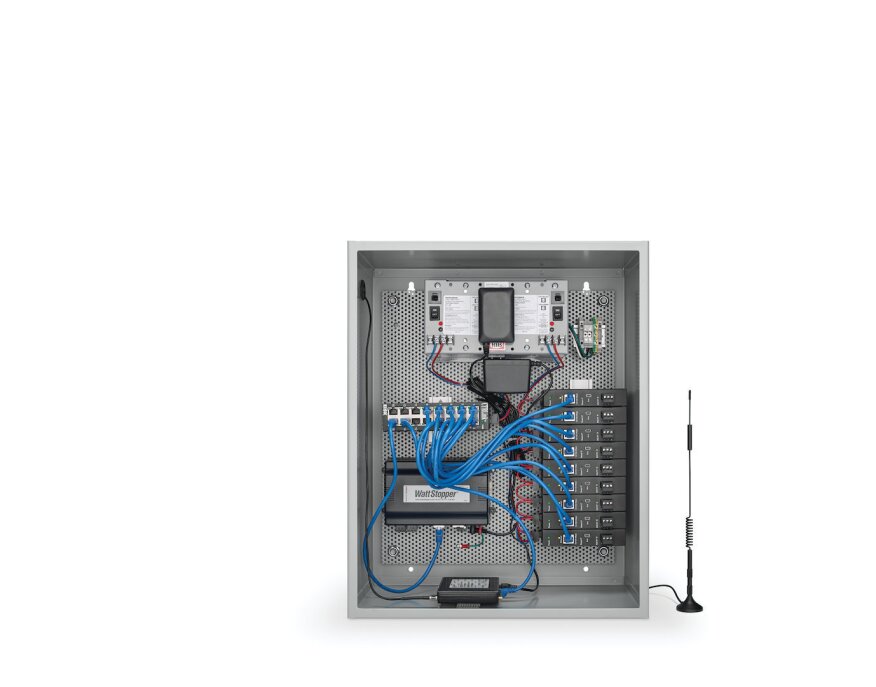 Control and Distribution Systems, Connectivity, and Analytics: Raccess, Legrand • Raccess is the first offering from Wattstopper's Connected Services technology suite that provides an enhanced first-year warranty service with remote diagnostics and technical support for the digital lighting management and architectural dimming lighting control systems. The technology suite uses a dedicated 4G LTE modem for a secure communications. • legrand.us/wattstopper
To read more stories like this, visit Architectural Lighting.

More about Acuity Brands
Find products, contact information and articles about
Acuity Brands
More about Crestron
Find products, contact information and articles about
Crestron
More about Green Creative