The 15th iteration of the Lighting for Tomorrow competition announced this year's winners on Sept. 12 at the American Lighting Association (ALA) Annual Conference in Vancouver, British Columbia. Launched in 2002, the competition—which put out an official call for entries in January—is co-sponsored by the ALA, the Consortium for Energy Efficiency, and Underwriters Laboratories. Each year, the awards' objective is to highlight "residential lighting products that successfully incorporate advances in both design and energy efficiency," according to a press release by the competition.
Standalone categories for connected lighting and residential ceiling fans were new additions to the program this year—signaling the industry's continued push on smart lighting products as well as growing demand for integrated ceiling fan fixtures in single- and multi-family applications.
The competition named 11 winners across four categories: Decorative Lighting, Functional Lighting (divided into two subcategories of Task-Oriented Lighting and Replacement Lamps), Connected Lighting, and Emerging Technologies. Four Honorable Mentions, five Special Recognition Award winners, and one Judge's Design Award winner were also announced.
This year's top winners are displayed below:
Decorative Lighting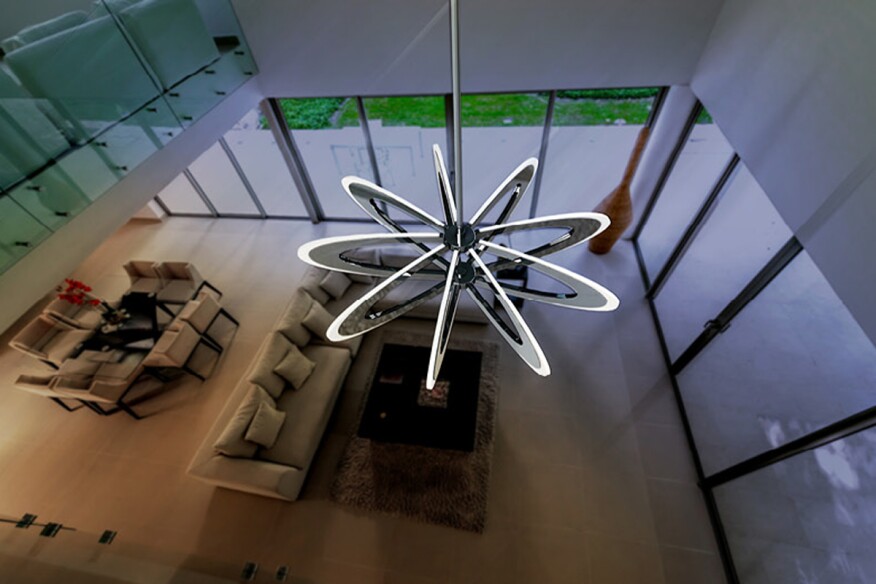 Iridium Pendant, Blackjack Lighting
Jury comment: "The pendant provides a nice designer example of the versatility and uniqueness of LEDs, while maintaining good omnidirectional light output."
Dharma, Project Greener Planet
Jury Comment: "This nicely styled wall or ceiling mount has good light output, dimming, and energy efficiency. It's interesting and flexible design is suitable for multiple applications, and it provides a cool edge lighting effect that's unique to LEDs."
Task-Oriented Lighting
3-Head LED Motion Activated Flood Light, Good Earth Lighting Inc.
Jury comment: "The dusk to dawn feature, slim appearance, and price point are all fantastic. This product illustrates a keen level of detail and adjustability."
Silo X20, WAC Lighting
Jury comment: "This is a single fixture that can easily do multiple things, providing true versatility and value. The flexibility and adjustability coupled with glare control and quality optics is a real asset!"
Duo AC LED Color Option Light Bar, WAC Lighting
Jury comment: "A bright, slim design that changes color at the flip of a switch."
Oculux, WAC Lighting
Jury comment: "With its great color and color rendering, this clever product isn't so obviously an LED as similar market options. A small but effective specialty downlight!"
Replacement Lamps
LED Filament Nostalgic T6, Bulbrite Industries Inc.
Jury comment: "This tubular T6 features a new filament bulb shape and a safety feature meeting a market need at a great price point!"
Refine Series PAR38 17W, Green Creative
Jury comment: "LED PAR lamps with this brightness are few and far between; this one has nice output and color, and its beam spread makes it a good choice for home lighting."
Connected Lighting
6SL Bluetooth Speaker Light, Lithonia Lighting, an Acuity Brand
Jury comment: "This innovative specialty product is a great retrofit option – it has nice dimming and efficacy, but also boasts the "fun factor" of an integrated Bluetooth speaker!"
Decora Smart with Wi-Fi Technology 1000W Universal LED/Incandescent Dimmer, Leviton
Jury comment: "This simple yet smart lighting control switch is a great alternative to a complex system; it's intuitive and easy to understand, a great introductory option for customers that still provides energy saving actions like scene setting, remote control, and scheduling."
Emerging Technologies
Aerelight A1, OTI Lumionics
Jury comment: "The innovative and one-of-a-kind Aerelight is touch controlled, using efficient OLED technology in a way that is functional, decorative, AND futuristic."
To view a full list of winners, visit the Lighting for Tomorrow competition website.