When a 3.5-year-old tech company in Silicon Valley lays out a vision to upend the age-old, multi-trillion dollar building industry, eyebrows will be raised. But if Katerra's acquisitions of design firms Michael Green Architecture and Lord Aeck Sargent—not to mention lighting manufacturer Shanghai Dangoo Electronics; precast and prefabrication company KEF Infra; engineering firm Equilibrium; and general contractors United Renovations, Fields Construction Co., and Bristlecone Construction—were not enough to give the profession pause, then the announcements made during the 5,000-person company's Take Off 2019 might do it.
At the Feb. 18 event held in Las Vegas, Katerra leaders revealed one by one all the vertical markets in which the company has handily positioned itself. "We haven't talked about each of these things in public … because … we didn't want to get too far ahead [of ourselves]," Katerra chairman and co-founder Michael Marks tells ARCHITECT in late February. "[E]verything we announced at Take Off are products that are available this year."
Here's a rundown of the announcements. In modular construction, Katerra now offers two configurable multifamily housing products, or building platforms—Garden Market-Rate and Workforce Housing Garden—that comply with building codes in 48 states. Katerra is also developing its own software platform, Apollo, which is intended to cover the "entire life cycle of the building process" from site analysis to workforce hiring, according to its press release (and read more about this in the Q+A below).
By this summer, Katerra expects to open its own cross-laminated timber (CLT) factory, in Spokane, Wash., which will become the largest capacity CLT manufacturing facility in the United States. This will soon be joined by other plants underway (again, keep reading for more). Katerra plans to outfit its buildings with proprietary energy and mechanical systems Katerra Energy System (KES), an intelligent power-metering and distribution platform, and KTAC, the company's response to the everyday terminal air conditioner. By the third quarter of this year, Katerra expects to deliver Katerra Windows from the factory to the jobsite in as little as one week.
And, finally, Katerra has launched its own line of bathroom kits and interior fixtures and finishes under the brand name Kova, derived from the Latin words va (go) and co (together). The collection includes carpet, tile, plumbing fixtures, hardware, wood trim, light fixtures, light sources, and mirrors, as well as a curated line of products called Kova Select.
"We don't have a strategy, per se, that says we have to manufacture all the components, but where we find a lack of innovation or pricing that doesn't meet our needs, we're certainly prepared to manufacture [it ourselves]," Marks says. "I think [the number of components we undertake] will increase over time."
For further insight to Katerra's strategy for entering and managing all these verticals, read on.
ARCHITECT: Let's start with Apollo, Katerra's software platform. What tools does Apollo offer?
MM: There's actually six. It starts with Report—you put in an address and you find out site information, zoning, and crime rates, [et cetera] without having to do a bunch of work. The second [tool] is Insight, which [focuses on] design, so it allows us to structure what we're doing with the first two (building platform) products we announced. Direct is a library of the components that are used in the building and is tied to our SAP systems. When we change or get a new product, we get new pricing and, of course, customers can put in their own pricing. Compose is a product that's used for coordination … between the different groups that are working on a project. Construct is a major product [focused on] construction management and [offers similar capabilities as products by] Procore and Bluebeam. And the last one is [Connect], which is a way of managing the workforce on a project—[not just by] knowing who they all are, but having a database of people, such as subcontractors, that you can hire.
Construct is the most immediate and broadest of the products. Report is in pretty good shape. Insight is rapidly coming into shape on our own products, but that'll be available for architects and other developers to input their own product models. We use Apollo on all of our own products—I think $600 million worth of products are on this—and we're starting a Pioneer program to line up big customers who can start testing the software and giving us feedback. Then we'll begin to release products in April.
We created the software for our own use because, like many companies in the industry, we've been using different products that don't all work together, so we just decided to rewrite the software stack so we can use the same software platform from the beginning all the way through to the end.
Do the tools have an open API to integrate with other software platforms?
Yes, absolutely. [I]f you don't have an open API, then these things don't get legs.
Do they allow you to circumvent common AEC programs such as those by Autodesk or Trimble? Will Katerra become a competitor to existing software developers?
Autodesk is a pretty big and sophisticated company with pretty big and sophisticated products. We do use Revit, [but] we're adding the ability to keep [the project] data across the whole platform. We'll compete with some companies in some places.
Katerra is focusing initially on multifamily housing products, but are you pursuing other markets?
For sure. It's not really a big secret because we plan to do basically every building type over time. We're working on a corridor product, which is a different version of the market rate, but it's more like a hotel where you have a central corridor. We didn't announce that [at Take Off because] it's two months behind. We [did show that] we're working on a mass-timber office building.
Over time, we're going to do every kind of product, but it takes a lot of people and a lot of time to get these things to be automatable. So, we've been working on the first two for two years, and we're going to start building them from scratch this summer.
Does Katerra primarily work for developers as clients or will Katerra become involved in property and building ownership as well?
We don't expect to be owners. The developers are our customers. There can be opportunities that we might co-develop a [project], where we're trying out new things, but no, we don't expect to own and operate properties.
How will you ensure that the quality and performance of Katerra's line of windows and Kova products are comparable to those of brands that have been manufacturing them for decades?
First of all, in terms of safety, it's very regulated and everything gets signed off by some municipality. So there's no issue on safety. On the quality of construction and materials, I think we do better than most [because]—and it varies by segment—there's a lot of crappy construction that goes on; crappy materials and windows and hollow-core doors, for example, instead of solid doors. From that perspective, we're at the higher end of what people do. We don't do urban high-rise—that's a whole different game and their quality is pretty good.
How does the role of architects working at Katerra differ from that at conventional design firms?
We have a lot of architects that do exactly the same thing as architects in other firms. But what's very different is that we have a whole slew of architects who are working on product development. They work on a team [with others] in engineering, construction, manufacturing, and supply chain to develop building products. The architects have to design in the supply chain we use so that it can be built in a factory and can go together easily on a construction site. I don't think there are many architects in the country or the world who actually work that way as a part of a team that's defining a building as a product.
When we started this firm, [none of the architects] wanted to work on the [building platform] products because they thought it was a low-level task. As architects, they [wanted to] design something different all the time: Why would they want to work on something that's going to be more or less the same all the time?
Two years later, everybody's clamoring to get on the product teams because that's where all the exciting work is being done. Those have turned out to be the hot assignments. Who knew?
What efficiencies in cost and schedule are you able to achieve at this time over the conventional design-build-bid or even design/build process?

It depends on the product type and where we are in the process. If I knew the number exactly, which I don't, I probably wouldn't tell you. Any time anybody hears numbers [regarding efficiencies], they think they're getting that cost savings, and, of course, we're in business to keep some or most of it.
The more interesting part is that we're working hard on reducing all the times here—reducing the amount of time it takes to get permitted, to get permit documents ready, and to build a building. And that adds enormous cost savings to the developers. (Katerra is in the midst of constructing K90, a 24-unit project in Las Vegas scheduled for completion in 90 days tops, or 30 to 50 days shorter than a conventional schedule, according to the company.) And we'll get faster than that, where we can build a building in 90 calendar days.
In India, where we build in about 40 percent of the time [using precast as compared to pour-in-place concrete] construction, we charge a significant premium because interest rates in real estate are high and [a two-year project versus a five-year project is] more manageable. We might get to where we charge a premium in the U.S. because we do it so fast, but let's see. [T]hat's what we're trying to do, but we haven't proven that yet.
When some people hear "prefabricated design," they worry that every project will look the same. But Katerra's building platforms allow for configurability, correct?
We like to say, "Everything you see can be changed; everything you can't see cannot be changed." [On our projects,] people can knock themselves out on different roofs, exteriors, windows, balconies, entryways, and unit plans. All that stuff is totally optionable—but the structure and M/E/P systems can't be changed. The unit planning on our products have been through with half a dozen customers to [identify] floor plans that everybody likes.
In Insight, we've [rendered what look to be] stunningly different buildings but are essentially the exact same building, except for the exteriors.
When we first started in the business, a lot of people said, "Yeah, yeah, everything will look alike." But when I drive down the street, in multiple cities, and look at garden apartments, they all look pretty much alike. I'm actually surprised by how little variation there is outside of those things that I talked about—color, rooflines, and balconies—but they look structurally damn similar.
Will Katerra offer any operations and maintenance services to help maintain, for example, its mechanical systems or prefabricated wall systems?
Yes, we will either do it ourselves or we will contract it but be responsible for it. There are third-party maintenance companies nationwide that you can hire. The good news is that [our mechanical and electrical systems] talk to the cloud, so our operating center gets notified when there's a problem.
What's in Katerra's capital plan?
We're bringing a factory in Tracy, Calif., and the mass-timber facility in Spokane online this summer, and then one in San Marcos, Texas, next spring. We're also looking at East Coast locations. We're planning three more factories in India, where we're on fire.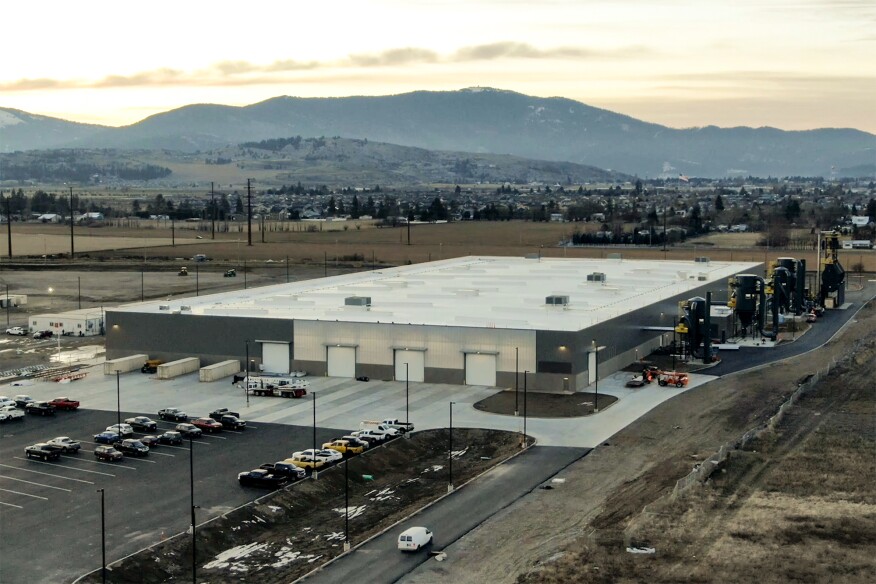 What work do you have ongoing now?
We have a multibillion-dollar backlog with major developers in garden apartments and market-rate residential, senior living, dormitories, and hotels; we're not doing any single-family housing yet. And then we're building our first office building, which will be mass timber, in Spokane, and we have a number of those on deck. We're rapidly developing our business in other countries as well.
How large is the company at this time?
We will have between $2 billion and $3 billion of revenue this year.
This interview has been edited and condensed for clarity. In May 2018, ARCHITECT interviewed Katerra Architecture president Craig Curtis, FAIA, in the podcast episode "Katerra Tackles the Inefficiencies of the Building Industry."