Here's a basic truth about architecture: It is almost impossible to build something as well today as it was yesterday. It becomes more and more difficult both to use materials with intrinsic quality and to assemble them with care and precision. It is for this reason that only in spatial invention can architects hope to make contributions to our built environment, but even there, their scope of operation is increasingly confined by both costs and codes. Architects either fake it, trying to make cheaply built structures look slick, or resort to ever more exuberant moves to show their stuff.
I confronted this situation when I went to visit the newly renovated former Whitney Museum—now rebranded the Met Breuer in honor of its architect—and compared it to both the new Whitney, by Renzo Piano Building Workshop, and the massive addition to the San Francisco Museum of Modern Art (SFMOMA), by Snøhetta with associate architect EHDD, that just opened last week.
The Renzo Piano, Hon. FAIA-designed building, is, in my opinion, thoroughly mediocre in its materialization as well as its spatial qualities. It houses art displays without too much interference or framing, and, rather that providing its own spaces or qualities, allows for super views of Manhattan, but that is about it. If you can't do it well, Piano seems to have thought, at least do no harm and steal qualities from your surroundings.
The addition to SFMOMA, where I worked as Curator of Architecture and Design many years ago, suffers from a very constricted site and a budget that led to the construction of this hulking slice of cultural layer cake out of fiberglass-reinforced polymer (FRP) panels. The contrast between this plastic (in both senses of the word) material and the face brick Mario Botta used in the original SFMOMA building makes the descent into cheapness overwhelmingly evident. There just is no texture, scale, or modulation there. Similarly, instead of Botta's grand atrium we now get a constricted sliver of space that devolves into switch-backing circulation with no focus or aspirations. Again, the building works perfectly well at packing a huge amount of art onto its site, but that is about all the many millions of dollars have bought the institution.
Contrast these new structures with the Met Breuer and it becomes clear what we have lost. The old Whitney's hulk, leaning towards the property line on Madison Avenue while it draws back at street level, leaving you to cross over a bridge above a sunken courtyard to enter into its lobby space, does exactly what cultural institutions are not supposed to do anymore. It impresses and imposes itself on the street and visitors alike, daring you to accept its otherness and enter into its special realm. Spatial drama and monumental materiality elevate your experience as you approach art.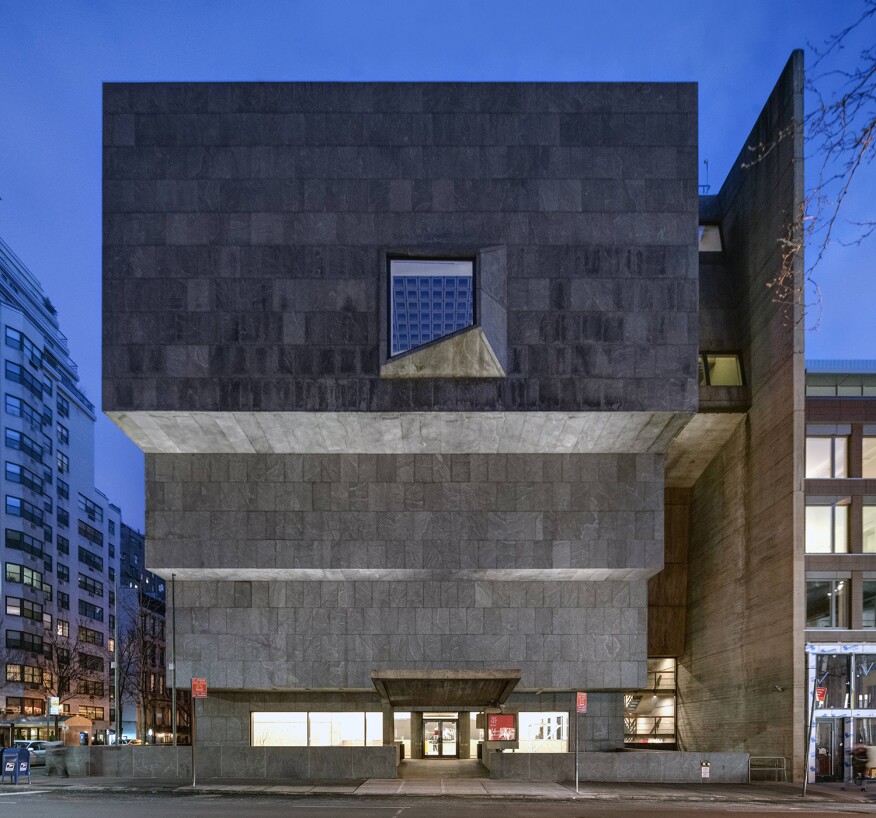 Inside, a low, open floor envelops you. Polished granite and concrete are just about the only materials you see, along with a few metal handrails and a grid of lights. Upstairs, you enter directly into every gallery space, which fill out the building's bulk and provide only a few views of the surrounding city through eccentric windows.
What makes all this work, and what Beyer Blinder Belle, the Met Breuer's restoration architects, have burnished with such care, is the quality of these materials and space themselves. Proportioned not to be static, but to impress a different scale upon you, one that is proper to art as opposed to daily life, the galleries take you into another place from which the city you see through the windows becomes art as well. The reservation of the textures and forms makes for a presence of the built structure that does not so much recede as provide a steady bass note to the art inside.
In this concrete cocoon, 17th century art, as the inaugural exhibition makes clear, looks as good as work made a decade ago. The judicious allocation of space to define a place of art—and the carrying out of that spatial definition with materials of an appropriate and beautiful nature that have been assembled with great care and precision—makes for an experience that is proper to this particular museum.
When you encounter architects such as David Chipperfield, Hon. FAIA, trying to achieve those same qualities, the results are almost always disappointing, both because the materials feel thin and because neither the proportions nor the sequence of spaces have the sense of both rightness and oddity that the Met Breuer achieves. Chipperfield's $600 million reimagining of the southwest wing of the Metropolitan Museum of Art has been put on hold due to budget cuts, which leaves us to realize all the more how much cheaper and more wonderful it is to reuse existing buildings.
Are you watching, LACMA?