In his paintings, the artist Darren Waterston often returns to the complex relationship between beauty and decay—the moment when a flower fades or a tantalizing piece of fruit starts to go rotten. He has now explored the theme on a much larger scale, with a dark homage to one of the most famous interiors in art history. Filthy Lucre, on display until January 2017 at the Freer and Sackler Galleries of the Smithsonian Institution in Washington, D.C., is a full-scale, detailed replica of James Abbott McNeill Whistler's Peacock Room (1876–77), a richly decorated dining room crammed with porcelain that Whistler called his "harmony in blue and gold."

Chock-full of Asian ceramics, with peacock feathers swirling over almost every surface and a moody Whistler portrait on one wall, the Peacock Room is the ultimate Gesamtkunstwerk. It was originally designed as the dining room in the London home of Frederick R. Leyland. In 1904, a Detroit industrialist and art patron named Charles Lang Freer acquired the artwork—which can be taken apart and reassembled—and bequeathed it to the Smithsonian. It's now on permanent display at the Freer Gallery, which means that visitors to Filthy Lucre can also see the inspiration behind it.

Waterston was fascinated by the human story behind the Peacock Room's creation: Whistler and Leyland argued over his fee, and their years-long friendship ended in rancor. In Waterston's decadent copy of the room, signs of conflict and incipient rot emerge from the architecture. Paint puddles and drips; stalactites hang from the ceiling; vases lie in shards. Filthy Lucre is also an allegory for the vicissitudes of the art market, which Waterston sees as little changed from Whistler's era. Waterston talked with ARCHITECT about his ambitions for the project, which took a year-and-a-half to research and create.
How did this project come about?

I did feel that I was walking on sort of sacred territory to interrogate this perfect and most beloved work of art of Whistler's. I even thought, "Oh, my God, this could just be such a car crash." I mean, I needed to think about how to do this. But also I had to have autonomy. I had to claim this as my own. I'm making a contemporary work of art. I'm not wanting this to be a parody or pastiche.

I had this open invitation from the Massachusetts Museum of Contemporary Art (MASS MoCA) from curator Susan Cross, who has been sort of the guardian angel, the gatekeeper of Filthy Lucre from the very beginning. She said, "All right, this is crazy. And yes, we're going to figure this out."
I had been thinking of all the great painted rooms in art history. As a painter, how can I create a work of art that feels like a painting, that you are walking into a painted space? I thought, "Oh, there's the Peacock Room." I had never seen it in person. And I just started to gather all I could about it. I just became so immersed in its history and in these complex relationships that played out in the making of it. The more I was studying about the particular time in which the room was made, as well as the advent of the art market and the dance between the artist and the patron, I thought, "This is my world." I mean, this is the contemporary art world. This is not 1860s, 1870s, 1880s London—it's now. It's the global art economy in all of its machinations and monstrosities, all of it.
Once you got MASS MoCA on board, how did the project unfold?

I'd worked collaboratively before on serious projects, but never at this scale. This is so particular. I had to be accountable for making sure that it was being done responsibly and that we were staying on track with budget, timeline, and resources. I was given a residency at MASS MoCA, so it was built there, and the whole project was managed there by the museum. Many of the key people involved in the making of it—the builders, the welders, the craftspeople—were there in the community, and the main people were on the staff of the museum.
What I'm left with in the making of Filthy Lucre is really about those relationships. It's funny, it's like the reverse of Whistler's narrative for his Peacock Room, which ended up with a lot of heartbreak and all of these relationships deteriorating. In so many different ways, Filthy Lucre did the opposite. There was so much intimacy, closeness, friendship, and devotion to what we were doing.
What was the most challenging thing about the process?

I had this incredible advantage, to be given this breathtakingly beautiful studio space at MASS MoCA; I will never have a studio so gorgeous again, I'm sure. It was a huge, Civil War–era stone building on a river. Then winter kicked in. The northern Berkshires is just bone chillingly cold. We could not keep the space warm enough. We had a lot of challenges around paint coagulating—not exactly freezing—let alone our cold fingertips.
Then there came another point in the making of it. It was Susan Cross who said to me, "Darren, we're not making a set here, this is not going to be seen from a distance. Every inch of this, not unlike the Peacock Room, is to be contemplated, and we really have to amp up the level of detail and finish and materials."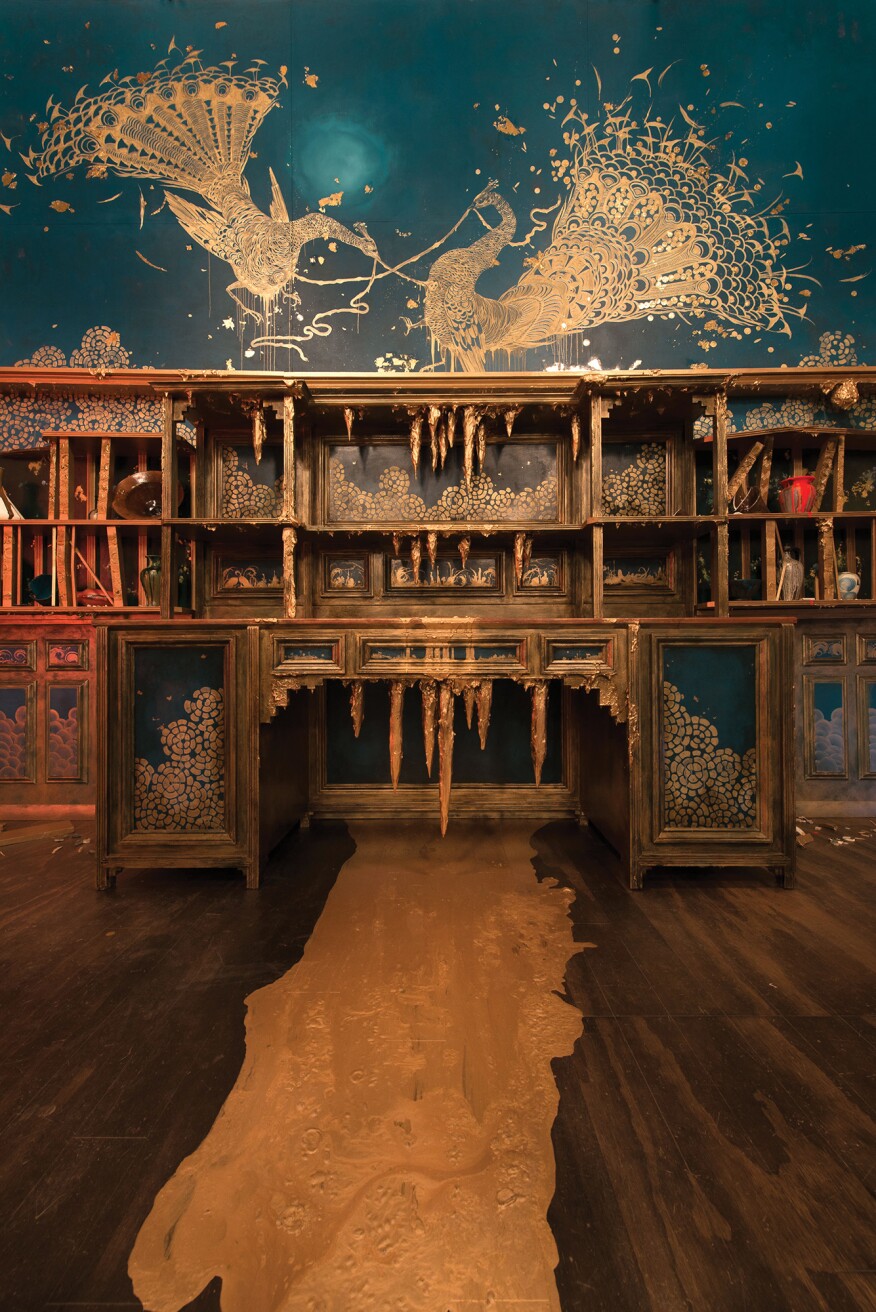 What were you trying to represent in terms of the different forces at work or the different ideas at play?

I think I wanted to have it be disorienting in some ways so that it doesn't feel like there's one very specific cataclysmic event that caused all of this, but that it's much more of a surrealist, dreamy mix of natural phenomena. It's trying to evoke a psychological state more than anything else. I feel like that was going to require things seeming as if they're mutating and volatile.

The materiality of it is unstable. The porcelain princess, her head is sort of ballooned into this big bouquet of spores or some sort of lichen, or she's mutating into something else. The representation of the peacocks is they're dismembering each other. The peacocks are literally ripping out each other's guts, but it's all done in this way that's very sumptuous and still under this decorative realm. I didn't want to just paint something that felt in-your-face grotesque; I wanted it to be still incredibly seductive and beautiful, but then as you sort of settle in, you see that there's all these other forces at play.
When did you first get in touch with Smithsonian curator Lee Glazer?

Early on, when I knew I was going to take this project on, I did a total cold call to Glazer. She's so open, so generous. She said, "All right, we've got to talk." In January 2013, I got to meet Lee in the Peacock Room. I walked in there and I thought, "Yes, this is absolutely the right decision to take this on." It was very, very moving to be in there the first time, and it was much more beautiful and much more grotesque than imagined, actually. It's so wrought, so overabundant.
This interview was edited for clarity and length.