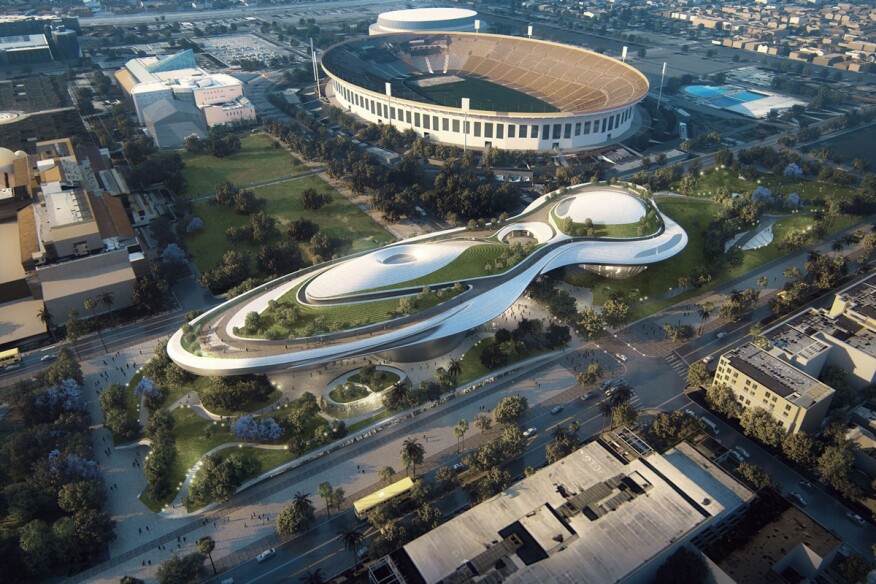 After months of deliberation, the Lucas Museum of Narrative Art announced on Tuesday they have selected Los Angeles's Exposition Park instead of San Francisco's Treasure Island for filmmaker George Lucas's $1 billion new museum.
Ma Yansong of Beijing-based MAD Architects is designing the museum, which will house Lucas's personal collection of popular art. MAD was also responsible for the design proposal in Chicago, which failed in June due to legal issues with a surrounding park, and another in San Francisco. In late October, the museum released designs for two different 260,000-square-foot museums in two California cities, Los Angeles and San Francisco. The museum chose the Exposition Park site due to the region's accessibility, and because it will have "the greatest impact on the broader community, fulfilling our goal of inspiring, engaging and educating a broad and diverse visitorship," according to the press release.
The latest museum location is surrounded by more than 100 elementary and high schools, along with the University of Southern California and three other museums, the California African American Museum, the Natural History Museum of Los Angeles County, and the California Science Center.
"We have been humbled by the overwhelmingly positive support we received from both San Francisco and Los Angeles during our selection process," the museum notes in a statement attributed to the board of directors. "Settling on a location proved to be an extremely difficult decision precisely because of the desirability of both sites and cities."
Although the project still could face scrutiny from the community, Los Angeles Mayor Eric Garcetti, local Museum of Art Director Michael Govan, and other officials remain hopeful because of its potential to generate construction as well as permanent jobs. The Los Angeles Times reports that the project plans to break ground by the end of this year and has a projected completion by 2021.