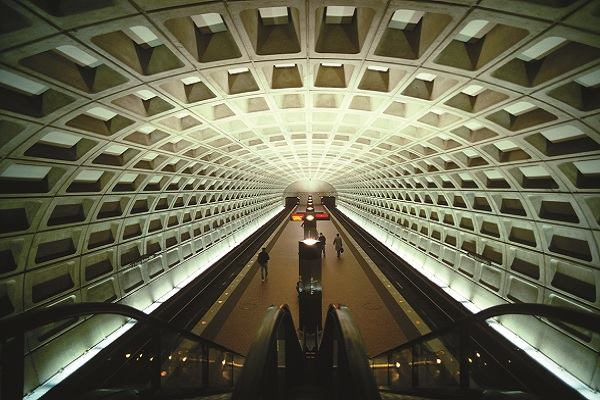 At press time, there were at least 97 escalators out of service in the Washington, D.C., Metrorail system. It's much easier to keep tabs on Metro's moving staircases than to use them: There's a Twitter feed (@metroescalators) devoted to reporting escalator outages as they happen (using API data), plus a supplemental Tumblr featuring analysis of these data.
But despite the fact that one escalator at the McPherson Square Metro station has been out of service for four months—to name 1 of 97 examples—authorities at Metro are turning their attention instead to Metro's look and feel. This spring, Metro announced a plan to modernize one Metro station by changing elements of the historic Metro design by architect Harry Weese.
The plan is the brainchild of Ivailo Karadimov, AIA, a Bulgarian architect who is the manager of architecture for Metro. Karadimov's plan for the Bethesda Metro station—which will serve as a $10 million prototype for the new station design—would introduce stainless steel and clear glass to Weese's restrained palette of granite, concrete, and bronze. A Gensler veteran who joined Metro in 2009, Karadimov has proposed replacing bronze features with stainless steel and increasing light levels throughout the system. Metro's brown and orange tones are out; Karadimov has suggested touching up the distinctive Weese-designed pylons with silver or gray.

The U.S. Commission on Fine Arts, which will have a say in any final plans for Metro, has already rejected one aspect of the prototype design: Karadimov has agreed not to try to replace the distinctive concrete parapets located at the top of platform stairwells with glass. Fans of Weese's design have even criticized elements of the renovation that are popular with riders, such as installing more and brighter lights in some of the darker stations. "Every generation has the impulse to make it brighter, but that's like taking a Victorian storefront and slapping aluminum siding on it," Robert Bruegmann, the author of a biography on Weese, told The Washington Post.
At $10 million per station, the renovation scheme is not feasible for all 86 stations. (In 2011, for example, Metro authorities projected spending just $150 million on its escalators over the course of 5 years.) Metro is bound to face scrutiny for giving one station a total makeover when many more face urgent problems, including leaks. One thing the renovation will fix: three escalators. Metro picked Bethesda as its guinea pig because its escalators are scheduled to be replaced in 2014.