Some cities focus on grand projects and major monuments; others try to improve the infrastructure and amenities available to their citizens. Seoul, South Korea, whose urban structure is based on (but does not focus on) old palaces and shrines mixed with new hotels, has taken the latter route. In the last few decades, it has pushed out and intensified its street life without building many recognizable monuments.
The city's tallest building currently under construction, KPF's Lotte Tower, is in the far suburbs. Seoul's housing stock is generic and all of more or less the same height. But Seoul has removed one of its major boulevards to create a walking route from the heart of the downtown business district to the Han River, and torn down a sports stadium to make way for a park and a cultural center. Even the city's academic buildings are un-monumental: The new Student Center at EWHA Womans University is a grand linear excavation in the ground designed by Dominique Perrault, Hon. FAIA. Seoul's museum district is not a set piece of isolated structure, but a curving street along which the new Contemporary Art Museum, whose ample galleries are largely underground, shares frontage with several private museums and a string of commercial galleries interspersed with shops and cafés.
The Cheonggyecheon Stream is the most remarkable and distinctive of the urban amenities. It was the result of a decision made almost 15 years ago to uncover what had become a drainage channel under a broad road. Starting from a plaza just a block east of the north-south axis that connects City Hall to Gyeongbokgung Palace, it runs for almost eight miles. You descend down to pathways on either side of what is essentially a creek amped into a rushing waterfall, and then pass underneath streets and along areas of planting interspersed with rather hokey murals evoking key moments from Korean history. The design is awkward where its picturesque evocation of a river confront the hard lines of the embankment, but effective in taking you out of the urban environment, without ever removing you from its grid and massing. You move out from the shadow of office towers to commercial and residential blocks as the sky opens up around you.
About a third of the way down, you can exit up to the beginning of a park whose undulations give a hint of the design center that rises further to the south. Designed by Zaha Hadid, the Dongdaemun History Park and Design Plaza (DDP) is a government project that aims to bring together information, exhibitions, and stores that further Seoul's active design scene. The day I was there, a year-and-a-half after it opened, the exhibition spaces and stores were pretty empty, but long lines of young people continued the structures' snaky forms as they waited patiently to what a guard described as a "flea market" and I understood to be a kind of giant sales event for local designers.

The DDP is one of Hadid's most convincing public buildings to date, showing how the fluidity that is central to her designs can work to meld disparate functions into a set of objects and pose that collective form as an anchor in the urban fabric. Only the street frontage seems like an afterthought, as the DDP leaves much too much room there from which we can admire its contours and not do much else; the connection to the local subway system is much more successful, while the outdoor rooms that comprise the history park extend the solid forms into neighborhood in a manner that smooths out the traditional landscape design you can find around local palaces and shrines. The whole works best not as an object, but as a set of landforms around and through which you move, and which serve to abstract and condense Seoul's urbanity.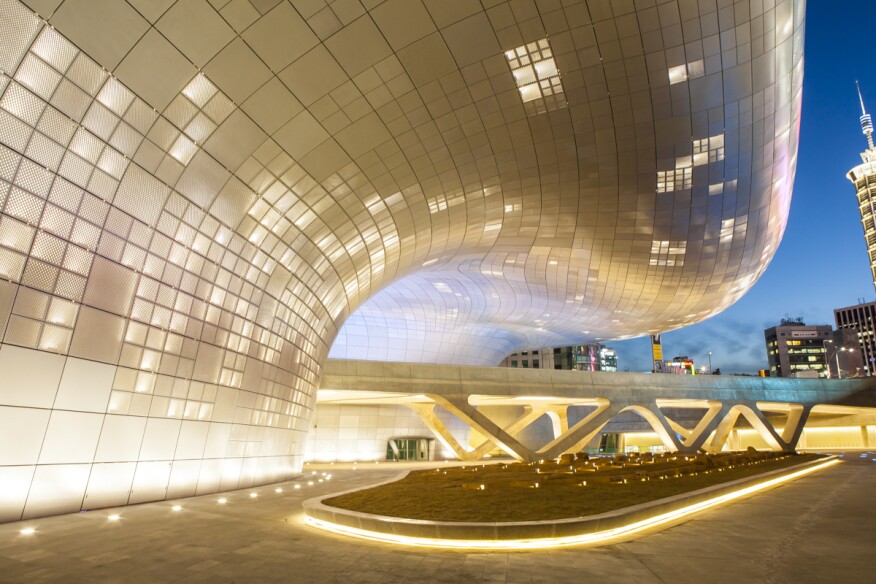 This is about as high design as Seoul gets. There are a few other monuments scattered throughout the city, but they are mainly façades (a renovation by MVRDV, a department store by UNStudio) or more landforms, such as Perrault's Student Center, a gash in the ground around which various restaurants, gathering spaces, and classrooms rise behind glass facades until you are engulfed by a human-made version of the hill into which the structure was built. But the point is that there are these moments of opening and stimulation, not grand things.
In Seoul, urban and object design meld into each other, just as popular and high culture do, with an ease and lack of studied elegance that I have seen in few other cities. Now the City has just appointed its first city architect, Seung H-Sang, and is, as I noted in my last blog, planning an architecture biennale. I hope both the City and we can learn from the particular character and liveliness this remarkable metropolis has developed.