When life gives you a parking garage, make art. That sums up the lemons-to-lemonade approach of Rob Ley, founder and principal of Los Angeles–based Urbana Studio for a 2012 commission for the Sidney and Lois Eskenazi Hospital, in Indianapolis. Completed in May 2014, the 13,000-square-foot installation spans the seven-story garage's prominent south elevation.
The sculptural façade, poignantly named May–September, appears to shift in topography and hues, from a brilliant, bold yellow to a cool, deep blue, for passersby traveling east to west. The effect is mesmerizingly complex even though the installation itself—approximately 6,500 bent aluminum panels with an articulated east-to-west color strategy—is relatively simple, with no moving parts.
Due to the limited available space and tight construction schedule, the garage, designed by hospital's principal architecture firm, HOK, had already been constructed when they called in Ley. Trained as an architect, Ley is better known for experimental art, such as Lumenscape, an undulating wall installation in the Solair building above the Wilshire/Western subway station in Los Angeles.
To transform Eskenazi Hospital's parking garage from blasé to brilliant, Ley thought immediately about camouflage. Through research, he learned about Great Britain's dazzle camofleurs, who painted striking, high-contrast, geometric shapes on the hulls of World War I–era ships, creating the look of Escherian zebra skins. Rather than masking the ships, these surreal patterns threw off the enemy gunners' ability to gauge the ships' distance and velocity.


Similarly, Ley wanted to detract from the garage's utilitarian concrete by cladding it with something beautiful and mesmerizing. Though he liked the idea of a dynamic installation, he quickly ruled out kinetic parts and motors—maintenance would be a headache in Indianapolis, where the climate swings from 100-plus degree temperatures in the summer to below-freezing during the winters.
He instead drew on viewer movement. "Between the bicycles, buses, and cars passing by on West Michigan Street, 90 percent of those who see the façade are moving," he says. Pedestrians experience a dappled transition in color and transparency as they stroll the hospital grounds, while motorists glimpse a continuous color shift, which changes with their direction of travel.

Design
Ley wanted the piece to have as much variability as possible, but for practical reasons, he needed to simplify fabrication and assembly. The installation contains surprisingly few unique parts. Among the field of 6,500 panels, there's only one height (16 inches); three different widths (16 inches, 24 inches, and 32 inches); and three fold angles (20 degrees, 40 degrees, and 60 degrees). By strategically reversing and distributing the panels, Ley created the illusion of infinite variability across the façade.

He chose bright royal yellow and blue hues for the panels' respective east- and west-facing finishes due to their sharp contrast to each other as well as to the prevailing browns, grays, and reds in Indianapolis. One unexpected result: when the sunlight and viewing angle are just right, the blue and yellow hues appear to meld into a muted green.
Ley modeled the abstract pattern and position of each aluminum flap using Rhino 3D software and a Grasshopper plug-in. "I'm much more interested in abstract design," he says. "When something is pictorial, you read it and absorb it, and over time, you're not looking anymore. You've seen it and figured it out."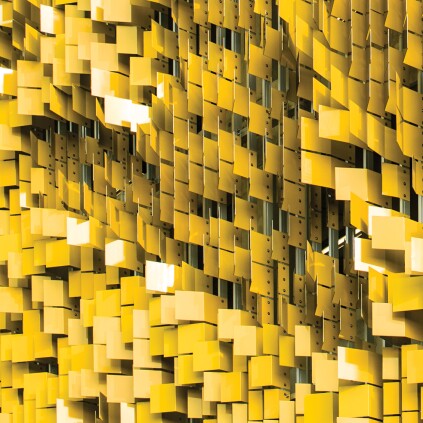 Fabrication and Construction
Without knowing what would be installed on the parking garage, HOK had framed the south façade with a white border and sheet-metal soffit, and added a multi-purpose substructure of vertical 6-inch-square steel tubes. "It was straight and didn't project too far out from the parking structure," Ley says. "We couldn't have asked for a better armature." The 245-foot-wide-by-60-foot-tall sculpture attaches to the substructure.
Working with Ley, a crew from Indianapolis Fabrications machined the aluminum panels and a frame system to hold them. The frames consist of custom-built, extruded aluminum tubes with a built-in Bosch Rexroth Corp. T-slot attachment system for the panels. The T-slot slashed fabrication time and eliminated the need to drill holes into the anodized aluminum, which would have compromised the corrosion protection.
The system contains 50 frames, each 10 feet wide and 25 feet tall. Local company Central Welding maneuvered the panel-covered frames into place, attaching them to the garage's steel armature with stainless-steel U-bolts.
Urbana consulted with the HOK's structural engineering team for the parking garage to make sure the installation would not compromise the stability of the garage itself, particularly given the heavy dynamic loads generated by the vehicles driven through them. Los Angeles–based Nous Engineering modeled the artwork's anticipated wind loads and thermal expansion. "It was similar to a curtain wall project, except there's no glass or gaskets or need to keep rain out," Ley says.