In 1965, the architectural photographer Julius Shulman was hired by the United States Information Agency to take a portrait of Los Angeles architect Paul Revere Williams, who this year is being posthumously honored as the first African-American winner of the AIA Gold Medal. Shulman took Williams to Los Angeles International Airport, which at that point had been open for four years. It was a natural choice, given that LAX was among the most prominent symbols of modern Los Angeles (and the growth of postwar Southern California more generally) and that Williams had been a prominent member of the airport's design team.
Shulman asked Williams, then 71, to pose in front of the airport's futuristic and highly photogenic Theme Building, which sits near the center of the airport, with the terminals bending in a horseshoe around it. The resulting photograph, which shows Williams wearing a dark suit and a repp tie, and squinting a little in the sun in front of the Theme Building and its spider-like legs, has not only become a familiar image of Southern California Modernism; it also seems to suggest the cultural openness of the region, casting L.A. as a place where even the infrastructure was inventive and forward-looking.
There is only one problem: Williams didn't work on the design for the Theme Building. (According to one version of this story, Williams told Shulman that fact as he posed but the photographer took the picture anyway.) That part of the airport job belonged to the office of William Pereira, the busy and well-connected modernist who in the summer of 1965 was presiding over a series of opening parties for his new Los Angeles County Museum of Art on Wilshire Boulevard. Williams and his firm had instead worked on several other sections of LAX.
Given the fact of Williams' race and the complicated relationship he negotiated throughout his long career with the WASP establishment in Los Angeles, the photograph is in all sorts of uncomfortable ways emblematic of the role he played in Southern California architecture culture. Williams, a highly prolific architect who produced both expensive estates and affordable housing and worked across an eclectic range of tasteful styles, was to a greater or lesser degree always estranged from his own work. He designed houses in neighborhoods where African-Americans were not allowed to spend the night, to say nothing of buying property; in a broader sense he diligently built a career over many decades that he always understood to be to one degree or another tenuous, that depended on a client base that was mostly white and mostly very wealthy, and whose acceptance of him must have seemed unpredictable if not capricious.
In other words, the sense of misplaced authorship that animates the image by Shulman suggests more than the photographer could have realized. It shows an architect who was at the center and the margins at the same time and who gradually developed a set of skills to manage his trips back and forth. There is also the fact that the year that photograph at LAX was taken, 1965, was the year the Watts section of Los Angeles erupted in riots, violence, and flames as African-American residents faced off against the LAPD.
In a cruel twist of history, it would be another riot and series of fires in Los Angeles—in 1992, following the not-guilty verdicts in the trials of the LAPD officers accused of beating Rodney King—that would lead to the destruction of much of the Paul Williams archive, shrouding his work in yet another layer of mystery and misidentification. (Williams had died 12 years before, in 1980, and his archive wound up in a bank building that he had redesigned in South Los Angeles. It burned alongside several other nearby buildings during the unrest.) "Without those original records," as one website dedicated to cataloging the architect's work puts it, "much of the material produced about Williams … is based on popular lore or speculation."
An Emerging Practice in a Booming City
Paul Revere Williams was born near downtown Los Angeles in 1894 to parents who had moved to California from Memphis. His father, who was a fruit seller in L.A., died of tuberculosis two years later; the same disease took his mother's life when Williams was four. While his older brother went to live elsewhere, Paul was taken in by a family his parents had met at the First African Methodist Episcopal church. (As an adult, he would join the board of First A.M.E. and design its new building at the corner of 25th Avenue and La Salle Street, in L.A.'s West Adams neighborhood.) From an early age, Williams showed an interest in and talent for art; after graduating from high school, he took classes at an L.A. branch of the New York–based Beaux Arts Institute of Design before enrolling at the University of Southern California to study engineering. As his granddaughter, Karen Hudson, who has written more about Williams and his work than anyone, told a reporter for the university's alumni magazine, "USC was the school in the neighborhood—and the school that accepted black faces."
Williams worked for the Pasadena architect Reginald D. Johnson (who mostly designed large houses) and L.A.'s John C. Austin (whose firm had a good deal of public work) before starting his own office, Paul Williams & Associates, in 1922, at the age of 28. He was able to do so in part because while he was still working for Austin, Louis Cass—a (white) high-school classmate of Williams'—asked him to design an expansive house for his family in Flintridge, a suburb north of downtown Los Angeles where racial covenants were especially strict.
As Los Angeles boomed, Williams spent the rest of the 1920s overseeing a growing practice that produced largely conservative and well-made houses in a diverse collection of styles. L.A., in this period especially, was a city of transplants made good, and many of Williams' clients were Midwest or New England natives who after making a bit of money in Hollywood or the real-estate business decided a brick Colonial, Tudor, or Georgian-style house might remind them of home. As Carey McWilliams wrote in 1946 about the residential architecture of Los Angeles in the early 20th century, "With no architectural tradition in the region, aside from the meager fragments from the Spanish period, it is not surprising that the newcomers should have imported the style of house then prevailing in the particular region from which they came. Since many … came from New England, they dotted Southern California with typical New England homes, with high steep roofs to shed the snow that did not fall." In this sense, Williams shared a sense of alienation with the architecture of his native city.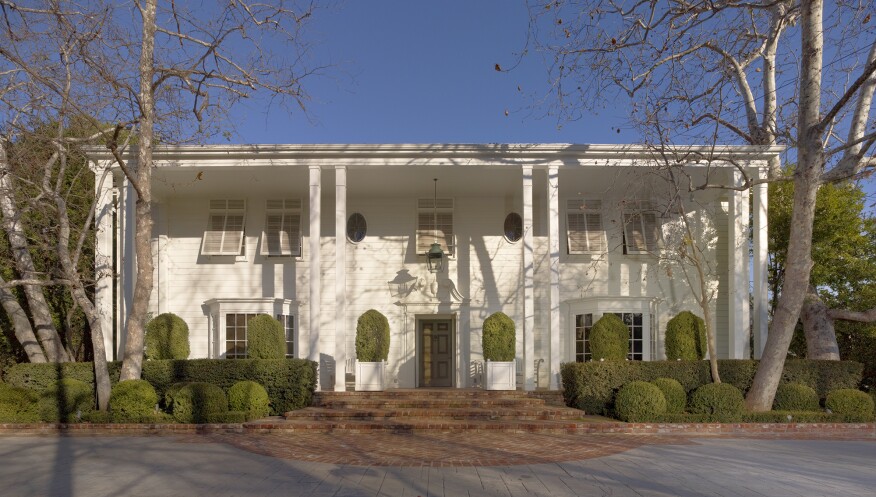 As his career progressed, the architect broadened his remarkably prolific practice and began taking on a number of civic, cultural, and commercial projects, including churches, banks, hotels, and schools. In 1940, as part of a consortium of architects including Richard Neutra, Gordon Kaufmann, and Welton Becket, Williams contributed to the vast Pueblo del Rio apartments for the Housing Authority of Los Angeles, perhaps the most orthodox modern design of his career. He designed a county courthouse on downtown L.A.'s Bunker Hill and the Polo Lounge in the Beverly Hills Hotel and redesigned some of the interiors of the famed Ambassador Hotel on Wilshire Boulevard. He became the first African-American member of the AIA as well as the first to be named an AIA Fellow.
But it was the residential part of his practice that really shaped the course of his career and—for better and worse—the way architects, critics, historians, and the general public have understood his work. Williams became well known for designing houses for the Hollywood elite, including Frank Sinatra, Tyrone Power, Cary Grant, and Zsa Zsa Gabor. These ran the gamut from Tudor Revival to French Provincial, with plenty of stops in between at other period styles.
When it came to his own house, which was built in 1952 and is still owned by his family, Williams settled on a subdued, handsome version of Modernism; located in the Lafayette Square neighborhood about 5 miles west of downtown L.A., it is set back behind a wide lawn and features ribbon windows, a flat roof, and a broad second-story terrace. A Los Angeles Times society columnist who attended a party there in 1960 described the dominant interior color as a "soft pistachio, from the telephones to the piano."
A New Respect for an Eclectic Portfolio
There is no doubt that it was Williams' race that primarily shaped the kinds of clients he worked for and the social circles he had access to. But the painfully slow recognition of his achievement also has something to do with the eclecticism of his work and his comfort in moving from one historical mode to another. Like Julia Morgan, who received a posthumous Gold Medal in 2014, Williams was a hugely prolific architect with a keen business sense who practiced in a era when, while faith to avant-garde Modernism might have landed your work in museums or on magazine covers, it was fluency in a range of styles (along with speed and reliability) that made you attractive to the widest pool of moneyed clients. In that sense as an African-American architect—just as was the case for Morgan, as a female one—an openness to working in a number of stylistic modes was as much a mechanism for professional survival as a statement of philosophical or aesthetic principles.
Now that our own architectural era has made eclecticism, as well as an interest in history and even ornament, safe again, the work of both Morgan and Williams has begun to be seen in a different light. As much as honoring them with the Gold Medal is about righting historical wrongs having to do with gender and race, it may also have something to do with a newfound respect for 20th century architects who worked outside a narrow band of avant-gardism. Much the same thing has happened in the art world, as figurative painters from the middle of last century like Alice Neel, David Park, and Jacob Lawrence, overlooked for a long period while abstract artists occupied the spotlight, are gaining new attention. The case is admittedly more complicated in architecture, given that artists can paint whatever they like while architects are left to rely on clients to see their work realized. But we should recognize that the approach to practice that allowed Morgan and Williams to beat the odds and succeed in a profession dominated by white male architects—pursue a huge amount of work, in a range of styles dictated as much by their clients as themselves—is also what caused them to be overlooked and underappreciated for so long.
Let's also hope that in winning the Gold Medal what Williams receives posthumously is not some simplistic acclaim that comes with a heavy dose of moralizing but instead an understanding of the layered way he worked both aesthetically and strategically. Looking carefully at a well-worn anecdote about him may be useful in this regard. It's often said that Williams learned to sketch upside down, while reaching across the table, in order to avoid upsetting potential white clients who might feel uncomfortable sitting next to him.
Williams, as The New Yorker reported in a 2005 article on the Ambassador Hotel, had a more nuanced explanation for the skill. In an essay called "I Am a Negro," published in 1937, he wrote that his aim was to amaze those potential clients within a few minutes of meeting them, so that they would focus more on his drawing ability than his race. This is a subtle distinction but a crucial one. It suggests an architect who had not only come to terms with the fact that he'd always be at a certain remove from his own work but had turned that distance into an advantage—into a kind of parlor trick.