Architecture and light play a transformative role for Planned Parenthood's new Diane L. Max Health Center in Queens, N.Y. Housed in a former storage warehouse, the building has been reconfigured to fit into the surrounding urban context.
Cline Bettridge Bernstein Lighting Design (CBBLD) was asked by Stephen Yablon Architecture to create a modern lighting scheme that would have a "bright and welcoming" feel. CBBLD devised a plan that uses natural light as a primary source coupled with electric light—both in terms of finishes and color temperature.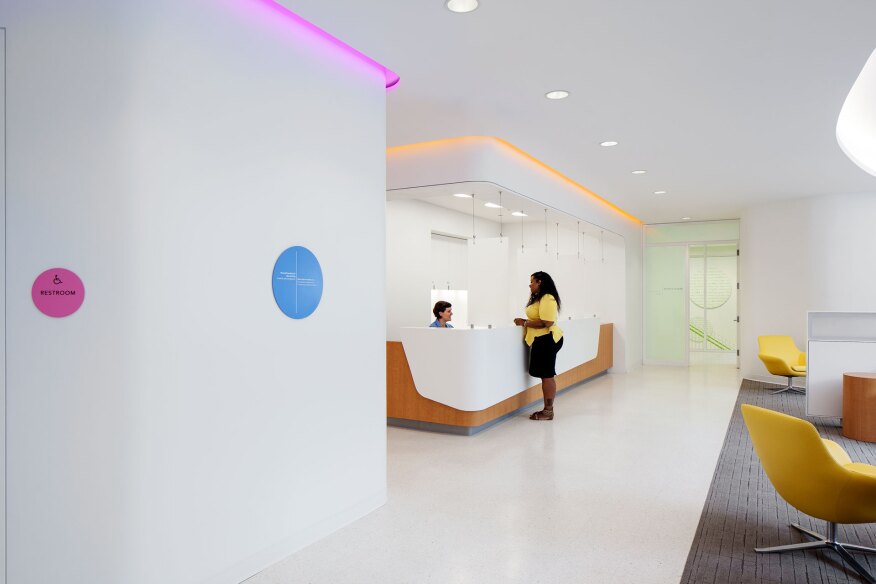 For reception and the waiting areas, 26W 3500K downlights complement the natural light that enters the building from the new windows. Free-form ceiling pop-ups with neutral-white linear LED sources define the seating areas below. The same 3500K downlights are used in the corridors, where the walls and stairs are painted blue to define vertical circulation.
Fixed-color—magenta, orange, and amber—covelighting serves as wayfinding, aiding visitors in their transition from public to private spaces. Skylights in the windowless patient recovery area, along with a decorative wall sconce, provide a residential feel. Overall, the color selection and composition was carefully chosen to have a calming effect creating a comfortable and friendly environment for patients and staff.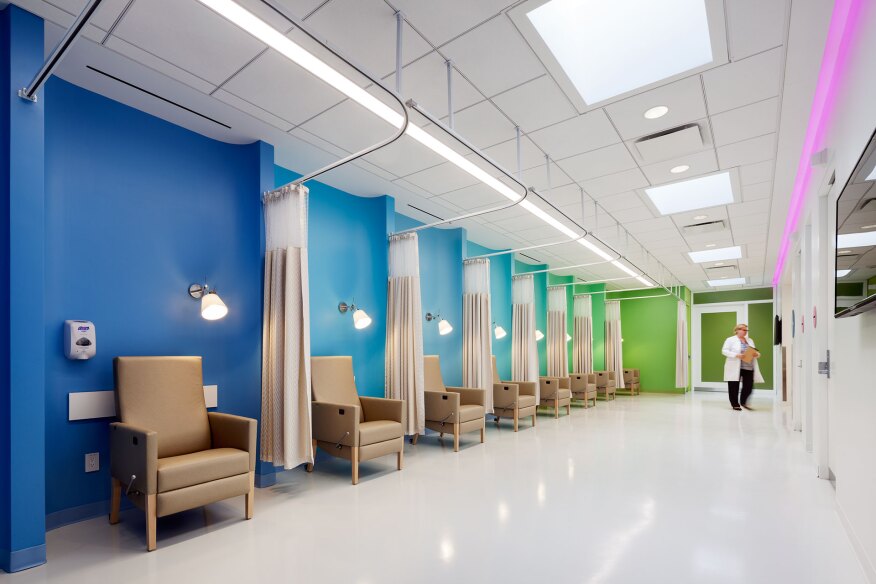 Jury Comments
The simplicity is beautiful. • The lighting design is done skillfully and thoughtfully. • There is a creative humbleness to this design that is refreshing.
Details
Project: Diane L. Max Health Center, Planned Parenthood, Queens, N.Y. • Client: Planned Parenthood New York City • Architect: Stephen Yablon Architecture, New York • Lighting Designer: Cline Bettridge Bernstein Lighting Design, New York • Lighting Team Members: Francesca Bettridge, Marty Salzberg, Renata Gallo • Photographer: Michael Moran Photography • Project Size: 14,400 square feet • Project Cost: $9 million • Lighting Cost: Withheld • Watts per Square Foot/Code Compliance: ASHRAE 90.1 • Manufacturers: Acuity Brands/Lithonia Lighting, Artemide, iLight Technologies, Lucifer Lighting, Lutron, Philips Lightolier