Chicago cultural commissioner Mark Kelly is responsible for dozens of events throughout the city every month, and his office is within the century-old Chicago Cultural Center that provides the base for the Chicago Architecture Biennial. "Imagine inviting 140 architects into your home," Kelly said as he introduced artistic directors Sharon Johnston, FAIA, and Mark Lee to the press at this year's opening festivities. "It's frightening."
But not TOO frightening. That's because there are some very big differences from the 2015 edition.
First, it's far more coherent. The previous theme, "The State of the Art of Architecture" provided no real framework through which to view the projects. This time, thematically related projects are grouped together. The overarching theme of "Make New History" has been broken down into four discrete sub-themes: Building Histories, Material Histories, Image Histories, and Civic Histories.
Second, Johnston and Lee have been able to tease more out of the Chicago Cultural Center's neo-classical 1897 building, which was constructed following the World's Columbian Exposition as the city's main library. They had the experience of seeing the first go-round and knowing what did and didn't work, and what opportunities were available in the vast array of century-old spaces.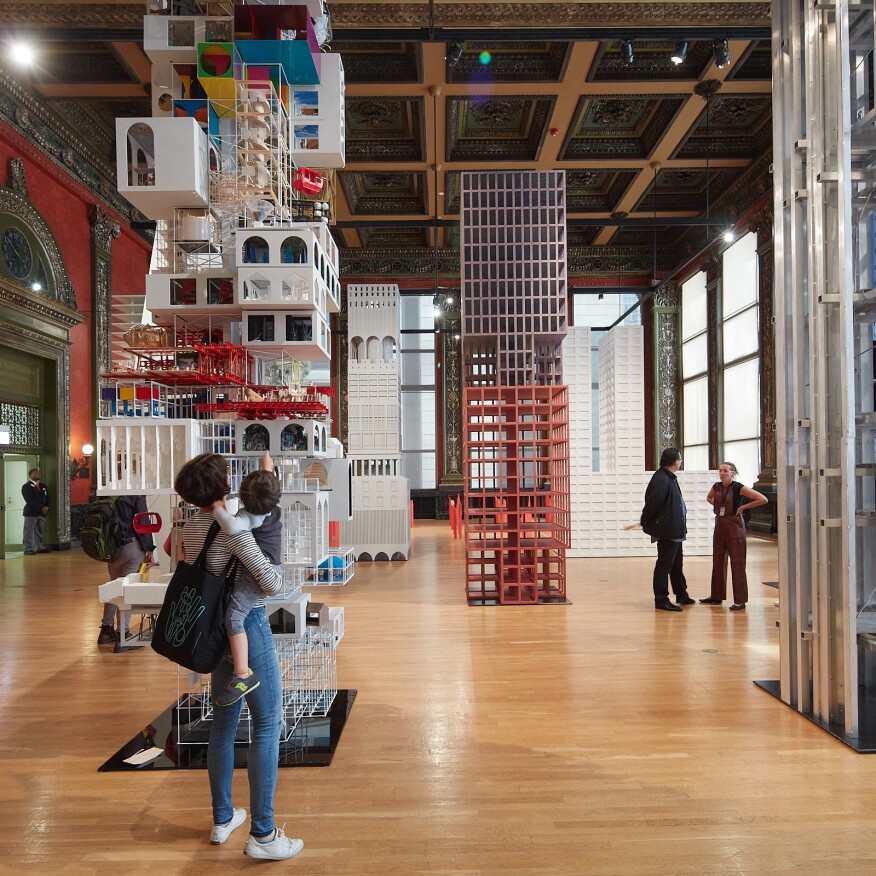 The best place to see how both these improvements work is in the fourth floor Sidney R. Yates Gallery, where the 17 towering models of "Vertical City" provide a contemporary take on the 1922 Chicago Tribune Tower Competition. This same space housed some excellent work last time, but didn't take advantage of the room's soaring height. Johnston and Lee have made the most of their experience, and the biennial is better for it.
Finally, some of the most striking work, like "Vertical City," is a bit less pedantic and somewhat more accessible to the general public. With more than half a million visitors in 2015, you can be sure that most of them aren't particularly interested in the dense text found in the biennial's wall text.
There's still plenty of dense text to be found, but there's a more accessible level of visual language—and even a fair amount of fun—that most viewers will "get" on some level. Whether even the most sophisticated lay person will understand how many of the offerings might help bring better design to their city, neighborhood, or home is another matter. But one step at a time.
One of the most accessible proposals is also the biggest missed opportunity. Monadnock's billboard interpretation of Daniel Burnham's great bromides for architects and planners should have been implemented in a real, rather than aspirational, way, presented atop the Cultural Center's block long rooftop overlooking Millennium Park. Twenty-foot high letters calling Chicago to "Make Big Plans" would be a proper rendering of Robert Venturi, FAIA's "I am a monument." The fact that they could top a true cultural mecca, rather than the original blank big box, would be a bonus.
Adolf Loos provides the foil for several entries: his entry to the original Chicago Tribune Tower competition is featured in "Vertical City," with additional riffs on his other work by Bureau Spectacular's Another Raumplan and Karamuk * Kuo's Infinitely Intimate.
But I'd like to suggest that it's important to consider history from the perspective of, well, history. The history that's on display at the Chicago Architecture Biennial may be real, but it's awfully shortsighted.
While the 1970s postmodernists weren't particularly good at sustaining their curiosity, at least they explored most of (western) architectural history. Today's cognoscenti don't seem to have much, if any, interest in architectural endeavors prior to the 20th century. They favor "new" over "history" in their proposals—and that unfettered devotion to novelty seems destined to devolve into the same sort of short-lived notions that made our last romp through Postmodernism mostly unproductive.
Perhaps it's time for the next round of artistic directors to look further back in history than a 2009 slogan from Ed Ruscha. Perhaps it's time to reconsider Vitruvius through a 21st century lens: Make thoughtful, useful, and durable things.
That's new history that could last longer than next January.