Aug. 13, 2016 update: A slew of new images has been added since this article's first publication.
For its sophomore season, the National Tiny House Jamboree, held at the U.S. Air Force Academy campus in Colorado Springs, Colo., attracted more than 60,000 people for the event, which ran Aug. 5 to Aug. 7. With more than 50 tiny houses on display for touring, plus numerous industry vendors and sponsors showcasing their tiny-house models and related goods, this year's Jamboree truly was "bigger and tiny-er," its founder and organizer Darin Zaruba says.
Generally speaking, a tiny house is a dwelling that measures less than 400 square feet. It can be found in many different forms, and is frequently on wheels though it's not necessarily what one would consider as a recreational vehicle. The abodes are constructed much like a traditional residence: stick-built with wood or light-gauge metal, and incorporating structurally insulated panels (SIPs) and other typical building components.
Though the tiny-house movement has been gaining steam, many logistical uncertainties remain, such as where people can legally park and live in them. While no single list of locations is available, part one of the documentary series Living Tiny Legally (2016), screened at the Jamboree, can serve as "an educational resource for tiny house advocates and city officials." The filmmakers and traveling tiny house couple, Alexis Stephens and Christian Parsons, plan to add more resources and segments to the documentary in the future.
For the record, I myself have bought into movement. Currently, I am building my own tiny house on wheels in the Seattle area using a standard 8-foot-by-20-foot shipping container as the structure. I have also contributed to the book Turning Tiny (Tiny House Jamboree, 2016), which was released at this year's Jamboree, and I spoke at the event on the topic of incorporating human-centered, eco-friendly principles from the Well Building Standard into tiny-house design.
Below are scenes from this year's Tiny House Jamboree.
Those interested in living the tiny lifestyle can build their own structures or purchase a pre-fabricated house from one of the growing number of tiny-house builders. A number of vendors exhibited at the Tiny House Jamboree, including 84 Lumber, headquartered in Eighty Four, Pa.
Attendees formed not-so-tiny queues out the doors of the tiny-house models exhibited by Jamboree vendors and sponsors. At 11 feet wide, this park model (shown above) by the Tiny Home Co. is relatively extravagant in size compared to typical tiny houses, as well as in its double porches.
People grabbed a spot on the field to listen to speakers at the Tiny House Jamboree.
Lent to the event by its owners, the Pequod, named after the boat in the classic book Moby Dick, is a custom model by Rocky Mountain Tiny Houses, in Durango, Colo. It includes several striking features, such as a bi-fold window off the kitchen for entertaining, and a sculptural wood roof, but the first thing to catch my eye was the see-through catwalk used by the owners' twin children to access their sleeping loft and playroom. The Pequod was so popular that I felt a little hawkish in my unyielding quest to photograph it.
Left: Byron and Dot Fears of SimBlissity Tiny Homes, in Lyons, Colo., showed off their Blue Sapphire model, a custom-built tiny house with natural finishes, such as blue-tinted beetle kill pine. Lots of comfortable seating, a generously glazed side entrance, a recessed modern gas fireplace, and butcher block countertops show that you don't need to sacrifice amenities when going tiny.
Right: Longtime player Tumbleweed Tiny House Co., in Colorado Springs, rebranded its design portfolio with addition of the Farallon model by designer Laura Schmitz. With an M.Arch. from MIT, Schmitz created a modern house within the constraints of an 8'-6" wide structure. The standing-seam metal-panel exterior unifies the walls and roof, while an interior finished with light plywood panels and walnut countertops and stairs lend familiarity.
This model by Sprout Tny Homes, in La Junta, Calif., charmed me with its butterfly roof and wood siding. Simple, clean details, such as laser-cut railing panels and a surface-mounted vanity sink, added to its tranquility. The panel could be used to partition off a meditation space or child's sleeping area.
The paint company Behr touted a house built by Tumbleweed Tiny House Co. to showcase its products and to promote the Behr Dream Tiny Sweepstakes. The contest runs through Oct. 1 and will give away a tiny house.
Galvanized metal and cedar siding make for the Urban Cottage, a clean, narrow tiny house by the Small Dwelling Co., in Weatherford, Texas. The interior features planed walls in an oversized subway-tile pattern, steel-pipe railings, and bamboo treads. It felt both industrial and refined at the same time.
The Tiny House Jamboree is not just about the projects, but also the people who inspire, teach, build, and design them. Vina Lustado, founder of Sol Haus Design, in Ojai, Calif., does all of those things. After having worked at a corporate architecture firm for 20 years, Lustado wanted to switch gears. After designing and building her own 140-square-foot (super) tiny house for $40,000, she is now producing a smaller model to address the shortage of affordable housing in Southern California, and to do so through sustainable design. She has also been instrumental in helping tiny houses secure zoning approvals in Ojai and Fresno, Calif.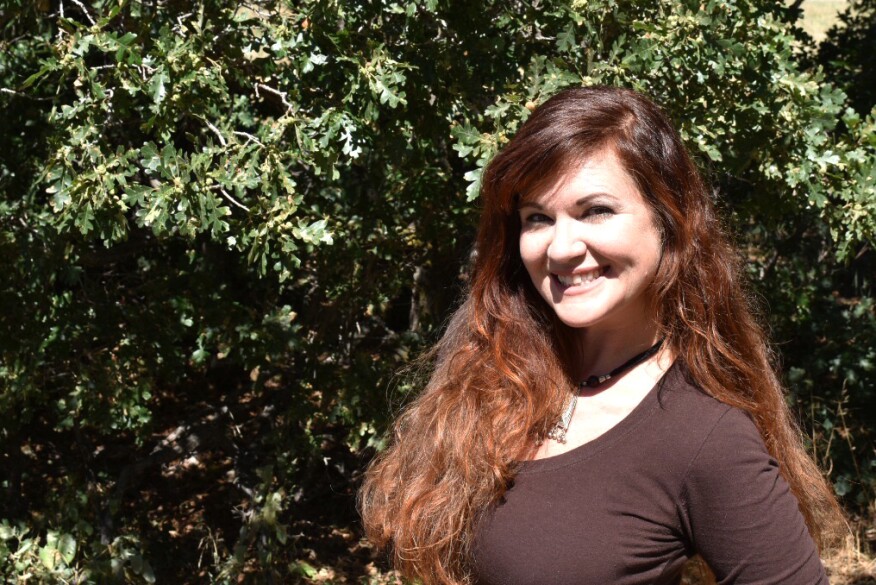 Event speaker Anita Howard presented on the topic of sustainability. She recently relocated her tiny house from Oregon to Boulder, Colo., to practice holistic medicine on animals. Her annual—yes, annual—utility bill is just $30, covering supplemental heat and cooling that cannot be met by the solar panels atop her house. She uses a Vitamix blender to create plant-based meals and cooks with a denatured-alcohol stove.
This tiny house's elegant wood-shingle siding patterning and crafty window and door trim harken to a fairy tale.
Tiny is in the eye of the beholder. The Denali, a family-sized model by Timbercraft Tiny Homes, based in Guntersville, Ala., was on display as an empty shell built on a 37-foot-long gooseneck trailer. The house showcases the use of an "advanced framing system," an all-in-one sheathing-and-siding product of LP SmartSide to reduce weight and cost. At a whopping 13,500 pounds due to its length—most tiny houses are between 8,000 and 14,000 pounds when complete—the 316-square-foot shell can still be pulled with a one-ton, four-wheeled pickup truck, according to Timbercraft.
Denver-based Trailer Made Custom Trailers, which makes trailers specifically for tiny-house foundations, gave away a trailer with a custom metal panelized frame from Volstrukt, in Austin, Texas. The combination of those two companies' products make for a lightweight and strong tiny house base.
Local tiny house company EcoCabins, founded by Jamboree organizer Darin Zaruba, unveiled its newest model, the BunKaBoose. More details may be found at Tiny House Blog, by co-emcee of the event, Andrew Odom.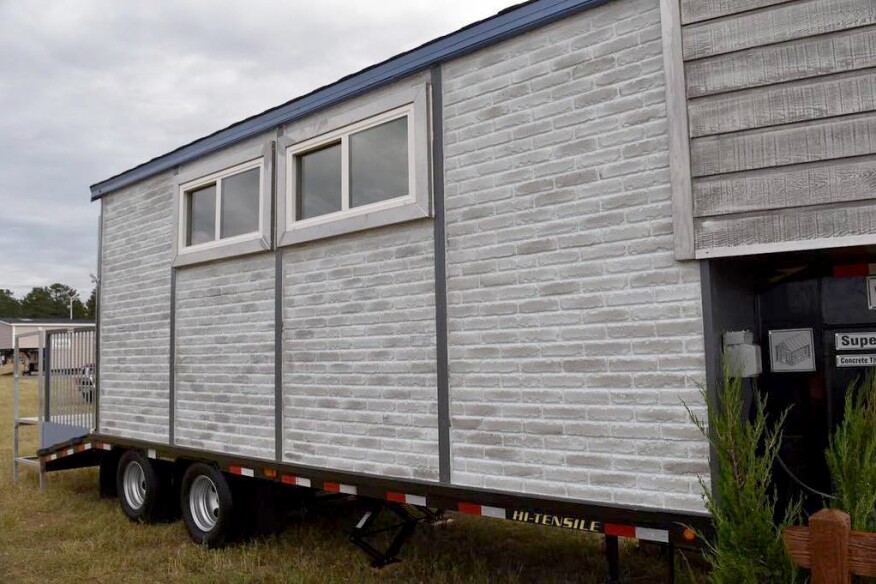 A tiny house clad in precast concrete panels with a masonry-veneer finish.
Left: The people's choice "Best in Show" award was presented to Mike Bedsole of Tiny House Chattanooga (Tenn.) for his house model, the Lookout. It was one of the few tiny houses on display that had bona fide stairs rather than a ship ladder. It also features egress skylights and lots of storage. A video tour of this house is available online, produced by Derek "Deek" Diedricksen of Relax Shacks, in Boston.
Right: In a ceremony that was incredibly touching, silly, and historic, tiny-house pioneer and event keynote speaker Dee Williams passed on the 84-square-foot house that she designed, built, and lived in for the last 12 years to her nephew Jonathan. She'll be living in an even smaller house now: 56 square feet. The Olympia, Wash., resident is also a TEDx speaker, author of The Big Tiny: A Built-It-Myself Memoir (Blue Rider Press, 2014), and founder of PAD (Portland Alternative Dwellings). The house was delivered to the event grounds after a road trip she shared with her business partner, Derin Williams (unrelated) of Shelter Wise, in Portland, Ore. After some antics by Dee and Jonathan trying to scoot by each other in the front door, she handed over the keys, and speeches gave way to tears from them and members of the audience.
China Rose and A.J. Zamora graciously invited me to tour their vardo, inspired by the Romani wagons of the 19th century. The 175-square-foot tiny house is crafted with salvaged materials, non-toxic furnishings and finishes, and a living wall in the shower. The layered bed system, which is mechanically lowered at night, is made of natural materials such as cotton, wool, and natural rubber. Built by Nampa, Idaho–based Tiny Idahomes for less than $80,000, the house recently completed what the couple called a three-month, multi-state "traveling medicine" tour, originating from Napa, Calif., through their business, China Rose Wellness.
This tiny-house version of a playhouse was well detailed and sparked delight among attendees. Crafted from found objects and construction waste, the playhouse by Redbone Bob, out of Denver, includes fun ideas for kids in a small space, such as walls they can paint, a chalkboard globe, and old maps as wall covering. The area around the playhouse served as an activity station for watercolor painting, and a place for parents to step off the midway and regroup. Check out Diedricksen's video tour here.
Of course, no event would be complete without these shiny tinies: The Airstream is the classic house on wheels. While these fall in the travel trailer/RV classification and are far more lightweight than many tiny houses, the "tiny house" concept has been expanding in many directions—to yurts, cabins, buses, vans, food trucks, and even car camper conversions—as people seek alternative living options that fit their budget, climate zone, and lifestyle.
Food vendor Story Coffee Co. operates full time out of a tiny house—or rather, a tiny coffeehouse—in downtown Colorado Springs, at the edge of Acacia Park. The company has developed relationships with some fantastic roasters across the United States. You can enjoy your cup of joe inside at the bar or at cafe seating out on the deck. The coffeehouse was a popular place to relax during the bustling event.
Note: This story has been updated since first publication.