"We have hit peak stuff." With that pronouncement—which came during a discussion about business strategies for climate change, hosted by The Guardian in January—Steve Howard, "sustainability chief" for low cost furniture and Swedish meatball behemoth Ikea, pledged his company last month to joining the movement towards reuse and re-imagination, as well as reproduction and recycling, instead of the mindless production of more "stuff." I hope architects—who, like most of us current and former yuppies, grew up furnishing our homes from the big box store—will listen and follow his example.
I have long been a fan of Ikea. It was a bit of a guilty pleasure, in which my husband and I worked hard to blend their products into a home of secondhand modern masterpieces. When Robert A.M. Stern, FAIA, came to visit us a number of years ago, he looked around our oversized new home and pronounced: "When you grow up you will learn that when you have a home like this, you don't furnish it with Ikea." I was humbled, until it occurred to me: How does he know?
It did not deter me. I just recently outfitted my office at Taliesin West with a desk, chairs, coffee table, and accessories that are simple, modern, that I could pick up immediately, and that cost about a third or a quarter of what I would have spent at, say, Design Within Reach. The stuff looks good, is comfortable, and, when it wears out, I will be able to purchase replacements with equal ease and at a similar cost.
The problem with this scenario has always been waste. Although Ikea has been brilliant at reducing packaging as well as the material in the objects they sell, they have not been able to get around the basic reality that the products' cheapness of construction means that your Billy bookcase will most likely wind up in the landfill rather than as somebody else's starter furniture.
Now Ikea is apparently dedicating itself to figuring out that part of the production-consumption-reproduction cycle; the website Dezeen quotes Howard as saying: "We will be increasingly building a circular Ikea where you can repair and recycle products." It does seem like a logical extension of the store's DIY attitude: if they can develop diagrams and tools as standardized and simple as the ones we use to assemble the pieces (no, really, they are amazingly simple and clear these days), why not extend that to a participatory methodology to dis- and reassembly?
"We've got to think about the raw materials that produce our products. We can and will go zero-waste. There's opportunities in a circular economy, but we're still dependent on natural, raw materials."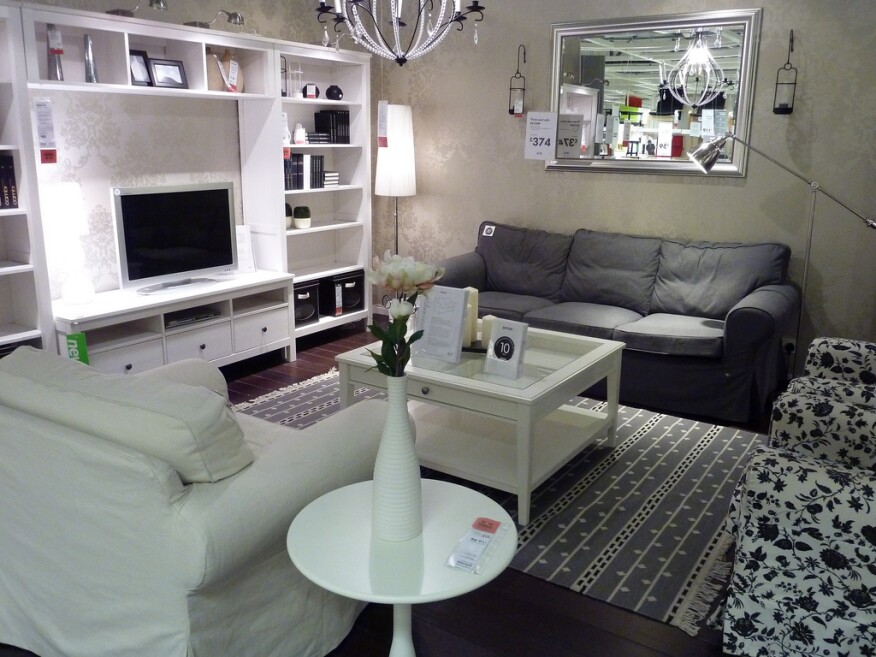 What I have always loved about Ikea is that it brings together the modernist dream of componetizing and mass-producing the objects of every day life with an aesthetic that makes a minimalist aesthetics available to the masses. I also like the ways they create scenes for modern living in their stores, so that you can reimagine your life in a manner previously only available to the wealthy who could hire architects or decorators to delineate their future homes.
Finally, Ikeas are also the most democratic and demographically mixed stores I know. I have been to their establishments all over the United States and Europe, and everywhere you see the same amazing of race, income level, and social group. From graduate students to larger immigrant families, and from people in sweatpants or cutoffs to ladies sporting Louis Vuitton bags, Ikea presents a better cross-section of the communities in which it is located than any other establishment.
The only piece of this puzzle that has been missing—other than the store's suburban locations, which is luckily also changing; I recently saw a large new Ikea in the middle of St. Louis—has been recycling. If Howard can convince the rest of his management to truly commit to a DIY recycling future, and can, as he promises, figure out how to double the chain's income along the way, then Ikea will be a true model for how we can, if not build a better world, at least furnish one, bookcase by bookcase, and then reuse that reality. Now architects can learn not just from Las Vegas, but Ikea.
Watch the TED Talk below, which was filmed at TEDGlobal 2013, for more on Steve Howard's point of view on sustainability and Ikea:

More about Ikea
Find products, contact information and articles about
Ikea