This story was originally published in Architectural Lighting.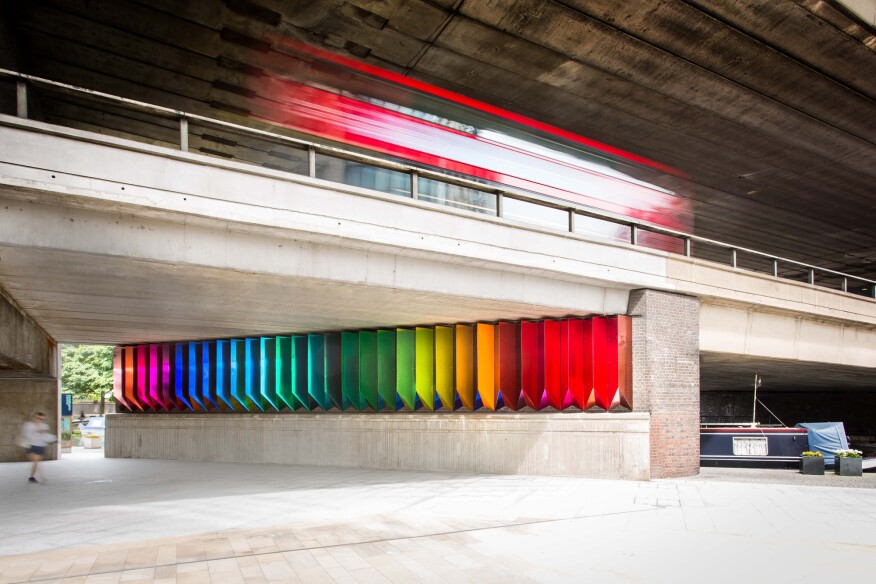 British artist Liz West, a graduate of the Glasgow School of Art, once again explores the interplay of light, color, and reflection in her latest artwork, "Colour Transfer." The site specific sculpture, which just opened in June, is West's first permanent piece in London, located at Paddington Central underneath the station's Westway Bridge. The artwork was commissioned by British Land and curated by Rosie Glenn for Paddington Central, London and is on permanent display.
The artwork uses a sequence of angled, colored mirrors installed on a steel, aluminum, and PVC structure that vertically span the underside of the bridge's brickwork and "create an optically vibrant and kaleidoscopic installation." The prismatic shapes and their color change depending on where the viewer is standing. Overall, the mirrors are organized "in a spectral arrangement running from dark red to pale pink when entering the underpass from the left and the opposite when entering from the right."
Last year, West debuted "Our Colour Reflection" at Kraftwerk Berlin.
In all her work, "West aims to encourage a new way of seeing." She notes that "Color and light together help illuminate, therefore increase and heighten people's individual visual perception and wellbeing." Exploring light and color and its reflective qualities depending on the materials employed, West's goal is to create new environments that enable people to interact with space and draw their attention to "elements of the architecture that they might not have noticed previously." By playing with and adjusting color, she is able to "…bring out the intensity and composition of her spatial arrangements."
To read more stories like this, visit Architectural Lighting.